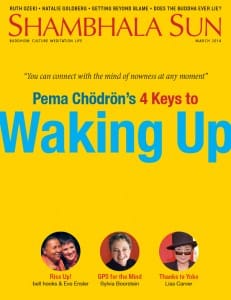 Hi, this is Melvin McLeod, editor-in-chief of the Shambhala Sun. I'd like to ask for your help.
We'd like to know more about you—who you are, what you like and don't like in the Sun, what you'd like to see more of. That's the only way the magazine can improve and serve the Shambhala Sun community—and the dharma—better.
We want more dialogue with our community of readers. We want to hear what you think—and we'll respond.
Please click here and fill out this easy on-line survey about the current issue of the Sun. Tell us what you read and didn't. It will only take a few minutes.

The Shambhala Sun and you—let's get the conversation started.
Thanks,
Melvin (McLeod)