Claire Heisler reports on examples of female Buddhists who are working to overcome the lingering gender issues in Buddhism.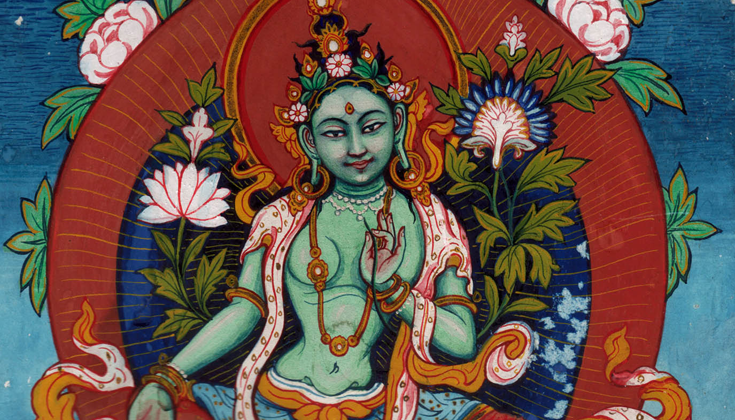 Tenzin Palmo is an example of a powerful Buddhist woman, of which there are quite a few, despite ongoing sexism in the tradition. Other influential women Buddhists include Pema Chodron, and Aung San Suu Kyi. In a May 15 Guardian interview, Tenzin Palmo describes her early interest in Buddhism, her experiences as a nun in India, and her years in a cave. In our May 12 Blog on women, gender, and Buddhism, Rita M. Gross states that while practice on its own cannot solve the gender problems in Buddhism, we shouldn't let these problems spoil our practice. For Tenzin Palmo, this holds true.
As Palmo describes in the article: "For me, retreat is like inhaling; it's what I was born to do in this life. But I felt I should raise funds to build a nunnery in India, a place where women could study and train. Women have been spiritually undernourished and overlooked for far too long. So that's what I do now, giving teachings. But actually I don't like it at all, I never have, and I'm not going to do any more tours. I'm very ready now to retire to my nunnery in India, and I hope then that I can go back into retreat. That is my place."

Tenzin Palmo makes room for both activism and meditation in her life. When she spent years in solitary meditation in India, it helped her develop "inner resources and confidence." She could then apply those resources to helping build Dongyu Gatsal Ling Nunnery for young nuns of the Drukpa Kagyu lineage. Then, when the work is done, she hopes to return to retreat, and continue along the path.
When Tenzin Palmo spent time in India as a young nun, she learned first-hand that nuns get the short end of the stick: "I experienced great frustration being the only Westerner and the only nun in the all-male monastic community; I was totally excluded. I used to feel as if there was this huge banqueting table of Buddhist thought and practice and I'd get these little crumbs from people, but never enough to make a meal."
As a second-generation convert Buddhist, I had the great fortune of traveling to Bhutan in 2007. My mother, Ann Shaftel, taught thangka conservation techniques to small groups of monks and nuns. She would describe to me how some of the monks in the class treated the nuns like inferiors instead of equals. The nuns were also far less likely to speak up in class while the monks were present. However, during her last trip to Bhutan, she only taught nuns. This was the trip during which I visited her for a few weeks. The nuns loved taking these classes, learning skills that would give them status in the eyes of their communities. The nuns would, for the rest of their lives, be in charge of taking care of these sacred paintings. They'd be the ones to pass on art conservation skills to future generations of monks and nuns.
Some of the nuns invited me to their nunnery, located high in the mountains, for a sleepover. The trip there took hours along a bumpy road. Once we had arrived, we sat on the floor of their small but cheerfully decorated dormitories, and ate dinner (I was the only eater who didn't make ample use of the chili shaker). The next morning, I had the opportunity to meet with the monks who were in charge of them. One of my nun friends, Ani Yeshe, was the only nun who didn't seem fearful of the head monk. The others seemed to spend a lot of time looking at their feet in his presence, with their shoulders hunched. Maybe my presence made them feel shyer than usual, but they had not been shy around me. Ani Yeshe always looked up. She would address the monks directly with a smile on her face and no hint of fear, and the monks seemed to accept her as she was.  When I was back in the West, I tried to communicate with her through post, but I never received a reply. A year later, one of the other nuns told me she was no longer at her nunnery. I hope, wherever she is, she's progressing along the dharma path. I am sure she's not letting traditional obstacles get in the way of the person she wants to be.
In short, we can find many examples of women Buddhists who are working to overcome the lingering gender issues in Buddhism. Women such as Tenzin Palmo are both influencing culture through their teachings, and through their example. Tenzin Palmo's nunnery will give these nuns teachings that would not have been available to them in the past. Who knows what spiritually empowered women can attain?