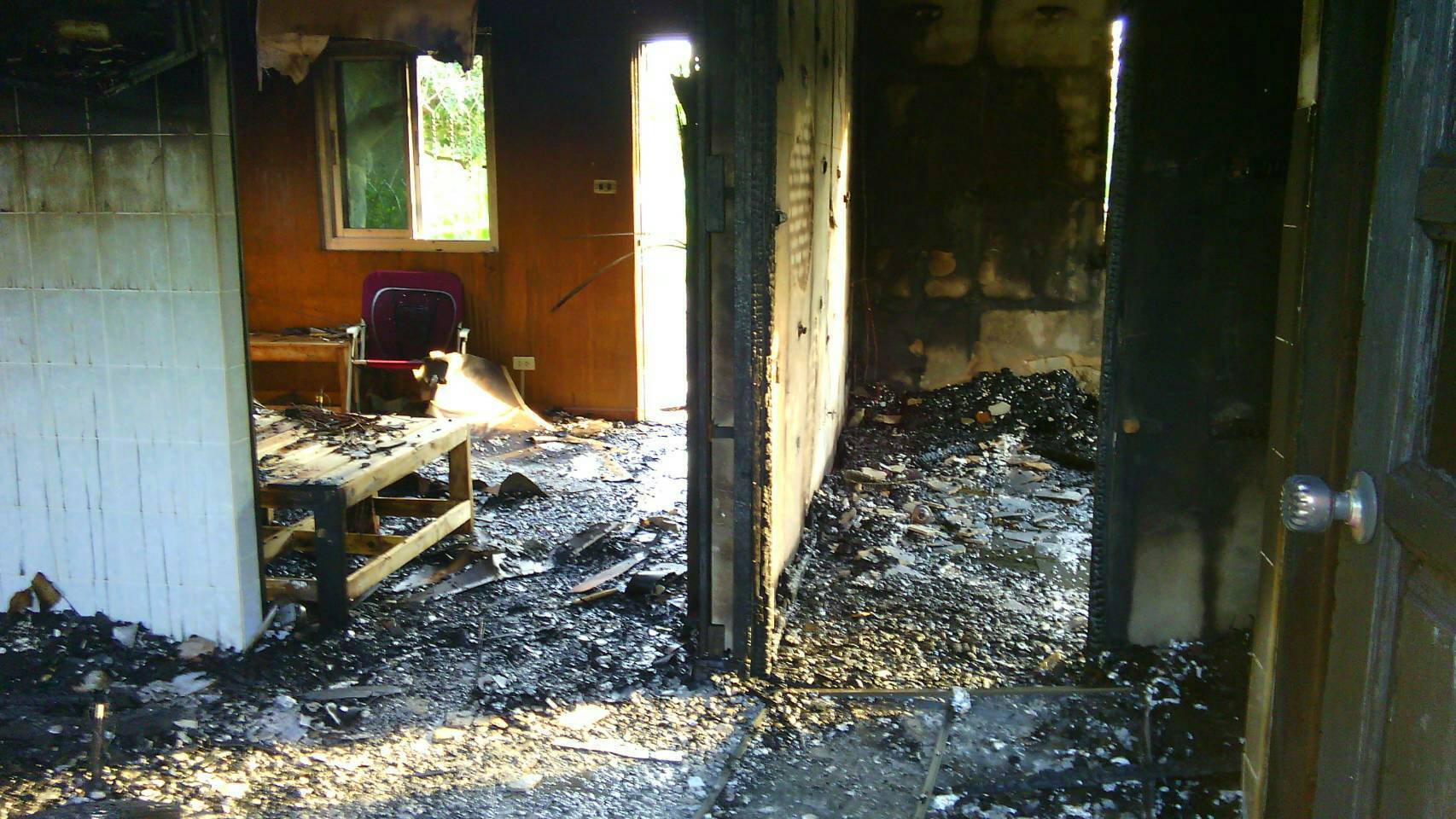 Photo of the April 3 arson attack, via http://pannavati.org/
Thai Buddhist nuns in Rayong, previously targeted by death threats, have now been forced out of their temple. As Venerable Pannavati, a female Buddhist monastic who visits Thailand yearly to ordain, train, and give to support to nuns there, reports on her blog:
On Apr. 3rd arson of their temple has forced Thai bhikkhunis to flee their headquarters and Temple at the International Women's Meditation Center in Rayong. The bhikkhuni project was founded by Venerable Dr. Lee more than a decade ago and grafted into the US Theravadan order, Sisters of Compassionate Wisdom [of which Ven. Pannavati is a founding circle member]. A rescue plan is in operation. Right now, we don't need money. Sufficient help is available through Taiwan monastic connections.
As Pannavati explains later in her post, "It is still illegal for women to take full ordination as a Buddhist nun (Bhikkhuni) in Thailand because of a 1928 law created by the Supreme Patriarch of Thailand. He based this on the fact that the Buddha allowed senior bhikkhunis to initiate new women into the order."
More information and background about the attack can be found on Ven. Pannavati's blog. She has also provided this newsletter sign-up link for those who want updates.
Previously on Lion's Roar:
Theravada bhikkhunis in Indonesia "bounce back" after 1000 years
Can you help us at a critical time?

COVID-19 has brought tremendous suffering, uncertainty, fear, and strain to the world.
Our sincere wish is that these Buddhist teachings, guided practices, and stories can be a balm in these difficult times. Over the past month, over 400,000 readers like you have visited our site, reading almost a million pages and streaming over 120,000 hours of video teachings. We want to provide even more Buddhist wisdom but our resources are strained. Can you help us?
No one is free from the pandemic's impact, including Lion's Roar. We rely significantly on advertising and newsstand sales to support our work — both of which have dropped precipitously this year. Can you lend your support to Lion's Roar at this critical time?