Each Friday, we share three topical longreads in our Weekend Reader newsletter. This week, LionsRoar.com's editor Sam Littlefair reflects on our top Weekend Readers of the year. Sign up here to receive the Weekend Reader in your inbox.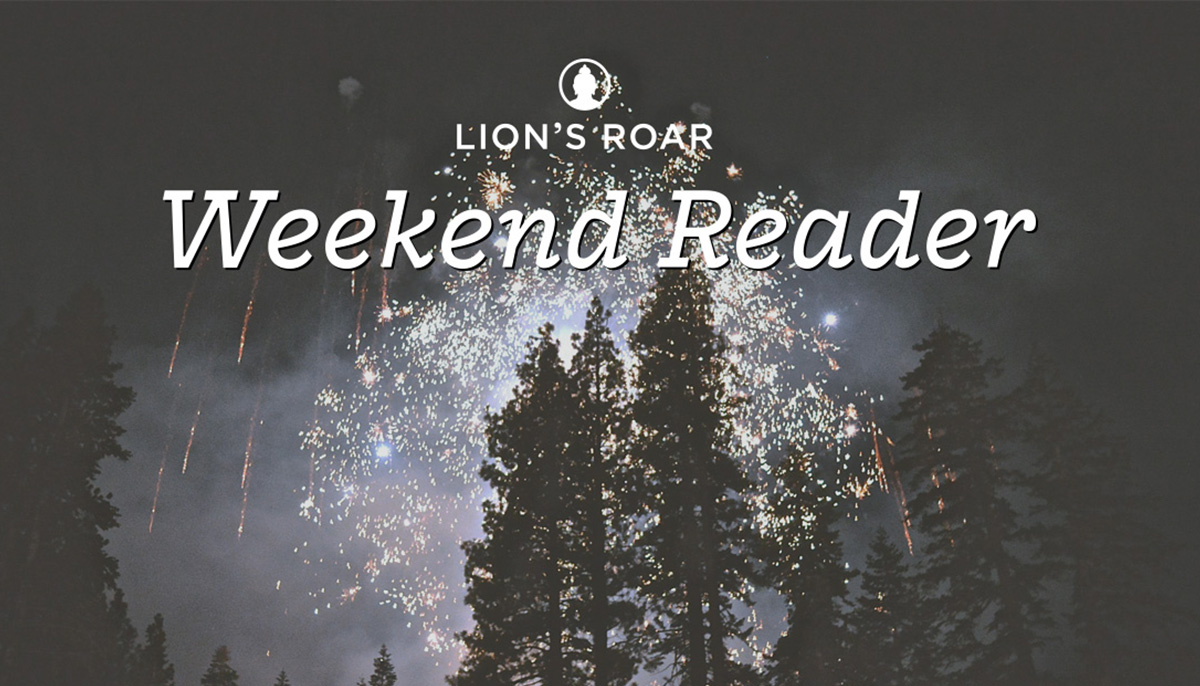 Of all of the publishing activities on LionsRoar.com, I think I'm most proud of this one — our Weekend Reader. Each week, we deliver this newsletter to tens of thousands of readers. Every newsletter contains an original perspective on the Buddhist world, matched with three excellent articles from our archive. Over time, the number of contributors has grown to include all of the editors of our three publications, as well as a few of our art directors and guest editors from across America.
To me, this newsletter represents the most important aspect of our work: connecting directly with you, our readers, to discuss the issues that matter to us all.
As we wind down 2018, we'd like to re-share three of the most popular Weekend Readers from the year. In July, associate editor Lilly Greenblatt asked "Do you believe in magic?" in her powerful Weekend Reader that found the magic of each breath. This month, editorial assistant Haleigh Atwood asked "What Does It Mean to Be Kind?" and shared her journey toward finding true kindness. And, in June, I wrote about the process of learning to cry.
Thank you, again, for reading. May we continue exploring the landscape of Western Buddhism together into 2019, and for many years thereafter.
—Sam Littlefair, editor, LionsRoar.com
PS: If you'd like to support the work we do in more ways, consider contributing to our year-end donation campaign.
Lilly Greenblatt on the supernatural and (seemingly) ordinary magic of Buddhism.
In ancient Buddhist texts, you'll find stories of magic and miracles. There are tales of demons, sorcerers, and unseen realized beings. There are reports of Buddhist mystics with the power to levitate and fly, or in Milarepa's case, the ability to walk straight through the solidity of a mountain. It's written that every place the baby Buddha put his foot, a lotus flower bloomed, and some of his historical disciples are known for having magical powers and clairvoyance.
How do we grapple with these supernatural tales in our own — often mundane — practice?
Haleigh Atwood explores the real meaning of kindness.
I recently realized that I've lived most of my life without knowing the definition of kindness. For a long time, when I thought about what kindness looked like, I pictured the classic example of helping someone carry groceries to their car. I figured kindness had something to do with being friendly, perhaps with a pinch of generosity thrown in.
But what would be left if I peeled kindness away from action?
Sam Littlefair looks at the practice of crying.
It's been a hard few weeks. As a journalist, it's my job to keep up with the news every day. As a human — and with the world the way it is — that can be really hard. The other day, I was talking with my wife about the many painful, disappointing, and scary things going on in the world, and she commented that I seemed unaffected. I was startled, because I felt deeply affected. But, I realized, I hadn't been showing it. In my attempt to hold myself together in the midst of so much feeling, I had started to appear callous and disaffected. I often want to cry, but I feel like I can't.