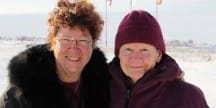 Best-selling author Margaret Wheatley gives thanks to her friend and teacher, Pema Chödrön.
If I've learned anything from Pema Chödrön, it's not to create a storyline. Just let experiences and emotions come and go without developing a drama about them. But here I am, eager to tell a story about my beloved teacher and friend. Like many people, I came to Buddhism because of my own suffering. In 1997—my "year of excruciation," as my astrologer described it—I discovered Pema and Buddhism through her book When Things Fall Apart. I stayed awake all night reading it on a flight to Europe and knew I had encountered a path worth pursuing. Again, like many, my first explorations were casual and episodic—reading books I was attracted to, talking with seasoned practitioners. I was interested and curious, but there were no structures or demands; I was free to pick and choose. But even so, I discovered Buddhism with benefits.
The benefit was where the path naturally leads: from alleviating my own suffering to wanting to help others relieve theirs. My work takes me to many different places where people are suffering—those in third world countries, confronting a future of no future; those in large organizations, confronting the loss of self and meaning. I used to believe that those who suffer from poverty and disease deserve more support than those who complain in comfortable offices. But Pema dissolved my distinctions when she said, "suffering is suffering." (I know she's right, but truthfully, I still find it difficult to believe in the equality of suffering. Could we just stop all this whining and notice how many people need our compassionate attention?)
In those first years of meandering on the path, I was blessed with Pema's friendship. I had begun to take practice more seriously, I recognized its life-saving qualities, yet even so I was continually distracted by the multiple demands of life. This, too, is commonplace: we know what helps us, yet we don't do it. Then we beat up on ourselves for being lazy, worthless people. This familiar cycle leads me to the next part of this story, the discovery of discipline and devotion.
My path of practice became straight and narrow in 2007, when I asked Pema formally to become my teacher. This is always an act of surrender. As Chögyam Trungpa Rinpoche describes it, you place your head in the jaws of a crocodile that you know will never let you go. And that's where I've been residing ever since, learning what it means to entrust another with my life. I've learned the value of discipline—to put practice at the center of my life and let all else emerge from that core. I've learned the treasure of walking hand in hand with others who try hard to keep egos out of the way and offer compassionate service. And I've learned the abiding pleasure of falling in love, day after day, with the teachings that save us from ourselves and the teacher who has dedicated her life to making them clear and accessible to us all. Thank you, Pema.