The review editors at Buddhadharma have sorted through stacks of the many new Buddhist books published this year. Narrowing them down to a short list wasn't easy.
We have kept to the following criteria in making our book choices:
They inform Buddhists about their practice
They advance our understanding of, or shatter our preconceptions about, Buddhism
They are well written or translated, and accessible
We are glad to bring you our selection of The 10 Best Buddhist Books of 2013: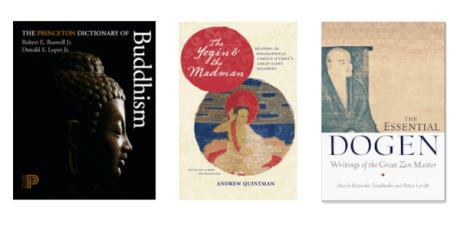 Princeton Dictionary of Buddhism
By Robert E. Buswell and Donald S. Lopez Jr., Princeton University Press
Packed with curious and unusual Buddhist vocabulary, this is a book that enthusiasts will want to get lost in. Truly a landmark reference in the study of Buddhism, it covers terms from all Buddhist canonical languages in over 5,000 detailed entries, serving as an encyclopedic resource across traditions, time periods, and practices in the Buddhist world.
The Yogin & the Madman: Reading the Biographical Corpus of Tibet's Great Saint Milarepa
By Andrew Quintman, Columbia University Press
This book charts the making of one of the classic life stories of a Buddhist master, Tibet's most famous yogin, Milarepa. Shedding light on a biographical tradition over four hundred years, the book shows how the collected songs and life story of Milarepa were brought together by the self-proclaimed "Madman of Western Tibet" to make up the authoritative version so many readers have come to know and love.
The Profound Treasury of the Ocean of Dharma (3 vols.)
By Chogyam Trungpa, Shambhala Publications
Made publicly available for the first time, these three volumes are edited transcripts of teachings that Trungpa Rinpoche delivered to his students during seminars over the course of several years. Volume one covers the Hinayana, volume two the Mahayana, and volume three the Vajrayana — giving us a holistic view of the entire Buddhist path of transformation as presented by Trungpa Rinpoche, and as cherished by many.
Essential Dogen: Writings of the Great Zen Master
Edited by Kazuaki Tanahashi and Peter Levitt, Shambhala Publications
Few Buddhist masters are as endeared by Western Buddhists as Eihei Dogen (1200-1253), founder of the Soto school of Zen. The book is a compilation of snippets and vignettes from the enormous body of Dogen's collected writings on poetry, dialogues, and great elucidations on meditation. It's a marvelous handbook to study Dogen's essential points.

Birth of Insight: Meditation, Modern Buddhism, and the Burmese Monk Ledi Sayadaw
By Erik Braun, Chicago University Press
The history of vipassana or insight meditation has its roots in nineteenth-century Burma. This book looks at the modern Buddhist meditation revival in Burma. In particular, it focuses on the revolution of insight meditation sparked by the Theravada master Ledi Sayadaw through teaching thousands of laypersons the practice of vipassana and how this approach has influenced on the teaching and practice of Buddhism today.
A Lamp that Illuminates the Five Stages: Teachings on Guhyasamaja Tantra
By Tsongkhapa and Translated by Gavin Kilty, Library of Tibetan Classics, Wisdom Publications
This is a translation of Tsongkhapa's presentation of the five stages of the Guyhasamaja Tantra. One of the great works on tantra in Tibet, the commentary presents a Vajrayana vision of the whole person, and serves as a guide for those involved in the ever-deepening and subtle shifts of tantric yoga practice.
Mindfulness: A Practical Guide to Awakening
By Joseph Goldstein, Sounds True
Joseph Goldstein explores the roots of mindfulness with depth and sensitivity. The four ways of establishing mindfulness, as found in the Buddha's Satipatthana Sutta discourse, are the framework for this guidebook on how to practice vipassana. As this seemingly simple teaching on meditation progresses, Goldstein unpacks each profound point with precision.

From Stone to Flesh: A Brief History of the Buddha
By Donald Lopez, Chicago University Press
So you think you know who the Buddha was? Did you know that he was an Egyptian priest exiled from his North African kingdom during a Persian invasion twenty-three hundred years ago? In this synopsis of European ideas about the Buddha, Lopez traces the shift toward a Western conception of the Buddha and Buddhism, arguing that our modern view of the Buddha as a historical figure who founded a world religion was "born in Paris in 1844."
See the feature review in the Summer 2013 issue of Buddhadharma.
Entangling Vines: A Classic Collection of Zen Koans
Translated by Thomas Yuho Kirchner, Wisdom Publications
This anthology of koans is core material for practice in the Rinzai Zen tradition. As the title suggests, it presents readers with a set of koans into which to get entangled, holding each in absorption until there is realization. The book is a translation of Shumon kattoshu, a work distinguished from other koan collections by the fact that it was compiled in Japan rather than China.
Tibetan Buddhism: A Very Short Introduction
By Matthew T. Kapstein, Oxford University Press
Though the subtitle of this book is "A Very Short Introduction," don't be deceived—this book is pithy. Contextualizing Buddhism in Tibet in a condensed fashion, it illuminates core yogic and philosophical themes, explains important Tibetan terms, and gives the reader a potent dose of the Tibetan Buddhist traditions.