Each Friday, we share three topical longreads in our Weekend Reader newsletter. This week, LionsRoar.com editor Sam Littlefair explores how the right question can illuminate the path.  Sign up here to receive the Weekend Reader in your inbox.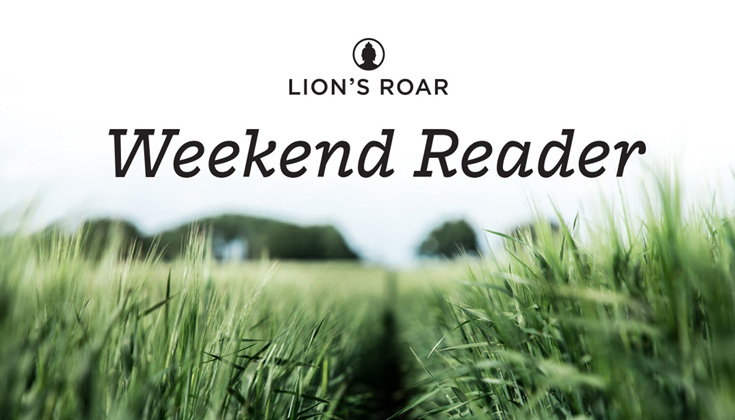 What's your favorite question? When it comes to Buddhist practice, I often find myself contemplating the most basic ones. A lot of these are discussed in the "Frequently Asked Questions" department of Lion's Roar magazine. I love these sorts of questions, because they seem simple, but they tend to raise further questions. You could contemplate questions like "Should I give money to panhandlers?" or "What does it mean to call yourself a Buddhist?" for the rest of your life!
Sometimes, finding the right question can be a breakthrough. Where an answer might indicate an end-point, a question can illuminate a path. In her short, personal story, "The Big Question," Karen Maezen Miller discovers one such question that hits close to home.
The Buddha instructed his followers not to follow his words as doctrine, but to instead investigate the dharma for themselves. "Be a lamp unto yourself," he famously said. In his teaching on the Buddha's famous words, Larry Rosenberg says that he likely wouldn't be a Buddhist today if it weren't for Buddhism's emphasis on rigorous inquiry.
And sometimes a good question can help take a step forward in times of difficulty. In "5 Questions That Help Us Wake Up," Ezra Bayda says, "The real question is: What helps us awaken?" He breaks that question down into five smaller questions that guide us toward clarity. These are questions that you could keep in your wallet and contemplate in times of trouble.
We're all searching for answers. Once in a while, we might even feel like we've found one. But questions always abound. I hope you have some good ones.
—Sam Littlefair, editor, LionsRoar.com
Karen Maezen Miller thinks about how to answer seemingly simple questions.
It's easy to think that Buddhist practice is about the big questions. Birth and death, cause and effect, form and emptiness, delusion and enlightenment, attachment and non-attachment, and whether a dog has Buddha nature or not. I just hope you're not actually thinking about any of that stuff.
The freedom that Buddhism offers can't be found if you don't ask questions — about the teachings, the teachers, and yourself. Larry Rosenberg on how to cultivate a spirit of inquiry, even skepticism, to illuminate your path.
The Buddha tells you to test the teachings and ideas as "working hypotheses" in the laboratory of your actions. There is an "expiration date" when conviction based on external support gives way to conviction grounded in personal experience. At that point, your understanding is no longer borrowed from others. It is authentic and your own. This happens as you develop the ability to awaken and stabilize mindfulness.
Trying to push away our emotional distress can throw us into "cognitive shock" that turns our mind into a muddle. Ezra Bayda shares five simple questions to help us cut though confusion.
During cognitive shock, the "old" brain, which is based on survival and defense, takes over. At this point we're likely to attack, withdraw or go numb, none of which are conducive to awareness. To be honest, when caught in cognitive shock, we're fortunate if we can even remember that we want to be awake.
When clarity becomes obscured by the dark and swirling energy of emotional distress, it is useful to have some concise reminders to bring us back to reality. The real question is: What helps us awaken?