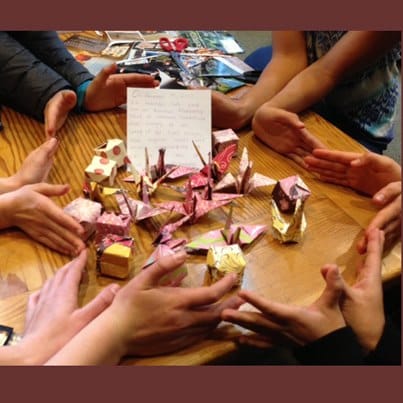 Like everyone else, we were shocked and saddened by last week's school shooting in Newtown, Connecticut. Buddhists from around the world have joined in offering condolences to the victims' families and teachings to deal with the emotions that the shooting brought up.
A group of middle-school girls in Green Gulch Farm's Coming of Age program made these paper cranes and vessels this weekend in honor of the 26 children and adults who were killed at the school.
The note in the photo says: "On December 14, 2012, 26 beautiful lives were lost in Newtown Elementary School in Newtown, Connecticut. Made lovingly by the Coming of Age Girls Group, these origami cranes and vessels commemorate the 26 who lost their lives with honor and bravery." You can view more photos and read more about the Coming of Age program here.
Buddhist teachers have also spoken out in response to the shooting.
"Nothing can make this okay. There is no explanation that helps. Blaming lack of gun control, insufficient guns, or inadequate mental health care may be entirely reasonable and valid, but it doesn't matter. No matter how right you are (or aren't), it doesn't change the grief, rage, or numbness.

"Using ideas to treat or metabolize feelings doesn't work.

"Then what? I'm afraid that there is not much we can do other than to be absolutely, irredeemably heartbroken. It turns out that this is helpful." Read more.
"We all have greed, hate and delusion. The kid who shot those children wasn't so different from us. But he failed to understand that the best way to deal with this is to refrain from doing wrong. In Buddhism we value refraining from doing wrong much more highly than doing right.

"As for how to deal with it, I think we need to be practical." Read more.
THANK YOU FOR READING LION'S ROAR. CAN WE ASK FOR YOUR HELP?
At Lion's Roar, our mission is to communicate Buddhist wisdom in today's world. The connections we share with you — our readers — are what drive us to fulfill this mission.

Today, we're asking you to make a further connection with Lion's Roar. Can you help us with a donation today?
As an independent nonprofit committed to sharing Buddhist wisdom in all its diversity and breadth, Lion's Roar depends on the support of readers like you. If you have felt the benefit of Buddhist practice and wisdom in your own life, please support our work so that many others can benefit, too.

Please donate today — your support makes all the difference.

Lion's Roar is a registered charity in the US and Canada. All US & Canadian donations are tax deductible to the full extent allowed by law.