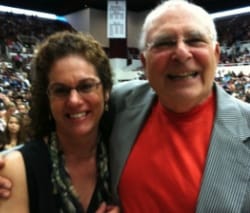 This is Dr. Paul Ekman, co author of Emotional Awareness with His Holiness the Dalai Lama and noted pioneer of facial expression and emotion research, talking with his student/colleague/emotions researcher and Stanford University CCARE teacher Erika Rosenberg on the floor of Maples Pavilion on the Stanford University campus.
Paul and Erika were there to join with the Dalai Lama, who would soon be giving a talk called "The Centrality of Compassion in Human Life and Society." Responding to that title, His Holiness joked, "I think, more or less, hundreds of my talks are all the same subject." More on the event, and info on watching via the web, after the jump: Via The Bay Citizen:
[The Dalai Lama] is visiting, in part, because of his interest in scientific research and is closely monitoring the work of Stanford's Center for Compassion and Altruism Research and Education (CCARE), a program that uses psychology and neuroscience to understand the basis of empathy, compassion and altruism.

The Dalai Lama helped develop CCARE, donating $150,000 from his book sales in 2008, to fund the institute's establishment. CCARE Director James Doty joined him on stage, later presenting the Dalai Lama with a few handpicked questions after his talk.
Paul and Erika's contribution to the proceedings was to share recent findings on whether compassion was an emotion or a trait. Both Paul and Erika will be delivering papers at today's day-long CCARE scientific conference, with the purpose of bringing His Holiness up to date on the work on compassion and altruism that CCARE has been supporting.
Do note: you can watch the CCARE/Stanford events via webcast. Click here for details.
For more on CCARE and the pioneering work they're doing, visit them online.