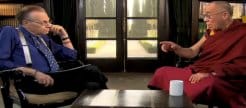 As we've told you, the Dalai Lama's one scheduled TV interview on his trip stateside was with Larry King. It just happened — so we've compiled some highlights for you.
On the meeting with President Obama:
Larry King: How did that meeting go?
His Holiness: Very good. In spite of some difficulties…
Larry King: What do you want from him? What do you want from America?
His Holiness: Number One commitment: promotion of human value, in order to create a better world, a more peaceful world, a more compassionate world. […] It is our common responsibility. Second commitment: promotion of religious harmony. […] I hope he can make an effective contribution. And then, the Tibet issue. […] I also requested help for modern education [both outside and inside Tibet]. These things we discussed.
Larry King: Was he receptive?
His Holiness: Oh yes, very receptive. […] The administration supported my middle way approach.
On Tibet and China:
Larry King: When Americans are asked what's more important, that Tibet become independent, or that America keeps good relations with China, it's a quandary. Can we do both?
His Holiness: Actually, we are not seeking independence. That's why we call it a middle way. We do not want separation from China. Tibet is a landlocked country […] materially backward. […] If you use common sense, our approach is best for the People's Republic of China.
Larry King: But didn't you say recently that the middle way was failing?
His Holiness: Yes. […] On the other hand, our approach brings a lot of support from Chinese intellectuals, and writers.
Larry King: You left your country over 50 years ago. Do you miss it?
His Holiness: Yes […] I remember my childhood in Potala [the Potala Palace]. …Now my body is supported by Indian rice… [He would later add: "I consider myself as a messenger of India, a follower of the Indian monastic tradition of Nalanda." He went on to say here, though:] The issue is 6 million Tibetan people's rights, not mine.
Larry King: "Whole Child International." What is that?
His Holiness: […] This is extremely important. My Number One commitment is to build a healthy world, a compassionate world. This organization is taking special care. [This is important because when] children lack real affection, they become, possibly, merciless persons. […] My only hope is to spread Whole Child International's work everywhere. [Click here to visit the Whole Child International website.]
Larry King: As a man of God, a man of principle, a man of spirit, how do you explain, to yourself, what happened in Haiti?
His Holiness: Very, very sad. Almost a whole nation collapsed. […] The Haitian people should think forward, not just be sad, and use all these funds to build a new nation.
On Tiger Woods:
Larry King: Do you think fidelity is a difficult discipline?
His Holiness: No. Discipline means protection of your own interests. [Like] taking care of your own body according to doctor's instructions.
Larry King: How is your health?
His Holiness: My health? Very good… [Then, jokingly referring to his previous need for gall bladder surgery:] It is scientifically proven I have no healing powers!
Larry King: Do you remain optimistic?
His Holiness: Yes! [Things are] much better! The future is open […] The later part of the twentieth century is healthier than the earlier part, [with a] better awareness of reality.
Larry King: One other thing. You talk about love. Do you love the Chinese?
His Holiness: Certainly! We have to practice that. […] Sometime I get some irritation. But I make effort to keep love.
For video, visit our friends at Elephant, who have compiled it all for you. Also: here's a link to video of the portion in which His Holiness discusses his meeting with Obama. And here's a link to CNN.com's own wrap-up.