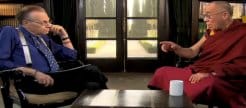 As we've told you, the Dalai Lama's one scheduled TV interview on his trip stateside was with Larry King. It just happened — so we've compiled some highlights for you.
On the meeting with President Obama:
Larry King: How did that meeting go?
His Holiness: Very good. In spite of some difficulties…
Larry King: What do you want from him? What do you want from America?
His Holiness: Number One commitment: promotion of human value, in order to create a better world, a more peaceful world, a more compassionate world. […] It is our common responsibility. Second commitment: promotion of religious harmony. […] I hope he can make an effective contribution. And then, the Tibet issue. […] I also requested help for modern education [both outside and inside Tibet]. These things we discussed.
Larry King: Was he receptive?
His Holiness: Oh yes, very receptive. […] The administration supported my middle way approach.
On Tibet and China:
Larry King: When Americans are asked what's more important, that Tibet become independent, or that America keeps good relations with China, it's a quandary. Can we do both?
His Holiness: Actually, we are not seeking independence. That's why we call it a middle way. We do not want separation from China. Tibet is a landlocked country […] materially backward. […] If you use common sense, our approach is best for the People's Republic of China.
Larry King: But didn't you say recently that the middle way was failing?
His Holiness: Yes. […] On the other hand, our approach brings a lot of support from Chinese intellectuals, and writers.
Larry King: You left your country over 50 years ago. Do you miss it?
His Holiness: Yes […] I remember my childhood in Potala [the Potala Palace]. …Now my body is supported by Indian rice… [He would later add: "I consider myself as a messenger of India, a follower of the Indian monastic tradition of Nalanda." He went on to say here, though:] The issue is 6 million Tibetan people's rights, not mine.
Larry King: "Whole Child International." What is that?
His Holiness: […] This is extremely important. My Number One commitment is to build a healthy world, a compassionate world. This organization is taking special care. [This is important because when] children lack real affection, they become, possibly, merciless persons. […] My only hope is to spread Whole Child International's work everywhere. [Click here to visit the Whole Child International website.]
Larry King: As a man of God, a man of principle, a man of spirit, how do you explain, to yourself, what happened in Haiti?
His Holiness: Very, very sad. Almost a whole nation collapsed. […] The Haitian people should think forward, not just be sad, and use all these funds to build a new nation.
On Tiger Woods:
Larry King: Do you think fidelity is a difficult discipline?
His Holiness: No. Discipline means protection of your own interests. [Like] taking care of your own body according to doctor's instructions.
Larry King: How is your health?
His Holiness: My health? Very good… [Then, jokingly referring to his previous need for gall bladder surgery:] It is scientifically proven I have no healing powers!
Larry King: Do you remain optimistic?
His Holiness: Yes! [Things are] much better! The future is open […] The later part of the twentieth century is healthier than the earlier part, [with a] better awareness of reality.
Larry King: One other thing. You talk about love. Do you love the Chinese?
His Holiness: Certainly! We have to practice that. […] Sometime I get some irritation. But I make effort to keep love.
For more video, visit our friends at Elephant, who have compiled it all for you. Also: here's a link to video of the portion in which His Holiness discusses his meeting with Obama. And here's a link to CNN.com's own wrap-up.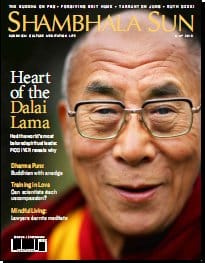 By the way: those of you who are interested in the Dalai Lama won't want to miss our next issue, with its special focus on His Holiness. Articles include:
Heart of the Dalai Lama: In this exclusive and heartfelt essay, Pico Iyer reveals the simple human secret that makes His Holiness the most beloved spiritual figure in the world.
Radar of Compassion: Pico Iyer on the Dalai Lama's unerring ability to home in on those who most need his love.
Love Makes the Difference: The Dalai Lama draws lessons for all of us from his own experience dealing with difficult times. From a conversation with Mary Robinson, former prime minister of Ireland and U.N. high commissioner for human rights, moderated by Pico Iyer and presented by the Tibet Fund.
Compassion in Action: The Dalai Lama and the people of Tibet have taught us about kindness and compassion. It is our time to give back. Andrea Miller looks at the work of three important organizations supporting the Tibetan people both inside Tibet and in exile.
Plus: Rod Meade Sperry on the Tiger Woods/Brit Hume Affair, David Swick on the Dharma Punx movement, Barry Boyce on the growing number of scientists and researchers who are studying how to bring out the best in human nature, a Q&A about PBS's coming program, The Buddha, and lots more. To subscribe, just click here. As always, you'll get 50% off. (And if you order now, you'll receive our digital booklet, True Love & Real Life, featuring words of wisdom from Norman Fischer, Elizabeth Gilbert, Sylvia Boorstein, the Dzogchen Ponlop Rinpoche, Judith Simmer-Brown, Cyndi Lee, Polly Young Eisendrath, and Susan Piver.
The new issue comes out in the end of March. So in the meantime, why not see what's inside our current "Mindful Living" issue, or browse our collection of writings by and about the Dalai Lama?