Posted by the Dharma Bums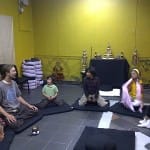 The Four Noble Truths — We all know them, right? But what about kids — Do they know them? More important, how do we teach them to children? I don't think having kids put on robes, light incense, and chant the Heart Sutra is the most upayic (skillful) way to share the Dharma with children. However, there is nothing greater than sharing the Dharma with children. Enter The Dharma Bum Kids, a new yet very important piece to the mission of The Dharma Bums.
Painting rocks, games with koans, the breathing ball, mindful eating, and meditation — these are all part of Dharma Bum Kids. Two weeks ago, one kid's parent said to me, "My 8-year-old daughter told me I should practice mindful eating and slow down when I eat." It was not easy hearing this from her child, but she saw the truth and humor in it.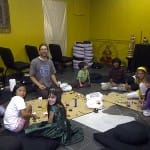 As the world seems to move at an even faster pace than ever before, how wonderful to have children learn the beauty of slowing down. We all have mini computers, otherwise known as smart phones, attached to our hands and hips. We are able to process everything and accomplish tasks so quickly. This is what our children learn. I am happy to know there are kids out there who are learning to slow down.
Every 2nd and 4th Sunday, the Dharma Bum Kids meet at Buddha for You from 11am – 12:30pm to begin their time with Sangha. They have fun, they laugh, they play, they paint, they sing, they learn what it feels like to be a rock and a flower, and they pay no money — it is all free. They learn to love the earth, appreciate food, care for family, and breathe mindfully. These kids are ages 6-12 and are led by David Viafora, who has spent 7 years leading retreats at Deer Park in Escondido. David has practiced in the tradition of Thich Nhat Hahn and currently resides at Deer Park Monastery. He is a graduate student at San Diego State University, focused on his personal practice while sharing the beauty of meditation with the community.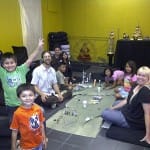 The first week, parents brought kids in and asked if they should stay. They were told that they are welcome to stay if they want, but we encourage them to leave the kids to be on their own with the other kids. So the parents walked the kids into the meditation room and then stood out front, staring in the window for 45 minutes. I think they were in disbelief that their kids would actually sit still for 90 minutes. As the second class rolled around, parents came in, dropped off kids and said goodbye; it was really cute.
Every Tuesday night at 7pm, Buddha for You also hosts (for free) an Introduction to Buddhism and Meditation for all ages and draws, on average, 40 people every week. These are not "Buddhists"– they are Christian, Catholic, Jewish, Muslim, etc., coming together to learn the teachings of the Buddha. Their children are now joining us on Sundays, after years of requests for a kids' Sangha. Parents tell us they want their kids to grow up in a community and get some spiritual teachings. For various reasons, they are no longer going to other traditional routes, so we created the Dharma Bum Kids to meet the needs of our community. The Dharma Bum Kids Sangha was born as an extension of the Dharma Bum Temple.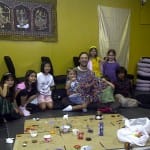 The Dharma Bum Temple opened at the end of 2006 as a home for the study and practice of Buddhism in America. We are simply a bridge for the average person to learn about Buddhism. We have no master, no direct lineage, no guru, and we charge no money, nor do we "suggest" how much people should donate. As Dharma Bums, we are disciples of the Buddha, practitioners of the Dharma, and caretakers of the Sangha. We make sure the doors are open, offer tea to people who enter, and provide an opportunity for people to learn Buddhism.
Two years ago, Buddha for You was going to close, so The Dharma Bums took it on as another vehicle to share the teachings of the Buddha. We have Buddha Statues, Asian Art, Meditation Cushions, etc. Most people who enter the store only know the image of the Buddha, so we use it as a tool to teach the Dharma. The Buddha charged no money for his teachings, and he and the disciples lived off of the generosity of the community. Buddha for You has become a benefactor for the Dharma Bum Temple and the Dharma Bum Kids, and we are honored to support the "Turning of the Wheel" in America.
For more information, please visit
www.buddha-for-you.com or www.thedharmabums.org