Six Paramitas, eight weeks, twelve Dharma Bums, and a summer's vow to explore how to weave Dharma practice into our everyday lives. Posted by The Dharma Bums.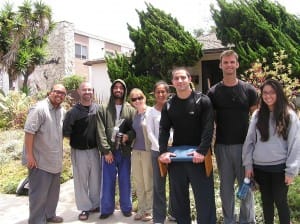 The Second Annual Dharma Bum Life Program brings together twelve San Diego residents from a variety of backgrounds for eight weeks of meditation and community service.
Between July 1 and August 31, participants meet twice a week to meditate, plan community service projects, and discuss how to live a simple life in a fast-paced American culture.  In addition, participants attend four meditation and work retreats at various Zen centers and cultural Temples in southern California.
The practice is rooted in the Six Paramitas, and participants explore ways for urban Americans to cultivate a mind of generosity, morality, patience, diligence, concentration and, wisdom.
The Food Redistribution Program is an effort to collect food that would be wasted or thrown away and give it to those who are hungry.  We pick up food from local farms and businesses, prepare over 50 meals a week, and take them out to those in need.  The emphasis is not on buying or cooking more food, simply taking the excess food in the area and redistributing it to the hungry.
The Dharma Bum Library Project seeks to create a Buddhist resource center in Downtown San Diego, open for practitioners to study Buddhist texts or meditate in the meditation room. The Dharma Bum Library will also invite Buddhist monks, nuns, scholars, and translators of Buddhist sutras for extended research, study, and practice.  Dharma Bums will volunteer time to keep the Buddhist resource center always open as a place of refuge and service to the San Diego community.
The Prison Outreach Program brings the Dharma into local correctional facilities.  Participants will lead meditations in local prisons and encourage incarcerated men and women to explore a Buddhist practice.
The Dharma Bum Life Program also brings guest speakers from the World Beat Center, Metropolitan Correctional Center, Buddha Badges, and the Y-FRIENDz Mentoring Program to speak about positive community service efforts in the San Diego area.
For more information on the Dharma Bum Life Program, you can visit the Dharma Bum Life Blog or the Dharma Bum Temple website at www.thedharmabums.org.
Can you help us at a critical time?

COVID-19 has brought tremendous suffering, uncertainty, fear, and strain to the world.
Our sincere wish is that these Buddhist teachings, guided practices, and stories can be a balm in these difficult times. Over the past month, over 400,000 readers like you have visited our site, reading almost a million pages and streaming over 120,000 hours of video teachings. We want to provide even more Buddhist wisdom but our resources are strained. Can you help us?
No one is free from the pandemic's impact, including Lion's Roar. We rely significantly on advertising and newsstand sales to support our work — both of which have dropped precipitously this year. Can you lend your support to Lion's Roar at this critical time?