Each Friday, we share three topical longreads in our Weekend Reader newsletter. This week, LionsRoar.com's editor Sam Littlefair explores the important lessons we learn when cleaning up. Sign up here to receive the Weekend Reader in your inbox.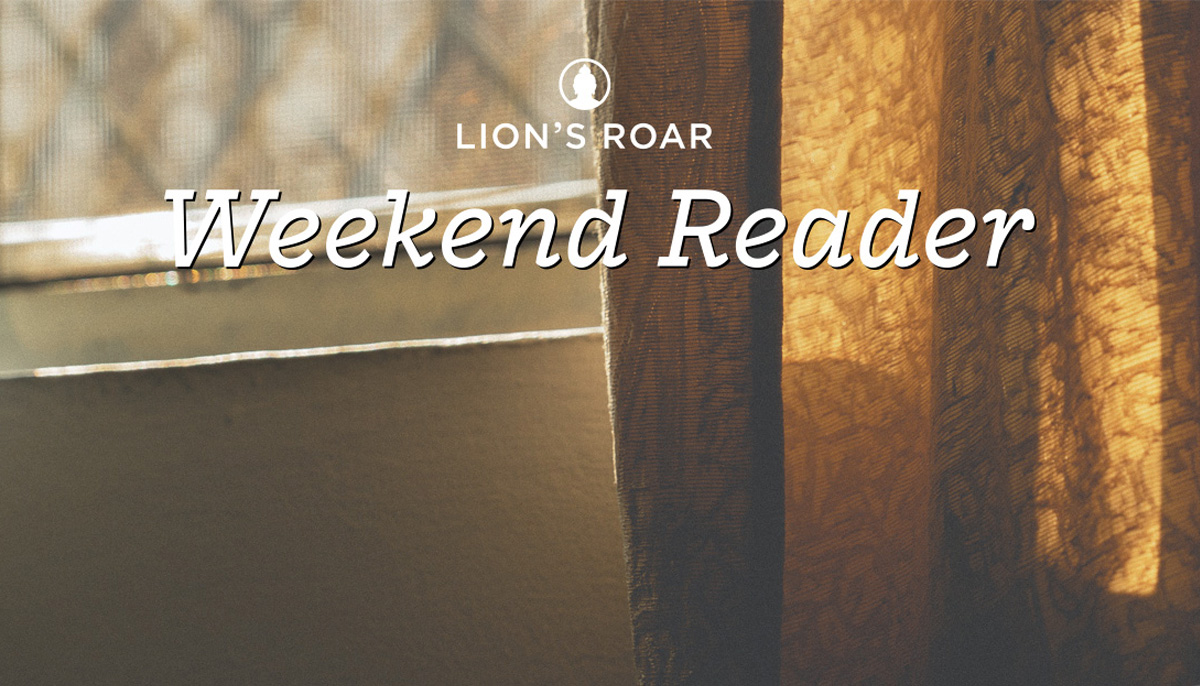 I've often wondered if you can show compassion to an inanimate object, like a rock or a bicycle. Now, Marie Kondo — the star of Netflix's reality hit Tidying Up — has popularized that very idea. In an essay by Zen priest Gesshin Greenwood about Marie Kondo on LionsRoar.com, Greenwood says that for centuries Buddhist philosophers have debated whether inanimate objects have the potential to discover enlightenment. Greenwood says, in assuming that "objects" are more than just objects, Marie Kondo's view of tidying up has a clear overlap with Zen.
Growing up, my mom encouraged me and my siblings to have respect for our things. Put your shoes away. Hang up your coat. No elbows on the table. As a child, I thought of these principles as manners. Now, I see them differently: they're a practice.
Four years ago, I used Marie Kondo's trademark method, "KonMari," to declutter my home. In her method, every time you decide to give away an object, you hold it and say to it, "Thank you for all you have done for me." You give away all unnecessary objects until all you are left with are the ones that, to you, "spark joy." On LionsRoar.com, Cristina Moon writes that this process has the potential to be a profound practice.
Our KonMari-ing wasn't flawless. In the following months, my partner and I discovered dear objects missing, having been hastily abandoned in our purge. We came to call these castaways "KonMari regrets." My greatest loss was a paperback collection of George Orwell essays I hadn't read (why would I think I didn't want that?), which — years later — I elatedly uncovered in a box in the basement that had never made it to goodwill. But even the regrets were illuminating. By connecting with each object I owned, I discovered that even though we think of objects as "inanimate," our relationships to them are very much alive.
I came to realize that it doesn't really matter if an object can experience my compassion. When I treat an object with aggression, I treat my world, my surroundings, and myself with aggression. By fostering respectfulness for the objects in our life, we demonstrate respect for everything in our world. With this view, we can — in simple gestures — show respect for all things.
In this Weekend Reader, three writers talk about their relationship to the objects in their lives, and how they have each learned to let go of some and treasure others. I hope you do too.
—Sam Littlefair, editor, LionsRoar.com
Towering stacks of newspapers, a mountain of clippings — James Kullander feels they might contain some fact that would transform his life. Deep down, though, he knows what would be truly transformative.
I'd started clipping in my teens, filing the clippings in folders arranged by topic and stashing the folders in tall, gray file cabinets, and long after I had plunged myself into Buddhism, which teaches about the emotional pain of clinging to old habits, I continued to pile newspapers around me to protect a fragile sense of self that felt threatened without them. Wherever I moved, those file cabinets and stacks of newspapers came with me, growing like stalagmites in every room in every apartment and house I lived in. Over the years, I've found myself becoming embarrassed by them. Once, I was even reluctant to let a plumber into my house to fix a broken pipe for fear of what he would think of me.
Writer Amy Gutman unpacks our attachment to stuff.
Over the decades, I'd paid well over $10,000—$10,000!—to stockpile these items, an amount far exceeding their value. How had I let this happen?
Buddhist teachings tell us that attachment is the source of all suffering. Everything we love and cherish will eventually be lost; that's just how things are. This is why we're urged to ground our happiness in things beyond change and why Buddhists vow to take refuge in the Buddha, the Dharma (teachings), and the Sangha (community), which are together referred to as the "Triple Jewel."
The concept of refuge struck a chord with me. We live in an era of lost homes and lost jobs, of vertiginous stock market swings and careening retirement plans. The ambient surround of loss and fear can make us acutely sensitive to the costs of letting go—so much so that we may lose sight of the costs of holding on.
Christian McEwen's Slow Cleaning isn't just long-drawn-out old-fashioned housekeeping. It's a chance to bring attention to what we have and decide what to let go.
What I mean by Slow Cleaning is not just old-fashioned housekeeping dressed up as New Age efficiency—not just an exceptionally long-drawn-out method of spring cleaning. There's something else at work here, something larger, one might almost say more Buddhist. In the practice of Slow Cleaning, I touch in on my own transience. Everything I own is looked at with attention, handled, stroked. I have the chance to interrogate (and momentarily cherish) every tiny item I possess. Once I've decided what to let go, what is left becomes chosen, radiant. My possessions become new to me. I greet each one with interest and warmth, a sudden rush of gratitude and appreciation.