In a country ravaged by poverty, violence, and AIDS, Buddhists Thanissara and Kittisaro are finding ways to make a difference in people's lives—and discovering South Africans' own deep sense of interconnectedness.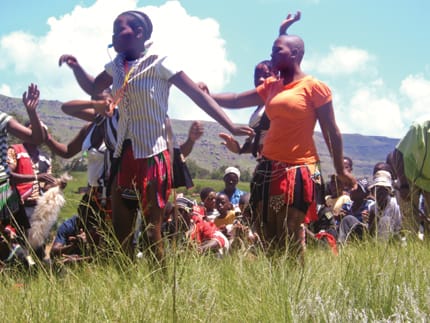 All dharmas are forms of emptiness, not born, not destroyed, not stained, not pure, without loss, without gain. Bodhisattvas benefit living beings, but do not see any living beings. This is indeed a difficult and yet exquisite point; one cannot grasp it.
—Nagarjuna
In 1994 we were invited to lead a number of meditation retreats in South Africa. This began a long association that led us to founding a small hermitage and cofounding two HIV/ Aids Outreach response programs. The hermitage is nestled on a mountain called Mvuleni, which means both "place of rain" and "place of opening." It is where local people come to pray for rain. In response to the environment we called the hermitage Dharmagiri, which means "sacred mountain."
A quiet knock at our door is a frequent occurrence at Dharmagiri, usually followed by requests for help with schooling, funerals, medicine, money, advice, and the settling of disputes. One day Jabulani knocked and asked us to visit his friend Sipho who had just found out that he was HIV positive. In the nineties and early 2000s, such news was a certain death sentence. Sitting on wobbly plastic chairs in Sipho's room, he told us his story. As the bleak news soaked in, we considered the ramifications. There was not much emotional processing; Sipho himself seemed curiously resigned after a short burst of anger. In the next meeting we discussed diet, careful sexual practices, giving up drinking and smoking, taking vitamins, and going for blood tests. All a huge leap in responsibility for a young man living in a crowded shack alongside an alcoholic father and a brother recently returned from jail. Next month is a long way away, never mind the consequences of HIV infection in ten years' time. So why plan for that?
As the process lurched through alcoholic episodes, visits to the clinic to stand in hopeless lines, consultations with Sipho's girlfriend who was also infected, taking their sick baby to hospital, a midnight suicide attempt, and more queues at the clinic, miraculously the rural mission hospital started an antiretroviral rollout. The program was funded by an overseas nongovernmental organization that was one of many emerging nonprofits trying to respond to the burgeoning crisis. We managed to get Sipho signed up. He was lucky. Many struggling with infection have no access to treatment or choose to die quietly rather than be tested and suffer the shame of social stigma.
Sipho is just one of millions of South Africans whose lives have been affected by the AIDS pandemic that cruelly swept across the land soon after the victory over apartheid. At the time that Jabulani approached us, the South African government was in deep denial about the far-reaching consequences of AIDS. It took ten years of legal battles undertaken by the Treatment Action Campaign (TAC) and heavy pressure from international lobby groups to get the South African government to roll out its own antiretroviral program. TAC and other nonprofits also took on the pharmaceutical industry over the unrealistic cost of these lifesaving drugs.
When we first arrived in South Africa, it was in the midst of euphoria as the country made its relatively peaceful transition from apartheid to democracy. However, our experience of the "Rainbow Nation" soon became more muddied as we encountered layers of wounding left in the wake of apartheid, which had sharply divided a whole nation, leaving a strange dissonance created by people living in parallel but completely different worlds. The white world had its place names, streets, cities, tidy houses with lawns, and flower beds; the black world was dust roads, shacks, and location numbers shrouded in invisibility. In rural KwaZulu Natal, where Dharmagiri is located, we were confronted by an entrenched economic disparity between whites and blacks. The "homelands" (also called "locations") of the black communities had scant resources save a few overcrowded mission schools and health facilities. The unemployment in these areas is still extremely high, about 70 percent in the community we currently work in. Hard on the heels of this initial euphoria, the AIDS pandemic hit, killing millions and devastating communities already fragmented by years of protracted struggle.
As meditation practitioners and monastics trained in the Thai Forest Tradition of Ajahn Chah, we had no experience of social activism when we arrived in South Africa. Our primary training and focus was on inner changes of consciousness rather than outer political or social changes, but we could not ignore the circumstances we found ourselves in. We accepted an invitation to be spiritual directors of a Buddhist center in Ixopo, which is also in the hills of KwaZulu, an area that became widely known because of Alan Paton's 1948 novel Cry the Beloved Country that was twice turned into film. We found ourselves in a vicinity embroiled in a bloody turf war between the two political factions—the African National Congress and the Zulu-based Inkatha Freedom Party. While facilitating one of our first silent ten-day retreats, more than a hundred people were murdered on Christmas Eve in a nearby "location."
The land of South Africa has been scarred and bloodied by numerous racial and tribal wars, including a heart-wrenching genocide of its First Nation, the KhoiSan. This history has forged a people whose psychology is deeply shaped by trauma, a struggle for survival, and the peculiar kind of distortion and denial that justifies racial discrimination. In the Buddhist Retreat Center, each day a small group from the local Zulu community arrived to work as cooks, cleaners, and gardeners. These were people dealing on a daily level with violence, poverty, and the overwhelming residue of apartheid. Even before apartheid they had been colonized by the British and turned into a servant class. These workers, whom their white "bosses" referred to as boys and girls, always greeted us with warm smiles, but it was as though there were a thick pane of glass between us—we could see each other, rub shoulders, but the invisible wall remained. We lived so near, yet so far apart.
Very early on, a family exiled from their home because of political violence, moved into the gatehouse at Dharmagiri. In an attempt to communicate with them, we asked a local white farmer to translate for us. He was mortified when we introduced ourselves by our first names. According to him the family should call us nkosan, which means "chief" or "boss." Our intention had been to find out their story. Instead the neighbor harshly harangued the family until the mother's head dropped in shame. He told us to give the family a bag of mealie meal (corn flour) and to have them work for us. He was sure we would have no further trouble.
From that moment on, we were on our own. The family lived at Dharmagiri for seven years during which time we became intimately acquainted with the reality of rural life for the black community. It was increasingly clear that it was no longer possible to only focus on inner changes of consciousness without responding proactively to the daily realities of racism and poverty, and of course the AIDS pandemic. It was a scary time. As the AIDS crisis rolled on, the years of protracted denial by the South African government under Thabo Mbeki, who was president from 1999 to 2008, made it hard to imagine that those infected by the virus could move out from under the cloud of stigmatization and the certainty of death. During this time of quack cures, ignorance, and stigmatization, Nelson Mandela, whose eldest son Makgatho died of AIDS in 2005 at fifty-four, hosted several global events to increase awareness. He urged action, saying if you can do something, you should do something.
By then we had started our first response project, called Woza Moya, which means "come spirit" in Zulu. Funding from the San Francisco Insight Meditation Community enabled us to employ a director, a startup team, and build a community center. Ten years on, Woza Moya has become an independent project that employs about forty people, serves a community of 23,000, and makes it possible for hundreds of children who have lost parents to AIDS to stay in their communities and schools.
Inspired by the possibility of making a difference and supported by London Insight, we launched, with a follow-up project in an isolated community near Dharmagiri on the border of Lesotho. A dear friend, Abegail Ntleko, who received an Unsung Hero award from the Dalai Lama in 2009 after fifty years of community service, named our second project Khuphuka, which means "rise up."
One of the most promising initiatives of the Khuphuka project, guided by Ntleko and two other founding directors as well a team from the community it serves, is its Khanyisa ("enlightenment") program. It takes young men into the mountains to explore themes of the spiritual warrior and the meaning of ubuntu, the African concept of deep interconnection and interdependence. Ubuntu means "you are who you are through other people." To be in harmony with ubuntu is to know that your gain contributes to the gain of others, while another's burden is your burden. Living from this knowledge there is fundamental generosity. Archbishop Desmond Tutu describes it like this: "A person with ubuntu is open and available to others, affirming of others, does not feel threatened that others are able and good, for he or she has a proper self-assurance that comes from knowing that he or she belongs in a greater whole and is diminished when others are humiliated or diminished."
Ubuntu is key to the work of the Khanyisa project. An essential aspect of changing the tide of the AIDS pandemic is positive role models for disenfranchised youth. One major challenge, which reflects the situation nationally, is the lack of behavioral change with regard to the spread of HIV among males aged thirteen to twenty-five. Young men are often written off by their communities and, as a result, feel alienated. The Khanyisa project works from the assumption that given the opportunity, young men will play an active and positive role within their communities. Without the cooperation of men, women within marginalized communities all too often find themselves subjected to unprotected sex. Even the much-feted "protection" of male circumcision, which is heavily promoted throughout the network of tribal councils, does not address the safety of women. Through the work of Khaniysa issues such as gender equity, positive male archetypes, responsible sexual behavior, power and relationship dynamics, and effective communications are explored.
It has taken a lot of faith to launch these projects when all our endeavors, including Dharmagiri hermitage, run entirely on a dana basis. It is something of a high-risk strategy that has challenged us to trust in the fundamental goodness of life itself. When our teacher Ajahn Chah accepted an invitation to set up monasteries in England in 1977, people became nervous that an order based on mendicancy would be unable to survive in the West. Ajahn Chah simply responded with a question, "Are there not any good people in England?" In the face of challenges of rural South Africa we try to stay honed to goodness in spite of sometimes being overwhelmed and demoralized. We could not have done this without drawing from the depths of Buddhist practice.
Equanimity is indispensable to social activism. Equanimity isn't an abdication from the ups and downs of life; rather it is the ability to stand firm in the face of them. Equanimity and effective response within challenging circumstances comes from the ability to meet life exactly as it is. It's so easy to get caught up with negative mind states when faced with betrayals of trust, obstructive or dangerous situations, systemic racism, and the relentless grind of poverty. One has to stay mindful to not get caught up in aversion, judgment, or despair. In such circumstances it's tempting to be susceptible to a particular kind of bitterness that hardens the heart and makes one feel hopeless or cynical. In reality, the cause of negativity isn't so much external events, though they naturally have an impact, but it arises from the false assumptions we hold. We simply assume that life, people, and circumstances should be other than what they are.
Once Ajahn Chah visited a Western monk in hospital who was complaining about an operation he had to have on his knees, saying over and over that "it shouldn't be this way." Eventually Ajahn Chah leaned over him and said, "If it shouldn't be this way, it wouldn't be this way." Ajahn Chah encouraged bringing mindfulness right to the place where the mind is unable to bear reality and instead retreats into patterns of distraction, resistance, or blame. Things arise according to the laws of cause and effect. In the context of the violent history of South Africa, we have to take into account the profound causes that have been set in place. In a relational field where unacknowledged trauma tends to impair sensitivity and trust, healing doesn't happen overnight. There has to be a long-term view and an ability to withstand difficulty. Ajahn Chah's teaching encouraged us to "bear with how it is" for a moment longer, rather than react habitually. Taking time to reflect that "this is how it is" orientates the mind towards a realistic appraisal. Even in disharmony we can be with how it is without the need to tack on judgments. We can allow pain and confusion to come and go alongside the rolling tides of idealism and dashed hopes.
In allowing life to be exactly what it is and meeting it there, we trust and listen into the "suchness" of the situation. In doing so, even when faced with impossibility, an appropriate response usually becomes clear. Learning to deeply accept and allowing response to emerge from that acceptance are not in opposition. There can be letting go and equanimity and there also can be vigorous work to transform suffering. While it can seem there is a conflict between nonattachment and finding an appropriate response, in practice each informs the other. Language creates the appearance of separation, where in truth there is a fundamental unity. When it's time to act, then act; when it's time to let it be, then simply let it be.
What guides our response is mindfulness. When awareness is purified by wisdom, all distinctions dissolve, and the underlying unmoving "suchness" of reality appears. The dualities of subject and object, action and inaction, healthy and sick, wise and deluded, you and me, are revealed to be mere appearances. In the Mula Sutta, Buddha said pann'uttara sabbe dhamma (wisdom overcomes all things), vimutti sara sabbe dhamma (freedom is the heart of all things), and amatogadha sabbe dhamma (all things merge in the deathless). If we enter this understanding, there really is nowhere else to go than right here. With wisdom we realize that all so-called separate things constantly arise, cease, and merge into an undivided heart. Right in the midst of every condition is the radiant heart. There is no other field of awakening than what unfolds right now. This is the emptiness that opens into intimacy with all that is, that understands "being nothing" is also "being everything." When we realize this, we see that it is not a question of helping others because at the deepest level of reality there are no others. We are all connected.
This subtle contemplation aims to keep the heart softened and open. In the story of Avalokitesvara, we find that the bodhisattva-in-training cannot handle the huge task of alleviating so much suffering and so his head shatters into pieces. His teacher Amitabha Buddha (representing the ocean of infinite light and life) remakes his dearest disciple and gives him eleven heads through which to meet the world and a thousand hands and eyes to effectively respond.
The hands of Avalokitesvara, or Kuan Yin, hold symbols of many kinds of wise and compassionate responses. Some are calming and merciful, like the vase from which healing nectar flows, or the whisk to wipe away obstructions. However, some are fierce and powerful, like an axe to cut through obstructions, an arrow to pierce hearts with truth, or a lariat to tie up demons.
Compassionate response can be fierce. There may be the need to place appropriate boundaries if there is a lack of ethics or some kind of abuse. It has been our daily practice, while living in South Africa, to chant the Great Compassion Mantra, which is said to energize each of the hands and eyes of Kuan Yin. It is a faith-based practice that connects with the intention of compassion. Mantra practice guides attention beyond the complex structures of thought. It taps into the primordial matrix of awareness from which wise intentionality is honed. As a daily practice it gives focus, protection, and a connection to the vow power of the bodhisattvas. For us this has been a very real and tangible support. South Africa has challenged us. Like Avalokitesvara, it has shattered and reshaped us, just as the challenges we all experience, wherever we are, continually offer an invitation to grow into our full humanity—a humanity infused with the divine impulse of the bodhisattva mind.