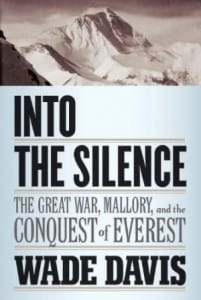 In a new interview with Jeff Glor of CBS's Author Talk, Wade Davis discusses his new book, "Into the Silence: The Great War, Mallory, and the Conquest of Everest," which focuses on the attempts of British climbers George Mallory and Sandy Irvine to climb Mount Everest in the early 1920s.
As Davis tells Glor, his research for the book involved some exploration of Buddhism. Early British climbers of Mount Everest encountered Rongbuk Monastery in Dingri County, a place climbers must pass through to reach Everest's highest peak on the North Face.
Until now, researchers and Everest enthusiasts had only the accounts of encounters had there from a British perspective, with the exception of brief excerpts from the namthor (spiritual autobiography) of the monastery's late Abbot, Ngawang Tenzin Norbu (Dzatrul Rinpoche). Davis, with the help of an anthropologist friend, was able to secure a copy of this namthar and had it translated in full by the Tibetan Buddhist monk Lama Urgyen.
Davis also discusses the history of Rongbuk Monastery and how, in order to better understand what life may have been like at Rongbuk in 1924, he travelled to Solu Khumbu and Thubten Choling, home to some 800 Buddhist monks and nuns. Davis explains how "to be in the presence of Trulshig Rinpoche was from the Tibetan perspective to return spiritually to Rongbuk and the radiance of Dzatrul Rinpoche." In part of his Author Talk interview, the author explains:
"Thubten Choling opened my mind to the power and wonder of the Buddhist path, a new awareness that unfolded with even greater insight during the month I later spent walking close to Everest with Matthieu Ricard, renowned scholar and monk, as we studied the Buddhist science of the mind."
Read the entire CBS Author Talk interview with Wade Davis by clicking here. It includes more details on the research he conducted for the book.