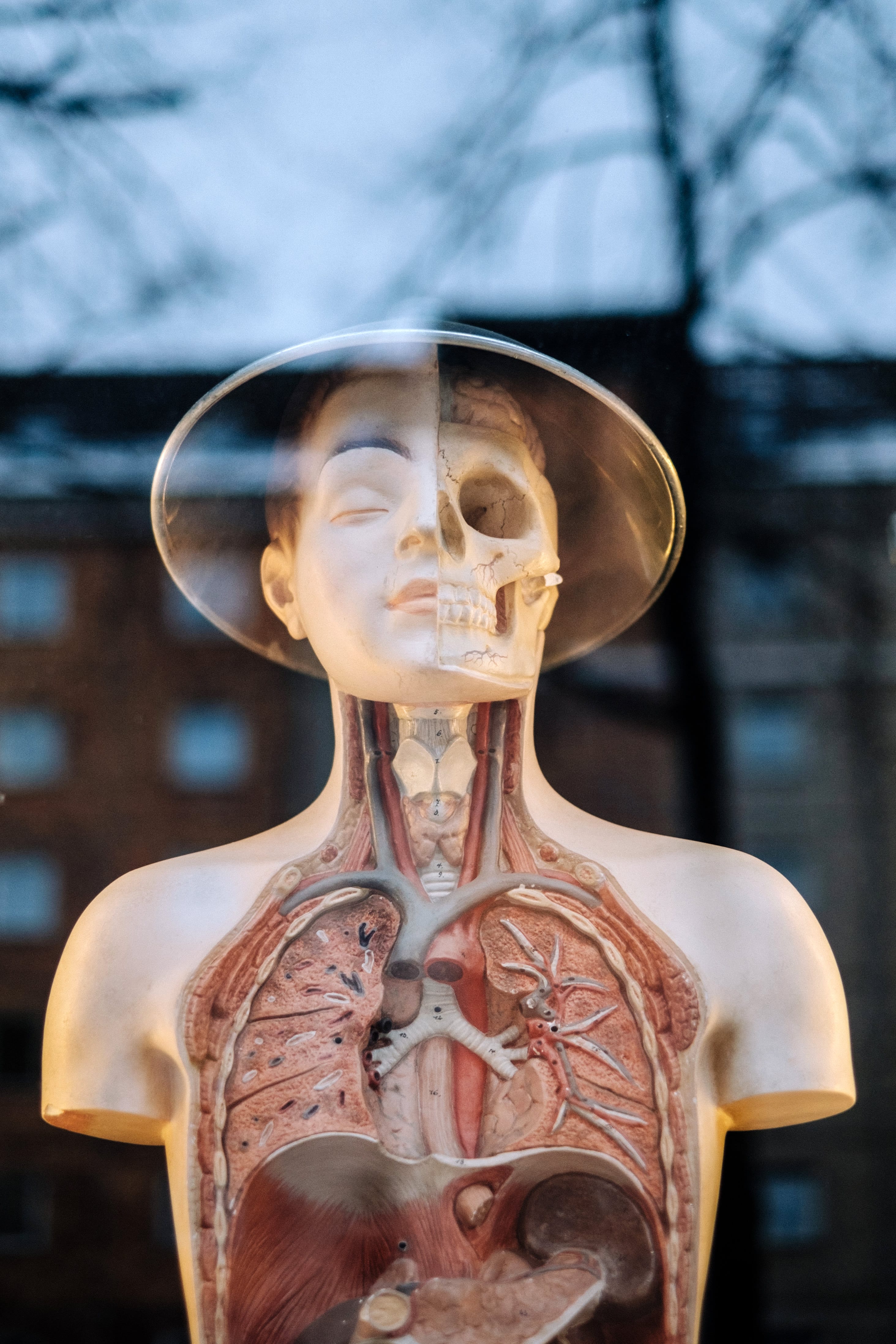 Photo by
Samuel Zeller
.
Many Western Budddhists, says Reginald Ray, perpetuate the mind/body, secular/sacred dualism that has marked our culture since early Christianity.
Buddhist meditation as practiced in the West frequently suffers from a profound disembodiment. Often we meditate from the neck up, as floating heads, completely cut off from the life of our bodies and our physical existence in the world. We meditate in this way because we believe, often without realizing it, that the ideal meditative state should somehow be devoid of the pain, complexity, ambiguity and physicality—in other words, the full embodiment—of our natural human condition.
You may object that the Buddha taught a dharma whose goal was to show the way out of suffering. Quite true. But often in our Western practice of Buddhism, we mistake the goal for the path, seeing the Buddha's statement of the goal as a description of how we should go about meditating.
Many of us, when we sit down to practice, do so with a longing for quiet and peace. No problem. But then our meditation becomes an exercise in trying to attain such a state. It's here our problems begin. If we are experienced and skilled enough, perhaps we have figured out how to meditate so as to remove ourselves from the pain, uncertainty and groundlessness of our lives and enter into a much more satisfying, unambiguous state of mind that we identify as "the meditative state." What could possibly be wrong with this? The problem is that, in this approach, we are expressing and strengthening the profound dualism that has afflicted Western culture since at least the early Christian world of St. Paul.
According to this dualism, spiritual experience and the experience of ordinary, everyday life are two different dimensions of reality, two mutually exclusive universes. This reflects the idea that the goal of spirituality is to exit the "mundane" and attain the "transcendental," the holy, God. Much of modern culture, from our consumerist economy to our systems of socializing and educating our children, is reflective of this kind of dualism, and Western Buddhism has not escaped its grip.
Two factors in particular facilitate this practice of dharma as a process of disembodiment. First, the social and cultural result of this dualism is so deeply rooted in our Western experience. Modern urban societies are increasingly mental and decreasingly emotion, perception and sensation oriented. Conceptual thinking, rationality, and analysis—by themselves abstract processes—are the adaptive mechanisms required for success in the modern world. Emotional sensitivity, intuition and a vivid sensory awareness of the world—adaptations previously necessary for survival and indicative of human embodiment and wholeness—are viewed in modern corporate cultures as liabilities. The disembodied world we have created is an updated expression of the dualism of our religious past.
A second factor unwittingly encouraging our meditational dualism is Asian Buddhism itself, including the traditional background and training of many of its teachers. Buddhism grew up in cultures that were far more physically oriented than ours. You don't need to tell Tibetans, for example, to feel their emotions or "get into their bodies." As a result, traditional Buddhism does not place the cultivation of embodiment at the forefront of its meditation instructions. And the instructions that it does give are often susceptible to being practiced by Westerners in such as way as to reinforce our alienation from our bodies, our experience, and our world.
This does not mean that within the Buddhist corpus there are not many teachings and meditation techniques to address the problems of dualism and disembodiment, for there are. It is just that these teachings are often misconstrued and their real import unexplored. Nor does it mean that there are not Buddhist teachers in all lineages that emphasize the body, for there are. But many people who practice meditation have not received these teachings or have not integrated them into their meditative path.
But again, we may ask, is this is really a problem? You might argue that as the needs of the human world have changed, the valued qualities of human nature are now different, and meditation also must change. Maybe a dualistic view of reality and a much more mentally oriented human presence are both required by modern society. If so, what is wrong with Buddhist meditation that reinforces that kind of disembodiment?
There are two problems with this approach, the first ethical, reflecting our culture, and the second spiritual, having to do with the practice of meditation itself. Western dualism and disembodiment are not neutral, innocuous developments. I would suggest that these developments are intimately bound up with the depersonalization of modern culture, the marginalization of women and feminine qualities, the treatment of children as object, the contempt for and eradication of indigenous cultures, the destruction of the environment, the mechanization of health, and the treatment of human suffering through impersonal social, medical and psychiatric techniques. I would suggest further that the more disembodied we are, the more mentally unbalanced we become. Dualism, depersonalization, and disembodiment are leading to a world culture in which an increasingly greater percentage of its members are, by scientific standards, clinically insane.
The second problem with this alienation from the body directly impacts meditation, and here I would like to highlight three themes: (1) the view (what we are looking for in meditation), (2) the practice (the methods by which we go about trying to attain this), and (3) the result (what our efforts actually lead to).
(1) The view of meditation as disembodiment involves not only our idea that we meditate to remove ourselves from the dirt and detritus of our habitual mental states. More subtly, it is our mental image of an ideal, disembodied state that we (perhaps unconsciously) hold up before ourselves every time we sit down to practice. This may be based on a memory of a state experienced in our practice or with a respected teacher, or something we have read or heard. No matter what specific practice we may be using, this mental image, whether conscious or unconscious, is guiding and directing our meditation. It will limit how we are able to engage and how much we are able to experience, and it will restrict what we are able to see.
(2) Based on such a view, meditation too easily involves a perversion of the basic Buddhist practice of mindfulness. For example, we may "follow the breath" in such a way that we try to factor out everything else in our experience—the physical sensations, feelings, energy and emotions that are given in our physical being, the openendedness that true physicality entails. When problematic or confusing mental states arise, we may all to easily "go back to the breath" and thus avoid engaging these phenomena. In a similar manner, if we meditate with chants, mantras, or visualizations, we may use these as a way to distance ourselves from our more usual, problematic experience.
(3) The result of this kind of practice may be, in the short run, a state that is clean and clear, devoid of pain. While that may sound appealing, the long term result is not: our bodies are left untransformed and the givenness of our lives is left as it was, unredeemed. This is disastrous for the spiritual life for a very simple reason: the meditative path unfolds only to the extent that we engage in the transformation of our ordinary experience. Simply distancing ourselves from the pain of our experience and removing ourselves from it will produce no long-term results. We will be able to remain in a disembodied state for a certain period of time and then, when the energy of maintaining such a state runs out, we will fall back into our usual ignorance and neurotic patterns. Our response to this sad result may be that we begin to distrust meditation, our meditation teachers, and even the dharma itself.
We need to realize that the problem is not with Buddhist meditation itself, but rather with the dualistic ideas we have about it and the disembodied way we practice it. In my next two columns, I will explore some of the more prominent Buddhist techniques for overcoming our inveterate dualism and the disconnected, alienated, disembodied condition it leads to.