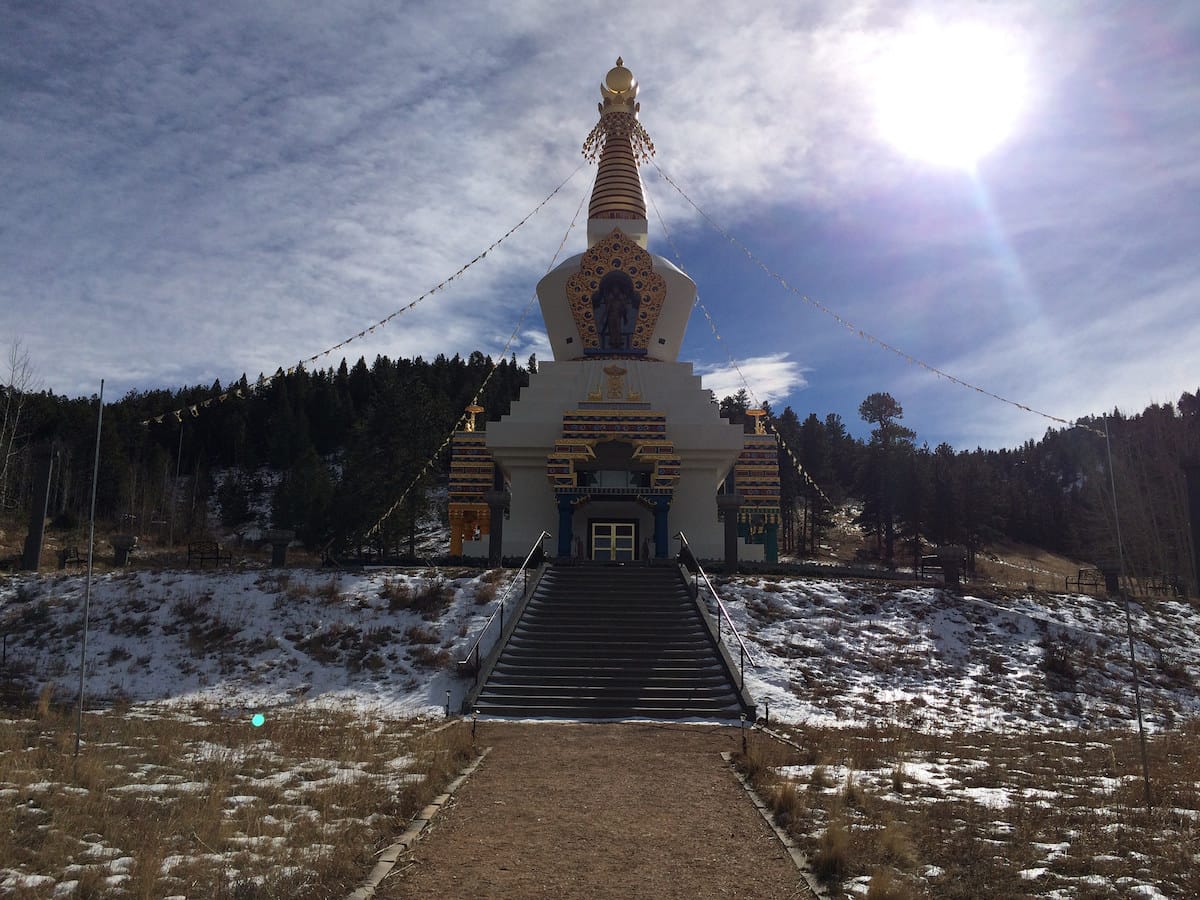 Photo by
Martin Ehrensvärd.
Note: In 2018, Sakyong Mipham Rinpoche became the subject of a number of allegations of sexual assault and misconduct and stepped back from the community he led, Shambhala. While Lion's Roar does not endorse him as a Buddhist teacher, we understand that some may want to access his past teachings in light of recent events, and so we are continuing to make this article from our archive of past issues available for those who wish to do so.
"Just looking at the stupa stops your mind and makes you realize that the world is bigger than your internal monologue," says Sakyong Mipham Rinpoche. "It intrigues and relaxes your mind at the same time."
After the Vidyadhara Chögyam Trungpa Rinpoche died in April of 1987, I felt a tremendous loss in my life. He was my father and spiritual teacher and best friend-everything wrapped into one. I was filled with grief and sadness. And because he was such a great teacher, because his presence was all-pervasive, there was a sense of tremendous loss throughout the Shambhala community and among many Buddhists world.
At the same time, we in the Shambhala community realized that we needed to move forward. We wanted to find a way to remember and to commemorate him. We tried to figure out something that would be appropriate and that he would have wanted. The Vidyadhara never spoke about what might be an appropriate monument to his life. We never talked about doing anything like that because I don't think any of us expected him to pass away at such a young age. He was only 48 at the time of his death. I think he was much more concerned that the Shambhala Buddhist vision move ahead, that these teachings be practiced and shared, than he was about being remembered himself.
Some great teachers of the past told their students simply to cremate their body and dispose of it, because the body is not important. But obviously students have a hard time letting go of the body of a beloved teacher. It is considered to be very special, because it housed the teacher's mind and was the teacher's vehicle for communication during his or her life. The body of a great teacher holds a lot of blessings and meaning and is a source of inspiration. So there is a Buddhist tradition, which started with the Buddha himself, of making some kind of symbolic memorial to a great teacher.
After Trungpa Rinpoche's death, we asked His Holiness Dilgo Khyentse Rinpoche what would be an appropriate thing to do, and he said we should construct a stupa, which is physical representation of the body of a buddha and the path of enlightenment. It is said to benefit not only the people involved in making it, but also anyone who sees it. We went up to Rocky Mountain Shambhala Center in northern Colorado and chose a site. We asked Khyentse Rinpoche how high to build it, and he said we should make it as big as we could.
So we decided on a height of 108 feet (an auspicious number for Buddhists). Our inspiration to make it so big was out of love and appreciation for the Vidyadhara, and needing to do something that would express those feelings.
First, we did ceremonies to bless and consecrate the site-in essence, asking the Earth's permission-and then we started laying the foundation. It seems so long ago now, but one thing I remember is how it engaged people. It was compelling not only to the Vidyadhara's students, but also to people who were only peripherally involved with our group. Eventually, many people with all different sources of inspiration came to be a part of the project.
As the stupa grew, I came to see it as a yardstick of the community's growth. I think most people in our community didn't really know what they were building because they hadn't been to Asia. So learning about the tradition of stupas became a focal point for our grief; working on the stupa or donating money to the project became a way to mourn the loss of the Vidyadhara and a way for the community to come together without him. Every year, toward the end of a summer of teachings, we'd throw a big fund-raising party around the stupa, and that was a great source of joy and inspiration in itself.
During these years our group went through periods of healing and unifying. We also started a lot of other projects: we founded a European practice center, we were improving and expanding our practice centers in the United States, and our group was growing in membership.
The culmination of the stupa's construction was when the sokshing, or "life force pole," was placed into the center of structure-dropped down from the top using an enormous crane. The sokshing is the mind and energy aspect of a stupa. Then, last year, we placed the skull relic from Trungpa Rinpoche's body in the heart-center of the main statue of the Buddha, which sits inside the large shrine chamber on the first floor.
In the last few years we've truly been able to see the fruits of our labor, as the final look and feel of the stupa became apparent. The structure itself has a certain power. Just looking at it standing there in the Rocky Mountain landscape stops your mind and makes you realize that the world is bigger than your internal monologue. It intrigues and relaxes your mind at the same time.
As the structure grew, we began to see the magnitude of what we were doing, and that it was beyond the scope of our community alone. It had grown into something that I think Trungpa Rinpoche would have wanted, something not simply for him. It had grown beyond being a symbol of one person's life and became a symbol for a life of practicing and teaching buddhadharma-and for compassion, wisdom and peace.
This past summer we put the finishing touches on the stupa and held a ceremony to commemorate it. Several thousand people came from all over the world, including the press. They circumambulated in the traditional way and all took part in a big celebration. At that point the stupa truly changed from being a symbol of death to a symbol of life. It became a symbol of the power of the Buddha's teachings-not just a monument to the presence of Buddhism in America, but a beacon for those seeking peace and enlightenment.
Through the process of building this structure, we went from mourning the loss of a great teacher to understanding what he was teaching. His message was to have the strength to understand impermanence, to go beyond our own hesitations in realizing that in order to be a dharmic person, one really has to grow up and mature. That means understanding, letting go, and going forward.
We have come full circle. People came to study with Chögyam Trungpa Rinpoche because they were inspired by his courageousness. He left so much behind in Tibet, but he didn't feel sorry or indulge in his grief. He went forward. And now we have this beautiful, great stupa to remind us of him, how he lived his life, and what he taught us.