Here we present the second installment of a two-part teaching on what the Buddha taught about gratitude, by Thanissaro Bhikkhu of Metta Forest Monastery in California. (Click here to view the previous installment.)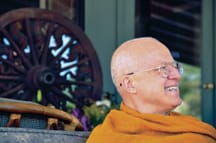 Well-focused gratitude can also teach lessons that apply further to the training of the mind.
First are the lessons touching on the nature of human action itself. The sense that you've benefited from another person's action underscores the point that action does give results; the importance you give to the other person's motives in helping you underscores the point that the quality of the action lies in the intention behind it; and the sense that the other person went out of his or her way to help you underscores the sense that action isn't totally determined: You feel indebted to the people who helped you because you sense how easily they might have denied that help, and how difficult your life might have been if that's what they had chosen to do. Your parents, for instance, didn't have to raise you, or arrange for someone else to raise you; they could have aborted you or left you to die.
So the fact that you're alive to read this means that somebody chose, again and again, to help you when you were helpless. Sensing that element of choice is what creates your sense of debt.
All three of these points—the efficacy of action, the importance of intention, and the existence of choice—were distinctive elements in the Buddha's teaching on action. And the emotional resonance that gratitude and empathy give to these points may be the reason why, when the Buddha introduced the basic outline of this teaching, he cited topics connected with these emotions: the value of giving, and the debt owed to one's parents (Majjhima Nikaya 117). He couldn't offer his listeners proof for his three points—that would come only with their experience of Awakening—but by showing how his teaching on action allowed for generosity to be a meaningful action, and gratitude a meaningful emotion, he offered his listeners an emotionally satisfying reason for accepting his words.
Gratitude also gives practice in developing qualities needed in meditation. As the Buddha noted, the practice of concentration centers on the power of perception. Training in gratitude shows how powerful perception can be, for it requires developing a particular set of perceptions about life and the world. If you perceive help as demeaning, then gratitude itself feels demeaning; but if you perceive help as an expression of trust—the other person wouldn't want to help you unless he or she felt you would use the help well—then gratitude feels ennobling, an aid to self-esteem. Similarly, if you perceive life as a competition, it's hard to trust the motives of those who help you, and you resent the need to repay their help as a gratuitous burden. If, however, you perceive that the goodness in life is the result of cooperation, then the give and take of kindness and gratitude become a much more pleasant exchange.
Similarly, gratitude requires mindfulness, in the Buddha's original sense of the word as keeping something in mind. In fact, the connection between these two qualities extends to language itself. In Pali, the word for gratitude—kataññu—literally means to have a sense of what was done. In Samyutta Nikaya 48:10, the Buddha defines mindfulness as "remembering & able to call to mind even things that were done & said long ago." Our parents' instructions to us when we were children—to remember the kindnesses of others—are among our first lessons in mindfulness. As we develop our sense of gratitude, we get practice in strengthening this quality of mind.
However, not all the lessons taught by gratitude and empathy are of a heartwarming sort. Instead, they give rise to a sense of samvega—which can be translated as dismay or even terror—over how risky and precarious the goodness of the world can be. To begin with, there's the fact that you can't choose beforehand whose kindness you'll be indebted to. There's no telling what kind of parents you'll get. As the Buddha rightly notes, some parents are stingy, immoral, and foolish. Not only are they abusive to their children, but they also might not be content or even pleased with the type of repayment the Buddha says is best for them. They may demand an unreasonable level of repayment, involving actions that are downright harmful for you, themselves, and others. And yet this doesn't cancel the debt you owe them for the simple fact that they've enabled you to live.
You've probably heard of the passage in which the Buddha says,
"A being who has not been your mother at one time in the past is not easy to find…. A being who has not been your father … your brother…. your sister…. your son…. your daughter at one time in the past is not easy to find. Why is that? From an inconceivable beginning comes transmigration."
When you think about how difficult each of these relationships can be, it's no surprise that the Buddha didn't say this to make you feel warmhearted to all the beings you meet. He said it to induce samvega:
"Long have you thus experienced stress, experienced pain, experienced loss, swelling the cemeteries—enough to become disenchanted with all fabricated things, enough to become dispassionate, enough to be released." — Samyutta Nikaya 15:14-19
Even the debts of gratitude you owe to yourself for the good actions you've done are enough to induce a sense of dis-ease. You know that not all your past intentions have been skillful, and yet these are the things that will shape the conditions of your life now and into the future. You're in a precarious position—enough to make you want to find a way out even of the network of kindness and gratitude that sustains whatever goodness there is in the world.
This desire grows even stronger when you allow your empathy to spread to those who have had to make unwilling sacrifices to keep you alive. Every day, the Buddha advised, you should reflect on the fact that life depends on the requisites of food, clothing, shelter, and medicine. Many are the beings who have had to die and suffer other hardships because of your need for these things. Contrary to the song that concludes Mahler's Fourth Symphony, lambs don't gleefully jump into the stewpot to feed you. And even if—when you're in the fortunate position to be able to decide what kind of food you eat—you adhere to a vegetarian diet, you still owe an enormous debt to the farmers and workers who have had to slave under harsh conditions to provide the requisites you need.
The sense of indebtedness that these reflections induce goes far beyond gratitude, and is certainly not pleasant to think about. This may be why so many people try to deny that they owe anyone a debt of gratitude at all. Or why those who do encourage the contemplation of gratitude as a source of happiness tend to reduce it to a generic sense of appreciation and contentment—in the words of one writer, "wanting what you have," "knowing that you have, and are, enough"—devoid of any sense of debt. Gratitude of this sort tends to focus on things, because gratitude to things is so much easier than gratitude to benefactors. Things don't make demands. They don't suffer, and they don't mix their kindness with abuse.
Yet there's no getting around the fact that our very lives depend on the kindness and hardships of others, and that we can't get out of the resulting debts by callously denying them or blithely wishing them away. If we don't repay them now, we'll have to repay them—sometimes at high interest—later, for even death doesn't erase our debts or free us from coming back to incur more.
So to avoid these entanglements, we need another way out—a way the Buddha found through training his mind to reach a happiness that no longer needs to depend on the kindness and sacrifices of others. And although this happiness provides an escape, it isn't escapist. It settles your debts in a responsible and generous way.
This is because unconditional happiness allows you to abandon the cravings and attachments through which you repeatedly take on the identity of a being. To identify yourself as a being means having to find food—both physical and mental—to keep that identity going. This is why, when you're a being, you need to depend on a network of kindness, gratitude, and sacrifice. But when you can abandon the need for that identity, the mind no longer has to feed. It's no longer a burden to anyone. As for the body, as long as you're still alive, those who provide for its needs reap merit many times over for the gifts they provide. This, in fact, is one of the motivations for gaining awakening:
"We will undertake & practice those qualities that make one a contemplative… so that the services of those whose robes, alms-food, lodging, and medicinal requisites we use will bring them great fruit & great reward." — Majjhima Nikaya 39
At the same time, the example of your behavior and freedom of mind is a gift to others, in that it shows how they, too, can free themselves from their debts. This is why the Buddha said that only those who have attained full awakening eat the alms food of the country without incurring debt. They've even paid off their debt to the Buddha for having taught the way to release. As he said, the only homage he requested was that people practice the Dhamma [Dharma] in line with the Dhamma—i.e., to develop the disenchantment and dispassion that lead to release (Digha Nikaya 16; SN 22:39-42)—so that the world will not be empty of awakened people. In this way, attaining full release is not a selfish act; instead, it's the highest expression of kindness and gratitude.
Of course, it's a rare person who will take this route to freedom, but that doesn't lessen its value or relevance. As with gratitude and benefaction, it's an opportunity to become rare and distinctive that's open to anyone with the discernment to appreciate it and the determination to become truly kind and debt-free.
For more from Thanissaro Bhikkhu — including a digital version of his new book, Skill in Questions, visit Dhammatalks.org. To learn more about Metta Forest Monastery, of which he is the abbot, click here.