This episode of The Lion's Roar Podcast features the Venerable Thubten Chodron's "Four Rules at the Center of the Universe," and Chan teacher Guo Gu.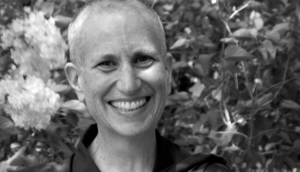 American Tibetan Buddhist nun, Thubten Chodron, gives a humorous depiction of the consequences of believing in a solid self and an objective reality. Then, Chan teacher Guo Gu talks about founding Dharma Relief, a pan-Buddhist Covid relief program to distribute masks in the early months of the pandemic, and what's next for the growing organization.
THANK YOU FOR READING LION'S ROAR. CAN WE ASK FOR YOUR HELP?
At Lion's Roar, our mission is to communicate Buddhist wisdom in today's world. The connections we share with you — our readers — are what drive us to fulfill this mission.

Today, we're asking you to make a further connection with Lion's Roar. Can you help us with a donation today?
As an independent nonprofit committed to sharing Buddhist wisdom in all its diversity and breadth, Lion's Roar depends on the support of readers like you. If you have felt the benefit of Buddhist practice and wisdom in your own life, please support our work so that many others can benefit, too.

Please donate today — your support makes all the difference.

Lion's Roar is a registered charity in the US and Canada. All US & Canadian donations are tax deductible to the full extent allowed by law.