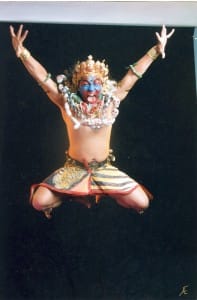 By Christine Parton
"The Many Faces of Buddhism," a three-week long festival to celebrate the opening of the first gallery for Buddhist sculpture in the UK will feature a "Day of Rare Buddhist Dance" on May 1, from 11 a.m. to 9 p.m., at the Victoria and Albert Museum (the V&A) in London.
Sponsored by the Robert H.N.Ho Family Foundation, the day's performances will take place in the Raphael Gallery, and will be presented on two special stages: a recreated Noh stage and a Sri Lankan folk altar.
Four different Buddhist dance traditions will be featured throughout the day, showcasing actors from the Noh Theater (Japan), Drikung Kagyu nuns from the Samtenling Monastery in Dehra Dun (India), dancers and drummers from the Dehimaduwa Bandra Clan of Kandy (Sri Lanka), and Prajwal Ratna Vajracharya, the Newar Tantric Buddhist priest (Nepal). These traditions are all over a thousand years old, and form part of Buddhist ritual practices. Moreover, the day's events will provide an opportunity to see the handful of authentic examples of sacred Buddhist dance that remain in existence -– some that have never before been performed in the West.
The festival will also include a talk by Joseph Houseal, a distinguished Asian Dance Specialist, a two-week international Buddhist film festival at the Barbican, and an international forum on Buddhisn and the arts today, also at the V&A. The festival runs from April 25 to May 17.
The Robert H.N. Ho Family Foundation is a Hong Kong based philanthropic organization committed to fostering Asian arts and culture.
[Photo credit: Andre Elbin]