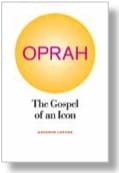 OPRAH: The Gospel of an Icon
By Kathryn Lofton
University of California Press 2011; 297 pp., $22.95 (paper)
While writing the biography Alice Walker: A Life, I interviewed the cast of the film version of her Pulitzer Prize-winning novel, The Color Purple. One of them was Oprah Winfrey, who had earned an Oscar nomination for best supporting actress for her performance in the 1985 movie. When we sat down together for the interview some dozen years later, Winfrey kicked off her shoes (in the African American "sister friend" tradition) and reflected openly on her remarkable ascent. We also discussed homophobia, her sometimes fractious family relationships, gender conflicts in the black community, and, of course, her role in the film.
Making The Color Purple "was my first time experiencing love in its purest," Winfrey recalled tearfully in her sumptuous office at Harpo (Oprah spelled backward) Studios in Chicago. "I would go to the set every day even if I didn't have work to do."
As it happened, Prizzi's Honor actress Anjelica Huston took home the Oscar. "I was actually terrified that they'd call my name because I had on the tightest dress I'd ever worn in my life," Winfrey told me, laughing. "I didn't think I'd be able to stand up and walk to the podium without a major disaster."
Born in Mississippi, then a brutally racist state, Winfrey conquered poverty, sexual molestation, and teen pregnancy (her son died shortly after birth) in her trek to the summit of the television industry. Today, at fifty-seven, she is the proprietor of a vast media empire, including the recently launched Oprah Winfrey Network (OWN). She is worth an estimated $2.4 billion and is widely hailed as one of the most influential people in the world.
"What is Oprah? A noun. A name. A misspelling," writes Kathryn Lofton in Oprah: The Gospel of an Icon. "For the purposes of this work, the materiality of Oprah Winfrey—her body, her biography, and her singularity—is interesting only insofar as it documents and creates Oprah. Shifting from her to it is not easy, since Oprah is a professionally lovable sort of she. But the move is necessary if we are to know just what it is exactly that she sells. Because whatever Oprah is, it will be, in perpetuity, a product."
That Lofton, a white professor at Yale, one of the most elite universities in North America, begins her book with a cavalier casting of Oprah Gail Winfrey as an it speaks volumes about the ways in which black women have been dehumanized in America since 1619 when a group of shackled Africans were put ashore in Jamestown, Virginia. "A slave has no more legal authority over her child than a cow over her calf," observed a white Southerner in the 1850s.
It's clear that many view Winfrey as a commodity. Yet, she has been for me, since her emergence as a national figure in the mid-eighties, a flesh and blood work-in-progress, like most human beings. Apparently stuck on it, Lofton fails to discuss the origins of Winfrey's name.
"The baby girl would be named for the biblical character Orpah from the Book of Ruth in the Old Testament," writes Lois P. Nicholson in her young adult biography, Oprah Winfrey: Entertainer (Chelsea House 1994). "But [Oprah's mother] gave birth at home with the assistance of a midwife, and according to Oprah, 'the midwife got the letters transposed, and I wound up as Oprah on my birth certificate.'"
In her effort to define Winfrey as a modern-day "messiah" who promotes mindless consumption through the "mega church" of her television, radio, magazine, film, and Book Club enterprises, Lofton likens Winfrey to nineteenth-century missionaries who sought to bring civility and salvation to "primitive" African tribes.
The author seems to take special umbrage at Winfrey's 2002 launch in South Africa of the first international edition of O, The
Oprah Magazine. "Oprah would subsequently claim a genetic tie to the Zulu people as further endorsement of her righteous role in the nation's development," Lofton writes. "The descendant of slaves was now returning to her continental origin to compel the unconverted."
Lofton is similarly leery of the $40-million Oprah Winfrey Leadership Academy for Girls (a private boarding school) that opened outside of Johannesburg in 2007. Winfrey funded the school and oversaw every detail of the twenty-two-acre campus that features a yoga studio, a beauty salon, high-tech theaters, and museum quality pieces of original tribal art.
"Beautiful environments inspire beauty in you," Winfrey said, unapologetically, about her central role in the design of the academy. "I said from the start, I am creating everything in this school that I would have wanted for myself—so the girls will have the absolute best my imagination can offer."
Lofton takes a different slant. "No matter the racial composition of the missionary relationship… it [is] predicated on a fundamental difference between the proselytizers (white or black) and the proselytes," the author asserts. "For Oprah, the postcolonial colonizer… the only reason to justify her philanthropic presence—is material inequality. These [Leadership Academy] girls may have wisdom greater than any faraway bureaucrat or invading missionary. But they don't have yellow tiles or Body Shop soaps to line their cluttered outhouses. And this donation is where Oprah's mission begins."
Writing in a January 2007 Salon.com article about "haters" of the Leadership Academy, Rebecca Traister observed: "Winfrey might have known that news of her students' swank surroundings might not wash with American critics, who don't bat an eye at white hotel heiresses dancing on banquettes, or reality shows about sweet-sixteen parties at budgets that could build a home for a Katrina victim. But impoverished black girls sleeping on nice-ish sheets? That didn't go over so well. The affronted sense that these girls deserved only bare-minimum accommodations and that a private citizen's money should have been used to educate them in bulk rather than in gracious individual style reflects our own beliefs that the bare minimum is all poor (black) girls need."
I believe that Winfrey's moral values and ethic of care stem from her upbringing in the traditional black Baptist church where the nurturing of youth (especially those of promise) and public service have long been cornerstones of the institution. From an early age, the elders at her small, rural parish in Kosciusko, Mississippi (population about seven thousand) praised Winfrey for oratory gifts that apparently included Oscar-worthy recitations of the story of Daniel in the lions' den. The affirmation Winfrey received in church honed her allegiance to "everyday people" and endowed her, spiritually, with a personal sense of unlimited potential. In that regard, Winfrey's magnificent journey mirrors that of Aretha Franklin, whose legendary career began as the premier soloist in New Bethel Baptist Church in Detroit, where her father was minister.
"I always knew I was going to do well in life," Winfrey has said, her painful childhood notwithstanding. "I always believed that whatever I wanted… I could get—I have such stable roots." An avid reader (as evidenced by her Book Club), Winfrey's vision was also shaped by the great blossoming of black women's literature that began in the seventies. In addition to The Color Purple, she has cited as cherished books such works as I Know Why the Caged Bird Sings by Maya Angelou; Breathy Eyes, Memory by Edwidge Danticat; and Song of Solomon by Toni Morrison. All the works delve, unflinchingly, into the hardships of black life but ultimately deliver restorative messages of redemption. Perseverance is a common theme in the books; one that resonates with Winfrey and that she imparts to her millions of viewers in more than 140 countries. In keeping with the major tenets of Buddhism, Winfrey, through her empathy, honesty, authenticity, and philanthropy, has crafted a life in which she has been, without question, of benefit to others.
Spiritually and morally, Winfrey is asking people to take responsibility for their lives. "I believe that I have a higher calling. What I do goes beyond the realm of [normal] parameters," Oprah has said. "A bonding of the human spirit takes place." Approached in 1999 by Hearst media (owner of, among other properties, Redbooky Cosmopolitan, and Esquire) about extending her message of uplift through a monthly publication, Oprah reputedly replied: "Why do I need a magazine? I already have a full-time job that speaks to women all over the world."
As Lofton tells it, Winfrey was soon swayed by the opportunity to publish a spirit-infused but secular guide (read: Bible) for women of all races, sizes, ages, and backgrounds. Between the covers of the ad-packed glossy magazine, readers would find Oprah-intoned advice on topics ranging from debt reduction to proper bra fittings to the purchase of "alligator-embossed leather notepads" and "black button sage honey"
It could be that I missed Winfrey's announcement about her intention for O to vanquish The New Yorker, Harper's, and other periodicals that have been lauded for their stylish, timely, and probing coverage of the arts, culture, and politics. But I don't believe Winfrey ever pitched her eponymous magazine as a "must read" platform for investigative journalism or rigorous intellectual debate.
While I routinely pick up a free, outdated copy of O from the swap pile at my local recycling center, I have not purchased a single issue since its inaugural 2000 release. For me, the magazine evokes (without disappointment or rancor) the seventies soul hit by The Dramatics: "Whatcha See is Whatcha Get."
Asked to reflect on the events of September 11, 2001,1 doubt that a reference to the queen of daytime television would leap from anyone's lips. Yet Lofton suggests that in the aftermath of the terrorist attacks Winfrey emerged as a symbol of the nation's starstruck sensibilities.
She takes issue with Winfrey's role as emcee at the interfaith "Prayer for America" service that was held at Yankee Stadium two weeks after the tragedy.
"Who could best organize the assorted religious vestments and somber political suits into a soothing visual and spiritual clarity? Oprah Winfrey," Lofton writes, "was America's assembly, she was America's love, she was America's preacher queen."
"Preachers and saleswomen share the common ambition to convert the multitudes under their advertising slogans proposing exclusivity," continues Lofton, contending that Winfrey "conjures a religious space in regard to her country's mythic dream, becoming a site of ritual and moral transaction for a nation possessed by the idea of a plural marketplace for everyone's dreams." It seems that the massive impact of Winfrey's fame and wealth overshadows the real hardships she once endured, and Lofton gives short shrift to the obstacles Winfrey faced as a black girl growing up in segregated Mississippi.
I imagine that as Winfrey busily harvests pearls for her life and for the lives of others, she finds inspiration in Zora Neale Hurston, best known for her 1937 novel Their Eyes Were Watching God (which Winfrey produced in 2005 as a television movie starring Halle Berry). Writing in a 1928 essay, "How It Feels to Be Colored Me," Hurston declared: "I am not tragically colored. There is no great sorrow damned up in my soul, nor lurking in my eyes… No I do not weep at the world—I am too busy sharpening my oyster knife."