Each Friday, we share three topical longreads in our Weekend Reader newsletter. This week, Buddhadharma editor Tynette Deveaux explores what it means to be human. Sign up here to receive the Weekend Reader in your inbox.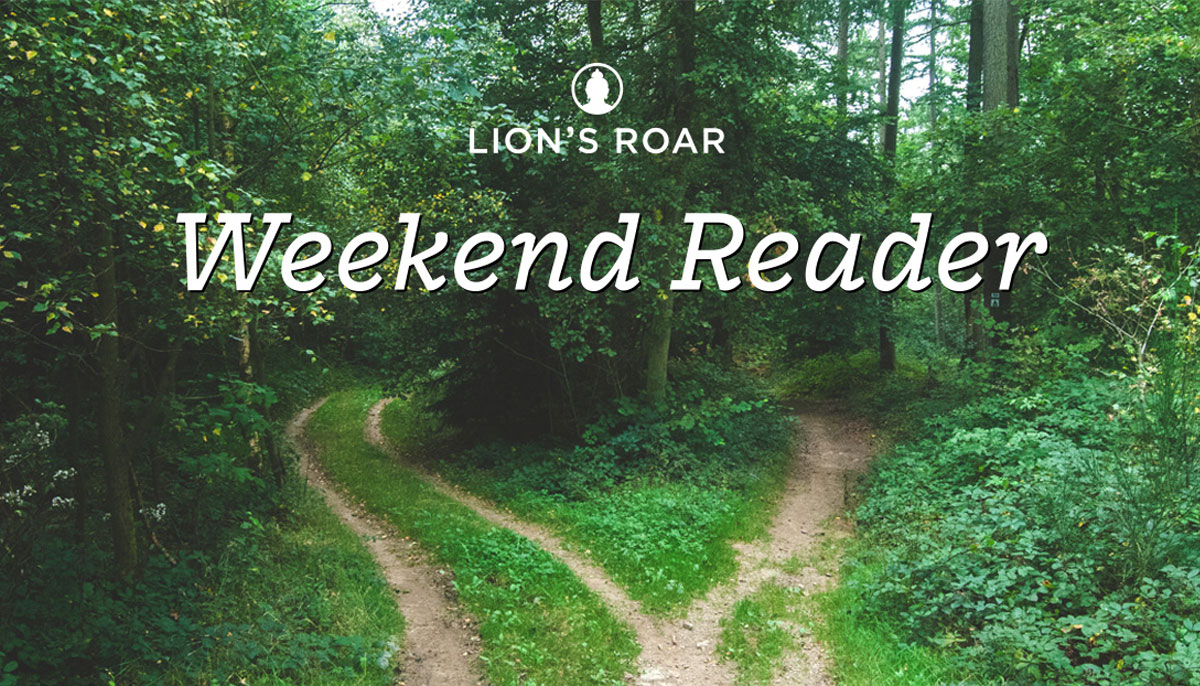 This week I stood at the freshly-dug gravesite of my mother-in-law, Annie, and recited the Lord's Prayer. I was raised Catholic in my early childhood, so the verses come back to me easily at times like this. A few years ago, I might have struggled with such prayers and rituals, fearing that I was being disingenuous, telling myself, I'm a Buddhist after all!But somehow that doesn't hold sway any more.
People often ask, "How do you become a Buddhist?" The simple answer is that you take refuge in the Buddha, dharma, and sangha. But, as you go forth, you still need to work out what it means to be a Buddhist for you.
When I began practicing and studying Buddhism more than twenty years ago, my peers and I were intent on receiving dharma transmissions (abhishekas) and accomplishing the levels of the path laid out for us. Now, that path seems small and constricted to me. Perhaps it's because I've grown increasingly aware that the world is in desperate need of our help and Buddhism doesn't directly answer many of the pressing questions of the day, like "What do we do about the climate crisis?" or "How do we respond to attacks on women's reproductive freedom?"
In her article, "Your Liberation Is on the Line," Rev. angel Kyodo williams makes a compelling case for the power of dharma to challenge the status quo and undo systems of oppression, namely racism and patriarchy. She's able to do so because she holds a big view of what dharma can and must be: "So when dharma teachers try to tell me that this work is not the dharma, I say they're confusing the true dharma with the dharma they've made small."
Rev. williams goes on to clarify that she's talking about the path of liberation, which extends beyond our limited ideas of a Buddhist path.
So what does it mean to be a Buddhist? That's something you may still need to figure out. But for me, that question has been replaced by a new one: What does it mean to be fully human?
Showing up in your life, being fully human, and engaging with the suffering around you (and in you) can take myriad forms: protesting against building a pipeline on Indigenous peoples' lands; taking the time to say hello to a stranger and give them a hand; and, maybe, saying the Lord's Prayer and making the sign of the cross alongside your grieving Catholic relatives.
Whatever it looks like, the path of being fully human is, at its core, a path of genuine connection, care, and love. And to me, that's one worth choosing.
—Tynette Deveaux, editor, Buddhadharma: The Practitioner's Quarterly
"No one who has ever touched liberation could possibly want anything other than liberation for everyone," says Rev. angel Kyodo williams. She shares why we must each fully commit to our own path to liberation, for the benefit of all.
I'm not talking only about the Buddhist path; I'm talking about the path of liberation. You can come to that as an activist. You can come to it as a yogi, or as an agnostic, or as a humanist. If you're on the path to liberation, you have to be motivated by this fierce sense of undoing, this willingness to come completely apart, to know that everything you think you know about yourself, you inherited from someplace else. You need to take account. Be willing to face and acknowledge that much of what has come to you has been unearned and has come at great cost to others. Start balancing the books. And then: relax. Relax. Enjoy your life. Let it unfold. This is the tension of the path: the fierce, fierce undoing and the perfected ability to just be with what is.
It comes down to this: if you don't get on your path, I don't get to finish mine.
David Loy makes clear what Buddhism offers in the face of climate change.
By now we're all familiar with the pattern: we read yet another newspaper or online blog reporting on the latest scientific studies, with disheartening ecological implications. Not only are things getting worse, it's happening more quickly than anyone expected. How do we react? The news tends to make us depressed or anxious—but hey, we're Buddhist practitioners, so we know how to deal with that. We meditate for a while, and our unease about what is happening to the earth goes way…for a while, anyway.
This is not to dismiss the value of meditation, or the relevance of equanimity, or the importance of realizing shunyata. Nevertheless, those by themselves are insufficient as responses to our situation.
Thanissara presents an honest discussion of internalized racism and how seeing it clearly transforms sanghas.
We can't expect this work to be comfortable, but we need not dread it or think something has gone wrong because the controlled, peaceful spaces we associate with Buddhism are dislodged. Instead, bewilderment, heightened emotions, indignation, misunderstandings, resentments, blame, and accusations, whether true or not, are signs that something authentic is happening. As centuries of injustice and distorted conditioning are unpacked, how can it be any other way? And in any case, why should white patriarchal sanghas maintain their comfort zones, their controlled calm spaces, while others who are marginalized struggle as the direct result of those in the master's house refusing to authentically share or give over power?