Each Friday, we share three topical longreads in our Weekend Reader newsletter. This week, Buddhadharma editor Tynette Deveaux talks about the people who inspire us. Sign up here to receive the Weekend Reader in your inbox.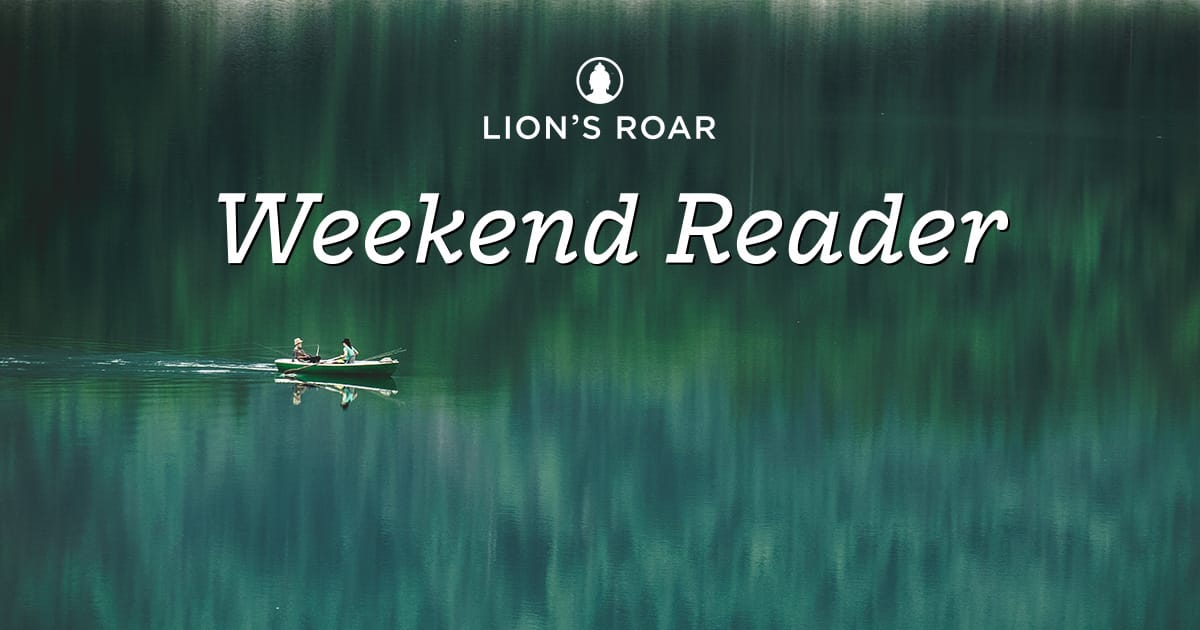 There's a woman named Darlene who goes for long walks by my house most days, even when the weather is unbearably cold and stormy. She walks slowly, with a limp and a special cane, and seems to focus intently on each step. There's a strength and dignity about her. It's difficult for her to walk, but she does so faithfully without a fuss.
One day I rushed over to talk with her, pretending to be out for a walk myself. I had been longing to meet her, to somehow get close to this being who for reasons I don't quite understand moves me deeply. We introduced ourselves and without hesitation she told me the story of the stroke she suffered during brain surgery and how the doctors told her she'd never walk again. She was determined to try and never looked back.
I haven't spoken to Darlene since that day, but each time I see her walk by I find myself tearing up, but not in a bad way. Seeing her, I feel connected to the suffering of the world and yet not overwhelmed by it. I have a flash of tenderness for myself and others whom I don't always find easy to love. For a moment, I'm not afraid of life's hardships and am ready to face what comes. While these moments may be fleeting, they're still powerful to me.
I suspect many of you have had encounters with the Darlenes of the world—people who inspire you or give you strength or help you see your shortcomings in a compassionate light. Could they be buddhas and bodhisattvas helping us along the path? I like to think so.
—Tynette Deveaux, editor, Buddhadharma: The Practitioner's Quarterly
Venerable Pannavati, Anne Klein, and Ejo McMullen on the possibilities and challenges of the bodhisattva path.
Buddhadharma: How would you define a bodhisattva?
Ejo McMullen: The classical definition of a bodhisattva is a being who is on the path to awakening and who dedicates that path to the welfare of all beings. But how do we carry that textbook definition into day-to-day life? The power that an image can hold for spiritual practitioners, as a sacred carrier of our intention or a place where the path can be realized, is so crucial. Bodhisattvas are both archetypal and actual beings beyond our grasp. They offer an image that not only inspires us but also mirrors our life back to us. This is kanno-doko, or sympathetic resonance. We are moved by the image of the bodhisattva, and in being moved, we respond. Their way of walking becomes our way of walking.
To create enlightened society, we must recognize our interdependence. In this 1999 conversation from the Lion's Roar archive, Pema Chödrön and Margaret Wheatley talk about how individuals can open to one another's stories.
Pema Chödrön: Even when we're talking about the enlightened state, the path still seems to be one of waking to each moment as honestly as we can, and being willing to communicate with other people without feeling shame about exposing our defects. Because when we are willing to expose our defects, we expose some kind of heart to other people. Curiously enough, people respond more to our honesty about our imperfections than they do to our perfections. When we're honest about our difficulties with a project, or with another individual, or whatever, everyone in the room sort of resonates with the bravery of someone who's courageous enough to express their pain. It's so fascinating that that's what inspires people.
It's when we lose the illusion of control—when we're most vulnerable and exposed—that we can discover the creative potential of our lives. Pema Khandro Rinpoche explains four essential points for understanding what it means to let go, and what is born when we do.
There are times in our lives—such as facing death or even giving birth—when we are no longer able to manage our outer image, no longer able to suspend ourselves in pursuit of the ideal self. It's just how it is—we're only human beings, and in these times of crisis we just don't have the energy to hold it all together. When things fall apart, we can only be as we are. Pretense and striving fall away, and life becomes starkly simple.
The value of such moments is this: we are shown that the game can be given up and that when it is, the emptiness that we feared, emptiness of the void, is not what is there. What is there is the bare fact of being.