Alexander the Great swaggered around, claiming no part of his body was without a scar, but he never had to battle uterine cancer. Twenty-three-year-old Callies Bates on the cheap wig and lots of love that got her through chemo.
My doctor didn't know how to react. "You like purple?" he asked. "Well, yes," I said. I wanted to explain that it was supposed to be funny. Dr. M is a dear, small Italian man, but he does not know what to do with humor; he excels at tragedy. Give him a tear and he will be holding your hand, telling you that everything will be fine, that you must ask yourself, "What am I called upon to do?" and through this calm, this insight, you will prevail over all the challenges leveled at you.
Purple wigs are a little out of his league.
I turned the bright bob-cut acrylic thing inside out and stuffed it back into its plastic bag, feeling rather sheepish.
Meanwhile, Dr. M's resident winked at me behind his back. "That was excellent," she mouthed.
Despite the relative popularity of toupees and men's general anxiety over bald spots, it seems that wigs are a girl's thing. Perhaps when you have less hair to start with it is not as disturbing when it begins to come out in handfuls. But I cannot believe this change is easy for anyone.
Prior to meeting with Dr. M, I had gone up to the mezzanine level of my hotel lobby to Renee's wig store. Head firmly ensconced in my purple, cotton beanie, it took me awhile to pluck up the courage to ask the owner if I could try on some wigs.
"Are you losing it or growing it back in?" she asked when I removed my hat.
"Losing it," I said. "It's chemo. I go in for my second treatment tomorrow."
She pulled a sad face. I'm only twenty-three and perhaps I look younger, although in Rochester, Minnesota, adjacent to the Mayo Clinic, I'm sure they see people far worse off than little old me. But still. You can't close off your heart.
We tried on wigs of all sorts. Short ones, long ones, red, blond, brown, black, and (just before the purple) a fetching pink pixie with a black forelock. I am by nature a dark brunette, but in the pit of my soul I still cherished a nine-year-old's yen to be a vibrant redhead with green eyes the color of emeralds, just like Felicity from the American Girls, not to mention the sword-wielding, dragon-fighting, buttkicking Aerin and Alanna who filled my childhood bookshelves. And for a moment, sitting in front of that oval mirror in the back of the shop, surrounded by many-colored wigs mounted on Styrofoam heads, I imagined that by changing my hair I could change the essence of who I was.
But whatever hair I wore, I was still me. Same small pixie face. Same freckles. Same hazel eyes. It was the eyebrows and lashes and even nose hairs that I would lose in the next three months, so that my face would become too smooth, un-furred. That's what I was afraid of on that day in October in Rochester. I was afraid of what I might become, of what chemo would turn me into. I couldn't bear the thought of becoming a stranger to myself. That's why I was trying on wigs, of course—in case I became too self-conscious of my baldness, in case I needed to put on another person's hair in order to see myself in the mirror. My hair had only begun to fall out the week before.
When Renee brought in the purple wig, I knew that was the one. Acrylic and natty and spilling into my eyes, hot and itchy and lavender, it said, I am yours. And for $28, I would take it. I might be worried about my appearance, but, by God, I wanted to make people laugh. You've got to laugh. Chemo is no laughing matter.
Besides, Renee could always mail me one of the other, nicer, "realer" wigs for $300 if I decided to pretend I had real hair. I was always dressing up as a child, always pretending to be someone else. Both the purple wig and the realer wigs were pure dress-up, but at least when I wore the purple wig I didn't feel like a shabby substitute for myself. No, in the purple wig, I felt like I was going to some eurotrash party where I would sip a cocktail, dance like a whirligig, and pretend to be full of ennui until I could no longer maintain the façade. After all, my oncology nurses insisted on calling my chemo drugs a "cocktail." Taxol and carboplatin are right up there with Grey Goose and Tanqueray, right?
Yeah, right.
On the way home, I called Dad to tell him the good news: I'd seen Dr. M and gone shopping!
"You spent twenty-eight dollars on a purple wig?" he said.
"Hell yes," I said. "And I'm going to wear it to chemo tomorrow."
We—Mom and I—returned home to Manitowish just in time for me to swallow my drugs in preparation for the next day's chemo. We drove home in the dark, but we knew the route the way some people know the lines on their faces. We knew how the tall glass and brick buildings of Rochester yield to farmland, and farmland to the grand bluffs along the Mississippi, and the bluffs and their winding roads to the dull green of central Wisconsin. In the darkness, our very blood told us we were passing the boulders left by ice-age glaciers, the soft wetlands entangled with alder and hazel, and the low sleepy rivers that slide oxbow by oxbow inexorably toward the south.
How many times have I driven across fields and farms, forests and rivers with my mother? I'm always glad to be home, but never more so than in these last months. It isn't just this place that spells home for me; it is the people—my parents—my mother. On that terrifying day in May, when I'd passed out on the cold tiles of the dormitory bathroom at my small liberal arts college, it was Mom's voice that provided my anchor. It was her surety, her calm that assured me I would not die on the spot. "I'm calling security," she told me after I wavered my way back to bed. My roommate was gone, the halls eerily empty at 9:30 on that Monday morning. I held my cellphone hot against my ear as if it could give me life—it was, after all, my tie to my parents who had given life to me in the first place.
Security came, with one of the deans. They took me to the ER, where I fainted again and woke to starched hospital sheets, white walls, gray floors. You cannot imagine the desolation of an emergency room until you are lying on your back, oxygen pouring into your nostrils, an IV pumping into your arm. Before that day all these things were foreign to me. I hadn't been in a hospital, as a patient, since the day I was born. I had never imagined what it felt like to be reduced to this: my breath, my heartbeat, blood surging in my veins. This body and the light of the soul are all we have. Yet it is enough. It is so much.
When I was wheeled up to the doctor's office, when I looked around and saw my mother standing in the door, I was already halfway home.
All chemo drugs are a pain in the ass, but steroids taste the worst. Their effect lingers on the palate, sour and fuzzy, long after they disappear into the bloodstream. This is my preferred method: drop the itsy-bitsy green-colored instruments of gag onto the back of the tongue and then slide them with the teeth into the throat. Swallow. Drink water to dull the aftertaste. Feel a gradual charge spreading throughout the body, like a train or an airplane gearing for take-off. Welcome aboard Flight No. 2 to Chemo Land. This is your local oncology unit speaking. Taxi over to computer. Take silly pictures wearing purple wig and aviator glasses and post them to blog. Execute a jig. Try not to think about chemo. Think of nothing but chemo. Envision body as temple of light, and carboplatin and taxol as equivalents of nectar and ambrosia— the food of the gods!—instead of poisonous chemicals designed to kill all fast-growing cells, not to mention deprive head of beautiful, thick, luxurious hair. Sleep.
A few days after buying the wig, I snipped the remaining wisps of hair off my head. My poor scalp felt tender and it was not an easy process, but when I was done I didn't burst into tears as I half expected to. Instead, I felt liberated. I looked at my stubbled head in the bathroom mirror, tilting the doors on the medicine cabinet so I could observe myself from all angles.
"Bald is beautiful!" I declared to my audience of one, the dog, lying on the hardwood floor outside the bathroom.
She did not look impressed. When I knelt beside her, she kissed my face and rolled over so I could scratch her white belly. Of course she didn't care whether I had hair. Nor did she know that my hair, grown out in thick waves to my waist, had been my main vanity as a teenager and the one time I cut it, aged fourteen, I cried.
No, Zoë didn't care about hair. She loved me and I loved her and that was all that mattered.
Just about the first thing I said after the doctor diagnosed me with uterine cancer (a disease usually reserved for grandmothers), was, "Now that I'm going to be home for a while, can we please get a dog?"
And from the beginning Zoe has given us life, just as her name promises. On a miserable August afternoon, following one of the worst doctor's appointments in history, we followed winding roads to a farm where Australian shepherds ran up and watched with their uncanny blue eyes as we got out of the car. The breeder led us into a sweltering room where she brought out two six-week-old puppies. I had my heart set on the little black tricolor, having seen her picture on the internet and believing that she had "princess-like" qualities. (Apparently there's nothing like puppies to bring out my inner six-year- old.) But it was the fluffy reddish-brown one with the murky green eyes who crawled up our legs and said to us with all the conviction of her small being, "I belong with you."
And she did.
At least someone in the family has red hair and green eyes, even if it's not me.
How do you redefine the lineaments of yourself?
You must realize that you have no boundaries.
When I was a teenager, I loved Alexander the Great. Other girls could have their Edward Cullens, Jonas Brothers, whatever; my heart belonged to a centuries-dead Macedonian conqueror, even though I had this niggling suspicion that if I actually met the dude, I might not like him very much. There were his alcoholic tendencies and massacres of Indian populations, as well as pretensions of divinity. But who can t find a little room in their heart to forgive Big Al? Sure, he ran one of his generals through with a spear during a particularly touchy evening of drinking, but then he cried for three days until his soldiers begged him to come out of his quarters. (Yes, the Macedonian camp did occasionally resemble the set of Days of Our Lives.) So really, Big Al was not all bad.
Even the invincible Alexander eventually had to accept defeat—not by another army but by his own men. On the banks of the Hydaspes River in India, years away from home, the exhausted Macedonian troops had enough and they refused to go farther. Alexander exhorted them; he blamed them; he scolded them. If the historian Arrian is to be believed, he tried every trick in the book. One can almost see him, this short, intense man with the leonine hair and the wide, staring eyes, pacing back and forth on that riverbank in India, sweating in the heat, crying out in a voice pitched to be heard over the racket of battle: "Stand firm. You know that hardship and danger are the price of glory, and that sweet is the savor of a life of courage and of deathless renown beyond the grave."
One gets the sense that the soldiers looked at each other and muttered, "There he goes again. Honor and glory and all that shit. I just want to get home and see my wife."
Needless to say, they turned around.
Back they trundled toward Persia, a journey they all wished to forget as soon as they completed it, for they lost more troops to the horrors of the Gedro- sian Desert than perhaps in any major battle. There, facing rebellion among his troops, he asked them, "Does any man among you honestly feel that he has suffered more for me than I have suffered for him? Come now—if you are wounded, strip and show me your wounds, and I will show you mine. There is no part of my body but my back which has not a scar; not a weapon a man may grasp or fling the mark of which I do not carry upon me."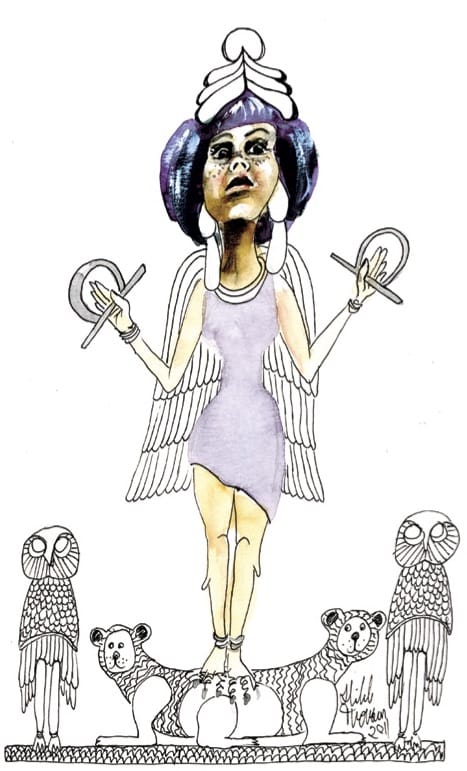 At the tender age of fifteen, I examined my milky white skin. No scars; not even the least blemish. "God, have I led a boring life! " I thought. I wondered what it would be like to have a scar, to have been wounded, to feel pain. It didn't really occur to me that it might lead to anything more profound than bragging rights, my own small share of honor and glory.
If I were in India with Alexander, would I have wanted to go on?
I thought of him when I woke after my surgery at Mayo in August. In pain, confused, groggy, I did not know what had happened, what parts of me were missing, how long I had been in surgery, if my prognosis was good or bad. I was lying in a hospital room with wadded cotton balls stuck up my nose, pumps working my legs to prevent blood clots, and bandages encasing my tender stomach. I could press a small black button any time I needed morphine to dull the pain. Tubes wound out from my stomach bandage, siphoning off the excess fluid from the surgery, a watery ochre color. My parents arrived and held my hands, kissed my puffy cheeks. I had been in surgery for six hours. I had these things stuffed up my nose. I cracked a smile. "It's my new look," I whispered.
Dr. M appeared several hours later. He sagged against the far wall, his face gray, his eyes dark with weariness. They had begun the surgery using the Da Vinci laparoscopic technique, but a sample of my left ovary proved to have microscopic cancer cells. They had been forced to cut me open and remove everything, including the lymph nodes and my appendix.
Hey, at least I'll never have appendicitis, right?
It took me a while to gather the courage to look at my stomach once they removed the bandage. But really, it was not so terrifying. Nine inches long, snugly sewn up, it would have been less alarming but for the crusted blood and the tubes protruding just above my hips.
No part of your body without a scar, huh, Alexander? He never had a hysterectomy. If he hadn't attacked people, he would never have had a scratch; whereas my body attacked itself for reasons that still lack explanation. My battle went on silently, inside. My stomach has not been mauled by a lion's claws or enemy arrows, but rather by the surgeon's scalpel. Instead of perpetrating the darkness of war and violence, I have had to journey down into my own inner darkness.
Some days, when I had changed too much to recognize myself, I bought clothes. Some days I wrote, eking out a page here and there. Some days I played the harp. But more often I lay on the couch taking refuge in movies. I imagined myself into Audrey Hepburn's mansion in How to Steal a Milliony climbing through the armoire into the secret chamber where her father created fake masterpieces. I wanted a secret chamber like that in my house. I wanted to crawl into that secret part of myself.
I dreamed of spring. In spring, chemo would be months over and my hair would have begun to grow back. In spring, I would wear fine dresses, write beautiful words, play exquisite melodies. I would be radiant with health. The sunlight would glow through my skin. I would walk, I would run, I would dance beneath the budding trees.
In the oldest remaining version of the Persephone myth, the Sumerian sky goddess Inanna, Queen of Heaven, descends to the underworld and becomes trapped there. As she walks farther in, she is divested of her jewels, her clothes, and finally of her skin. In this darkness, she is no longer defined by her appearance and she becomes nothing and everything. It is not enough to see things only in the light, in the beauty and fertility of the world above ground. She must enter the darkness to attain true wisdom—the wisdom needed to become the Queen of Heaven. When she returns to the light, how much deeper her vision, how much clearer her insights. Things that used to cause so much trouble no longer matter; her vision has fundamentally changed. She is herself, but more herself.
Inanna squeezes back into her skin. She checks to make sure everything is as she left it: two legs, two arms, two breasts, two feet and two hands, one face to reflect the radiance of the world. But she finds a small scar where the skin was sewn together again. This she will always wear beneath her clothes, as a token, a reminder of the journey she made. Traced onto this small knot of skin, if she looks closely, she can see in miniature the maze she walked, the path where her feet stumbled occasionally, where she often crawled and sometimes ran, but always forced herself to move forward. She will never forget.
Over her scar, over her perfect radiant body, she belts her blue robe. She lays her golden necklace over her collarbones so that it suffuses her like the sun. She tucks her feet into embroidered slippers for when she walks this hard earth we live upon. She trims her eyes in kohl to draw other's eyes to hers, so that window to soul can meet window to soul. On her head she places the crown of stars and she returns to heaven. But part of her remains in the underworld, part of her is always touching the earth, and she knows that she is always everywhere, in everything.