Western practitioners rarely have the opportunity to experience directly the unfolding of mysteries that sustain the centuries-old legacy of a vibrant Tibetan Buddhist lineage. Yet just such an opportunity will arrive with the visit this August of Dilgo Khyentse Yangsi Rinpoche.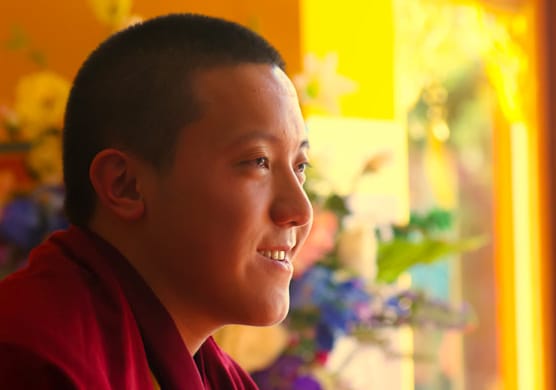 The U.S. visit—called Celebrating the Return—will recognize and honor the coming of age of this illustrious young teacher, whose revered predecessor, Kyabje Dilgo Khyentse Rinpoche, was so enormously influential in transmitting the Dharma to the West. The event also commemorates the centennial year of Dilgo Khyentse's birth.
.
For modern Buddhist practitioners, it can be difficult to measure or comprehend the nearly unfathomable significance of Dilgo Khyentse's life and activities. [More, including the trailer for "Brilliant Moon," a film about Dilgo Khyentse Rinpoche, and a video of Pema Chodron talking about Celebrating the Return, follow.]  His lifetime spanned the era of old Tibet from his youth into middle age, and the post-Chinese era, during which he tirelessly traveled, transmitted teachings, wrote numerous books, sought out and preserved jeopardized manuscripts, supervised the building of monasteries, and advised countless practitioners.
Many have recounted the extraordinary accomplishments of his life, including the Dalai Lama, who speaks with great reverence of the breadth of his knowledge, but especially about his qualities of gentleness and humility.
His legacy in the West remains vibrant and present through the activities of many prominent Tibetan teachers of the current generation who were inspired by his wise guidance and living example. He enthusiastically assumed the role of spiritual teacher for a number of young tulkus (recognized reincarnations) who lived and studied under his close tutelage in the traditional manner of Tibetan Buddhist education. They include, among others, Dzongsar Khyentse Rinpoche, Shechen Rabjam Rinpoche, Namkye Nyingpo Rinpoche, Jigme Khyentse Rinpoche, Dzigar Kongtrul Rinpoche, Neten Chokling Rinpoche and Sogyal Rinpoche. Matthieu Ricard noted, "his disciples were as numerous as stars in the autumn sky," and that on his passing in 1991, "we felt that the sun had vanished from the world."
News of his reincarnation was made public in 1995, when Khyentse Yangsi was two and one–half years old, and his enthronement took place in a joyous celebration of gratitude and excitement in December 1997. There was great certainty about his return to this world, which was foreseen by Trulshik Rinpoche in detail, and confirmed by others who knew him well, including the Dalai Lama. The young Yangsi has blossomed into a thoughtful, poised and distinguished teacher under the loving guidance of Shechen Rabjam Rinpoche, Dilgo Khyentse's Dharma heir.
Dzigar Kongtrul Rinpoche, who was mentored and raised from the age of a young boy by Kyabje Dilgo Khyentse, has remained closely in touch with Khyentse Yangsi. In frequent visits to Bhutan, Kongtrul Rinpoche has maintained a deeply affectionate relationship, reflecting the close bond that was always present with his teacher. He has spoken of his own wonder and assurance in knowing that his teacher has transcended time and space to be again unmistakably present in this world. Many other disciples have marveled at their own similar realization when they meet Khyentse Yangsi Rinpoche. As Kongtrul Rinpoche has frequently told the audience at his teachings, he is continuously guided by the conviction that whatever he has accomplished is owed to the blessings and grace of Dilgo Khyentse Rinpoche, his root teacher and direct link to the Longchen Nyingthik lineage. This feeling has directed the founding and growth of his sangha, Mangala Shri Bhuti, which was the Sanskrit name of his teacher.
As plans were developed for Khyentse Yangsi Rinpoche to travel to the West for the first time, Rabjam Rinpoche requested that Kongtrul Rinpoche and Mangala Shri Bhuti be the host for this visit. Read more about this extraordinary occasion at this special website: http://khyentsevisit2010.org. Events will include a Children's Blessing, a screening of "Brilliant Moon," a documentary film on the previous Khyentse Rinpoche, and a Long Life Empowerment.
(Here is the trailer for "Brilliant Moon.")
And here is Pema Chodron talking about Celebrating the Return: