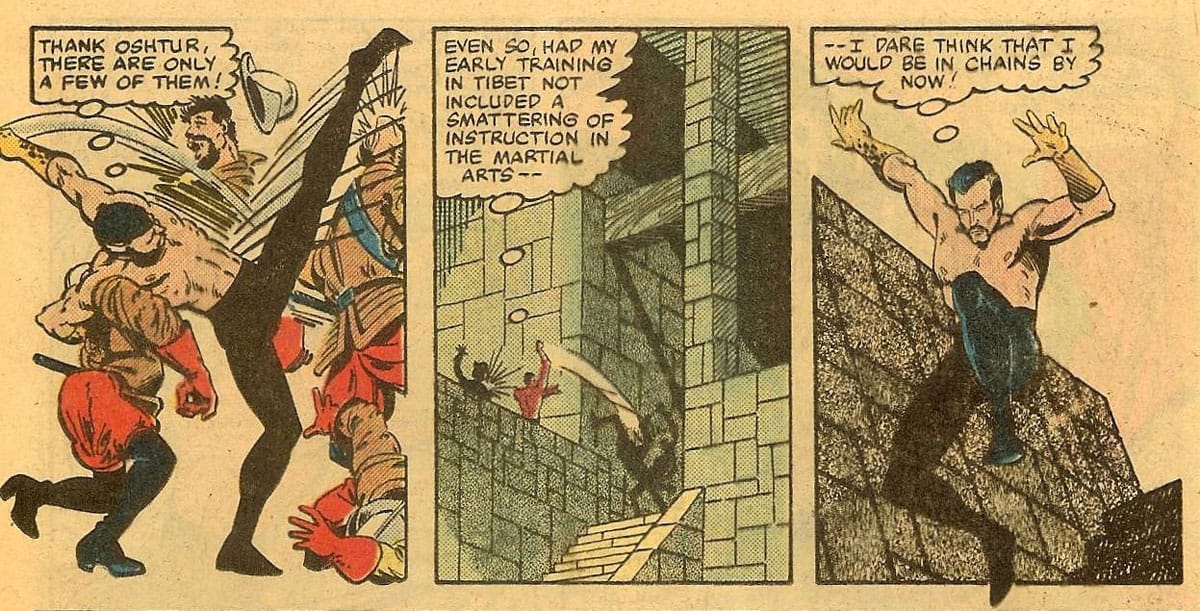 The first trailer for Doctor Strange, featuring Benedict Cumberbatch (seen on the cover of the May 2016 Lion's Roar magazine) featured plenty of  Buddhist — or "Buddhism-adjacent" — imagery. In this piece from the magazine, Rod Meade Sperry explores how such imagery has been used in Doctor Strange, the classic comic book, and why the landscape the good doctor travels can sometimes be hard to navigate.
Splitting his time between Greenwich Village and a highly mythical version of Tibet, Doctor Strange was an unlikely comic-book hero when he debuted in 1963. Now he has his own eponymous Marvel Studios film coming out this November, starring Benedict Cumberbatch in the title role.
As "Master of the Mystic Arts," he quickly gained appeal as sixties counterculture hit the mainstream. The world of Doctor Strange rang true with young people curious about drugs, the occult, and Eastern religion. Beat writer Michael McClure even quoted the Doc at length in his 1965 play, The Beard.
Part of the appeal was the setting. The pseudo-Tibet presented in Doctor Strange the comic book was a psychedelic wonderland mashed up with Asian cultures and influences—with little regard for accuracy of any kind. Noting that Strange's mentor, The Ancient One, "was basically just a racist caricature of a wise old Tibetan man," the website Birth Movies Death last summer asked Marvel Studios president Kevin Feige how the film would or wouldn't deal with all this.
"The phony mysticism is part of what makes Doctor Strange interesting," Feige responded, adding that Strange would "head east" in the film, but stay out of Tibet.
As culture site The Mary Sue posits, "This isn't great news for those who had concerns about cultural erasure in general or the idea that Marvel was specifically avoiding Tibet in order to appease China, a huge film distribution market and a country that, to put it mildly, doesn't like Tibet." And now, as we see in the trailer, the role The Ancient One has been cast through not a Tibetan man but a white woman — Tilda Swinton — a move that may have been planned to skirt charges of "racist caricature"—but may well raise ones of whitewashing instead.
[April 27 update: the casting of The Ancient One has indeed set off a controversy, with one of the film's co-writers explaining the role by saying, "[I]f you acknowledge that Tibet is a place and that he's Tibetan, you risk alienating one billion people who think that that's bullshit and risk the Chinese government going, 'Hey, you know one of the biggest film-watching countries in the world? We're not going to show your movie because you decided to get political.'" Marvel, obviously hoping to avoid a Chinese boycott of the film, has now justified the casting of Swinton by insisting that "The Ancient One is a moniker passed down through time, and in this particular film the embodiment is Celtic."]

Thank you for reading Lion
'

s Roar. Now can we ask for your help?

Lion's Roar is a nonprofit. Our mission is to share the wisdom of the Buddha's teachings—to inspire, comfort, support, and enlighten readers around the world. Our aspiration is to keep LionsRoar.com available to everyone, providing a supportive, inspiring Buddhist community that anyone can access, from curious beginners to committed meditators. Do you share our aspiration? We can't do this without your help.

Lion's Roar reaches more readers like you than ever before. Unfortunately, advertising and other revenues are falling for print and online media. We know we have something deeply precious to share with the world, and we want to continue this important work. Can you help support our efforts now?

Lion's Roar is independent, unbiased, not-for-profit, and supported by readers like you. Please donate today and help the lion's roar echo for readers around the world.