Montague, population 6,000, is the kind place where, even if you've lived there since you were a baby, folks will still call you a "come from away." That is, until hundreds of Taiwanese Buddhist monks moved to town, and the new neighbors realized they had more in common than they expected.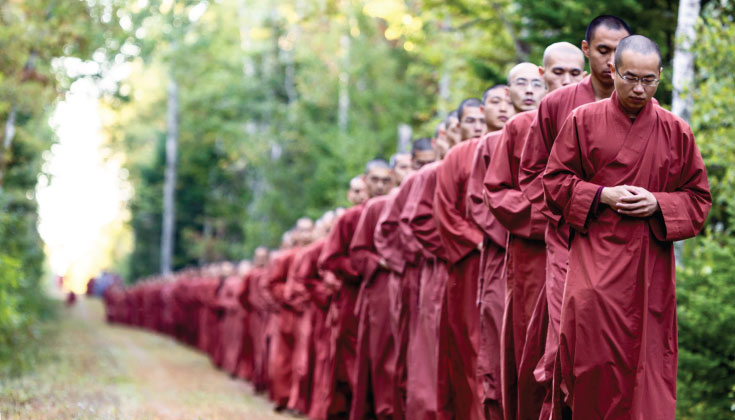 Being lost on Canada's Prince Edward Island is glorious. As I navigate the back roads of this island, where I lived for my early 20s, red roads reveal emerald green fields and sparkling blue water so picturesque it must be hard to decide which view to put on a postcard. Its vibe is so spacious and laid-back you immediately relax — as must the people in charge of signage in some rural areas, for there is nary a road sign to be found. I'm a half hour late for my interview when I screech to a halt as a smiling face waves from a jeep. Its driver leads me up a driveway to a collection of buildings with hints of East Asian architecture. I step out of the car, and, as the sunlight hits my red hair, my host remarks, "Wow, no wonder you played Anne of Green Gables!" He is right — I played that redheaded orphan more times than I can count in festivals, events, and plays on this island. "How did you know that?" I ask. "I'm friends with one of your friends. He told me," says my host, Geoffrey Yang, the executive secretary of the organization I've been trying to find. I nod knowingly. If there's one thing I've learned about Prince Edward Island (PEI), it's that everyone knows everyone — and their business. "You just said the most 'Island' thing ever," I joke. Yang laughs. "Yep, we're part of the Island now."
Montague is a town in eastern PEI, with a population of just over 6000. The town has, for many years, been largely comprised of people of European, First Nations, Acadian, and Lebanese descent. It's a joke (and a fact) in PEI, that even if you moved to "the Island" when you were a baby, you' re still a "come from away" (I, like the fictional redhead I played, am originally from nearby Nova Scotia, and was keenly aware of being "from away" when I lived here). However, as the world has changed — and views along with it — PEI has not only welcomed newcomers, but also encouraged them. "The culture of the Island is changing with new immigration policies," says Montague Mayor Richard Collins. "The idea is to bring immigrants here and keep them here. The population of Montague is declining. Younger people are moving away for work. Older people are moving into the cities for health and medical reasons. So, we're encouraging immigration."
We'd never seen snow before. We didn't have boots. We had sandals.
A Buddhist monastic community from Taiwan heard the call. "Our master, Zhen-Ru, was given the task to choose a place where we could set up a community for people from around the world to practice Buddhism," says Venerable Dan, a monk from the community. "She saw Canada as a place that's open to diversity and religious freedom." The community moved first to Vancouver and then Ontario before heading to PEI in 2008. "Master Zhen-Ru saw it was covered in white snow, which is very auspicious in Buddhism, so she thought this was a sign." The community first bought an old lobster shanty near Montague. "Most of us are from tropical countries," says Venerable Dan. "We'd never seen snow before. We didn't have boots. We had sandals. Driving is another challenge. An icy road is totally different. Also, the language and the cultural differences. The food — we got used to it. There were lots of little adaptations we had to make."
The community is called Great Enlightenment Buddhist Institute Society (GEBIS). It has two locations in eastern PEI with many facilities, including a monastery, dormitories, libraries, and worship rooms. It also has affiliate organizations, including Great Wisdom Buddhist Institute, which is building a separate monastery and learning complex to house 1400 nuns, and Moonlight International Charities, a group of lay members who do charitable outreach.
The monks at GEBIS practice the Gelug lineage of Tibetan Buddhism and the Lu Tsung lineage of Chinese Buddhism and they're also open to other traditions.
"Our master encouraged us to study all Buddhism, combine the similar angles from different sects, and then promote those universal ideas and values," explains Venerable Dan.
On a tour of GEBIS facilities, I see a mixture of both Asian architecture and traditional PEI structures. Venerable Dan explains the mixed style is an intentional symbol of the intertwining of cultures as well as a practical consideration based on the weather. Some of the most seemingly nondescript building exteriors lead to elaborate worship rooms, beautiful libraries, dormitories, and more. Patches of yellow "weeds" remain untouched in the carefully mown grass. "The yellow flowers are symbolic to us," Venerable Dan explains. "To us, they are not weeds."
When the monks first came to PEI, they thought it wisest to keep to themselves until they adapted to Island culture. "We thought the best way would be not to disturb anyone and not draw much attention," he says. "But this is a small island and very community-oriented. Many people were curious and wanted to know who you were, why you were here, how long were you here for. Because we didn't reach out too much, people started making up their own stories about who this group was."
"They were up against this 'come from away' notion when they got here," says Jason Ellsworth, a PhD Candidate at Dalhousie University researching the global movement of Buddhists to PEI. "Islands are notoriously insular, and particularly here, where you have the notion of 'Islanders' — the 'in group.' Someone part of a visible minority coming to PEI, particularly a Buddhist group, is going to have some challenges. In the early 1990s, it almost didn't show up in our statistics if you were Buddhist. The Amish and the Buddhists have both been seen as kind of outsiders buying up the land. They're a bit of a target because they're also visibly separate and are in large groups. Suspicion comes with that."
"I don't think it's blatant discrimination," Ellsworth continues. "It's more an issue of becoming part of the Island. But how does one ever become part of the Island? You can't become an 'Islander,' right?"
Eventually, GEBIS decided that it was time to reach out to the Island if they were going to become part of it.
"Someone told us that you have to let the 'invisible Great Wall of Asia' come down so people can get to know you. So, we went out and started to introduce ourselves and make friends as we participated in local events," says Venerable Dan. "We also started some charity work. Our master heard that one-sixth of children on the Island go to school without breakfast, so we started baking rolls. We weren't sure how to distribute them, as we didn't want to insult anyone. We connected with some local charities to make sure this food reached the right people."
GEBIS also adopted an open-door policy, inviting Islanders into their facilities to see what they were all about. "They had some open houses, invited people to have tours and see some slides about what their teachings were all about," says Mayor Collins. "They told us about being a monk. It's very much like someone in the Roman Catholic church becoming a priest. Then they had a meal for us. They were very open and very obliging and answered every question."
As the GEBIS welcomed in PEI, Islanders responded in turn. "People would show up with flyers to show us where to get boots cheaply," says Venerable Dan. "Even now, if there are any deals going on in town, they let us know. Some of them taught us how to drive in wintertime, get your tires changed for the season, how to maintain your car for the winter. We needed that. The sandals and our tires were no good in the snow!"
We Buddhists and the Amish have the same beliefs — that you take care of the land the land is going to take care of you.
GEBIS then expanded its charitable outreach. "That year, we had three times as much corn as we needed," says Venerable Dan. "We learned that some farmers open their fields for volunteers, who get to keep a third of what they pick. A third will go to charity and another third to the farmer. It's a win-win-win. So, we tried that and it turned out great. Some families took their kids and said, 'We're here to showcase a lesson. We're not here to take any food. We want to show them what it's like to share.' We were very touched."
GEBIS then sold their bread to support the Montague community pool and communities in Alberta devastated by wildfires. The monastics donated hundreds of hours of their own labor to help with the pool upgrades and participated in clean-up initiatives across PEI. Moonlight International also took over a local buffalo park that had previously been run by the province for decades. When the group took over management, they ended the province's practice of culling buffalo to keep the population down, instead attempting — with mixed success — to sterilize the animals. "There were five babies born this year," says Venerable Dan with a grin. "But I think that was an accident."
GEBIS also began to hold meditation classes for interested Islanders. "It's not religious," says Venerable Dan. "We call it a 'happy course.' It's for people to learn some basic Buddhist concepts to help in daily life. You don't have to be a Buddhist to be able to apply those."
"Montague has welcomed them with open arms," says Mayor Collins. "They've been in St. Mary's Roman Catholic Church in the parish hall to have an open dialogue with questions and answers. They've gone door to door with nice rolls and at Christmastime with gifts and parcels. They've showed their generosity and it's been appreciated by the community." Mayor Collins also says when he was getting an operation for cancer, monks and nuns showed up in the hospital with roses, orchids, and tapes of meditation. When he was home recuperating, they again visited with food and prayers. "I can't ask for any more than that kind of people in our community," he says. "It helps to build a community and it bodes well for the future."
"People are less fearful to see us now," says Venerable Dan. "For the first couple of years, when people would see monks dressed like we do, we'd get these interesting looks, like, 'Oh, can I shake their hand, can I say hi?' But now we're friends now, we're neighbors. We do feel part of the Island. Gradually."
In 2016, GEBIS, now established on the Island, saw horses and buggies coming up the driveway to their monastery.
"We had heard that an Amish community had settled in PEI and we wanted to welcome them, because we know what it's like to be a new community here," says Venerable Dan. "We were very nervous, and I could tell they were nervous to be in a monastery. We didn't want to insult each other, but we didn't know the appropriate way to greet them. Are we not supposed to say certain things? Do certain things? But after we started chatting, it was a lot easier." GEBIS monks later returned the visit to the Amish communities. "Once you get to know them in their community, you see they're just like us," says Venerable Dan. "How they value simplicity — there's not much extra stuff in their house, just the essentials. We also believe we don't need much to be happy and content in life."
GEBIS was impressed with the Amish communities' farming techniques. "We believe in organic farming," says Venerable Dan. "We Buddhists and the Amish have the same beliefs — that you take care of the land the land is going to take care of you. But if we try to squeeze too much out of it and use it in a way that's not appropriate, then we have to suffer or our next generation will have to suffer."
GEBIS asked the Amish to grow food for them. "Some of the vegetables are Asian, like the cabbage, which they'd never grown before, but they were willing to try," says Venerable Dan. GEBIS also recognized that though they were now bonding with the Amish community, the Amish community will have a different journey of integrating into Island culture than their own. "Because of their ways of life and beliefs, they don't reach out as much as we are doing now," says Venerable Dan. "They are more like we were when we first got here."
"The Amish communities keep to themselves," says Mayor Collins. "But I understand they're very sociable with their neighbors. We have a horse tie-up outside of the town hall now. They park their horse and buggy and I see them in the stores, filling up their grocery carts with chips and pop the same as we do. They're friendly when I meet them in town. They've been great for the community."
Our master heard that one-sixth of children on the Island go to school without breakfast, so we started baking rolls.
When I ask Venerable Dan and Mayor Collins how to connect with the Amish community, they both give me the same advice: "Go to the store run by the Amish and just talk to Eli Miller, who is in charge." So, I make my way 15 minutes down the road from Montague and find the Seven Mile Gift Shop, an industrial-looking building in the driveway of which a man dressed in traditional Amish clothing is building something, while children, dressed in similar fashion, play close by. I realize I'm nervous, as I too don't want to offend anyone, and I'm keenly aware that I don't know the protocol. I think about how this is the same feeling I've heard described by every other group I've talked with today.
In the store, I'm surprised to see goods reminiscent of any small-town gift shop: "Live, Love, Laugh" signs, metal star holiday ornaments, baked goods, homemade quilts, even Big League chewing gum. Old fashioned accordion music plays over speakers. A boy about 12 years old rides a stuffed rocking horse around the aisles. I select some baked goods, and he joins me at the cash register. "Is that Eli Miller in the yard?" I ask. "Yep," he says, unfazed as he rings up my purchase. I approach the man outside — tall and shy, with a friendly smile. He's a man of few words, but happy to speak. Miller tells me the Amish came from Ontario, that the winters are similar, that the Amish feel PEI welcomed them and that Islanders are friendly and nice, that the Amish are happy to be helping the Buddhists in farming, and that the biggest challenge is knowing where to go when things are broken. The store, he says, has been open a few months and is doing very well.
"Michael, that's enough now!" he then calls to a child who is obviously taking full advantage of his father's distraction to open and close the garage door with a pulley, revealing a buggy. Michael grins and runs off to play. I say my thank you and leave, thinking how kids are kids in pretty much every culture, and wondering if they ever try to sneak the Big League chewing gum when their father isn't looking.
"The culture of Montague is changing," says Mayor Collins. "The retention rate is getting stronger and more people are coming. There's almost a Chinese or Taiwanese family on every street, and that's impressive. Some are here because their children are part of the monastery, and they're buying houses and staying part of the year and going back home. For the last five years, we've had a Diversity Day that attracts 5000 people. It's a big celebration of all the cultures here."
"Our monastery is a very diverse group," says Venerable Dan. "We have monks from all around the world — PEI, New Zealand, Singapore Japan, Malaysia, Korea. When we take turns preparing food, you can taste the diversity of the cuisine. There's a dish in Asia that's a delicacy called 'stinky tofu.' But Venerable Eli, he's from PEI, he just shook his head. He's like, 'Is that even food? Are you kidding me? Count me out.' And we had to get used to the cabbage here, the beets, turnips, rhubarb. And French fries."
"I often think about the song 'Prince Edward Island is Heaven to Me,'" says Mayor Collins. "All of these communities — the Buddhists, the Amish — they're here because they appreciate the serenity in PEI, its green fields and the red clay and the unpaved roads. They came with peace in their hearts, and that's in everything they're doing on this Island today." Mayor Collins then sat back and smiled. "What they're all doing is spreading love and kindness to everyone around them. It's as simple as that."