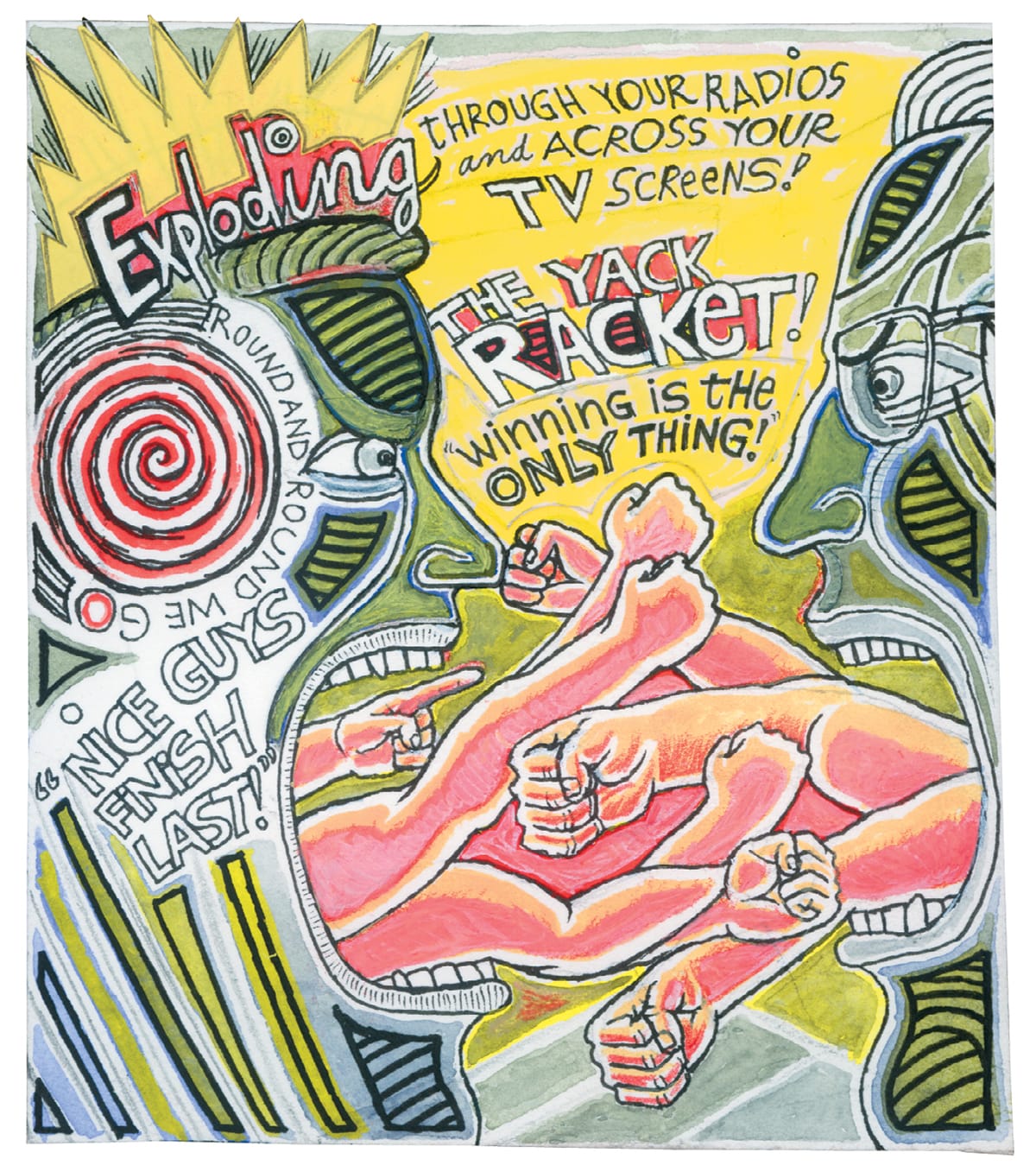 Illustrations by Mark Alan Stamaty.
Attacks ads, Internet trolls, lies and appeals to the worst in people—how do we restore the virtue of civility? A panel, led by Melvin McLeod, on bringing depth, respectfulness and integrity back to our national discourse.
Melvin McLeod: How would you assess the state of public discourse in the United States today?
Jeffrey Dvorkin: I think that there is a level of health in the public debate that has been encouraged by the availability of technology. Last year I processed fifty thousand emails from NPR listeners about issues they had heard discussed on the radio. The Internet allows people to participate and make comment. Sometimes it's thoughtful, sometimes not, but the engagement is there and it's deep. I think it's part of the inherent health of American democracy.
Mark Kingwell: I quite agree with that. I think it is misleading to suppose that what we see on the nightly network news or other high profile mainstream media represents the state of public discourse. Because much of this Internet discourse is, as it were, below the surface. The problem is that there are no standards for what is proper or appropriate commentary. I'm sure I'm not alone in this group in having received astonishingly rude and obscene letters directed at me personally for things that I have said or published. The writers feel entirely unfettered by rules of politeness or civility. Now that doesn't strike me as good public discourse.
Patricia Schroeder: Having participated in the political arena for a very long time, I find the meanness is way over the top. One of things we track is the number of women going into politics, and in the last four years the number has been going down instead of up. When you ask women who are more than qualified why they won't get into politics, they look at you as if to say, "What, do you think I'm nuts?"
Mark Kingwell: Not just women.
Patricia Schroeder: No, not just women, but I think women are particularly affected. I recently spent the weekend with Senator Olympia Snow from Maine and she has just been pilloried. You feel like a piñata if you're in public service today: everybody's got a stick and they feel entitled to hit you. I think a lot of it came out of talk radio, where people felt entitled to use the meanest possible language, and it got to be funny, you know. But I don't think it's funny anymore. It's curbing people from saying what they really think, because they don't want all that unleashed against them.
Maybe another reason for the meanness is all these little niches and pockets of discussion where people go. One of the problems with the Internet is that people are only communicating with people who agree with them. Then if they wander out and find someone who disagrees, they feel entitled to go crazy.
The problem from a policymaker's standpoint is that we have all these different areas where debates are going on, but how do we ever get a consensus? The good news is there are more places where discussion is happening; the bad news is, how do you ever get everybody on the same page?
Marshall Rosenberg: I'm involved in citizens' groups in different countries and in the United States. The people I'm organized with don't worry much about the media. They feel that if we are really going to get the word out, it's got to be word of mouth, because the public media are controlled by people who are only going to let out things they want let out. So I feel that we're going to have to get the word around through personal connections, and not over the media.
Melvin McLeod: What about the depth of the public discourse? To what degree are important issues being discussed seriously and with nuance?
Mark Kingwell: It is very important to distinguish between volume of participation and depth. What is missing in a lot of the cases, no matter how active people are, is the commitment to a larger project—the virtue of civility.
The virtue of civility comes to us, in the Western tradition, from Aristotle and Cicero through the early modern thinkers. So although we may disagree, even vociferously disagree, we are together committed in this discursive project, and that constrains what we say. We are not going to say just anything at all; we are going to try to work out our disagreements in a democratic fashion that serves the ends of justice for everybody. That's a commitment I don't think we see on the part of average citizens. People who are involved in groups like Marshall's may have an almost heightened version of that commitment, but they bear the burden of other citizens who don't.
Patricia Schroeder: I think the depth of the discussion has been impeded by the meanness. When I came to Congress and we were discussing things like the Nixon impeachment and the Vietnam War, people had strong passions but the debate would be about the issues. Today, if you bring up an issue that someone thinks is controversial, they don't come back at you with facts; they come back by attacking you personally. The whole debate shifts from the factual issue to defending your personal integrity. That makes for a very shallow debate.
Jeffrey Dvorkin: One of the things that has impeded the quality of the debate is the fact that money talks in a way that it didn't a generation ago. As more and more media are compressed into fewer and fewer sources of ownership, that has an impact on the ability of local voices to express themselves, on people feeling like they have a say in events. I think that the rise of blogs and the movement towards independent media is a direct result of the fact that a lot of people feel that they have no place to go, other than someplace new.
I think we're in an interesting place in the development of public discourse, because people are looking for places where they can express themselves and feel that they can be heard. So you have talk radio as a kind of corporate excuse for public discourse. It is an expression of the frustration that a lot of people have because other kinds of media seem so remote and inaccessible.
Patricia Schroeder: We noticed in this election year a huge surge in political books. When I took my current job at the Association of American Publishers, people said, "Political books? They don't sell." And I honestly think that after 9/11 the mainstream media got even more timid, more afraid to deviate from one generic message. But people knew something else was going on. They were looking for more in-depth discussion, and they turned to books. It's amazing how many political books have come out and how well they have sold. So whether people are going on the Internet or reading books, they are out looking for more depth. Something's wrong, and they don't know where to go.
Mark Kingwell: Wouldn't it be awful if that pathological corporate invasion of a genuine desire, namely talk radio, became what most people saw as exemplary political discourse. That's the sort of state we are in right now and that's really evil, frankly. But I agree with Ms. Schroeder that the success of political books has been astonishing. This takes us back to the eighteenth-century pamphleteering culture, where people go into print rather quickly, but not without argument or facts. It is astonishing that in the 21st century, this old-fashioned medium of communication is where all that action is.
Jeffrey Dvorkin: That's why I'm slightly optimistic, even though there's a lot to be pessimistic about. There is a vigorous debate that is very different from the kinds of debates we saw in the sixties and seventies, when the gatekeepers of information were places like The New York Times and CBS News, institutions that were considered beyond reproach. That trust has been eroded to such an extent that there are no elites whom people can turn to automatically. It's become much more diffused.
[gard group='5′]
Marshall Rosenberg: The discourse that I think is positive is among people who recognize that there is not much need for discourse, because of the way things are structured. The media will let you talk about things, but forces determine, for example, who you are going to get to vote for. So why talk about the present situation? We don't have much voice anyway. What we have to have is discourse on how to change radically who controls the channels over which we have discourse.
Melvin McLeod: Are we really talking about a problem of discourse per se? Doesn't the problem go deeper, to the belief that victory is all that really matters politically, and that the integrity of institutions and the rules of civilized discourse can be ignored in the search for tactical advantage? It seems to be a lack of concern for the common good.
Mark Kingwell: I would agree with that. We've already mentioned the preponderance of ad hominem argument. Ad hominem is one of the most obvious fallacies in the array of rhetorical strategies, yet it is the most toxic, because it takes issue with the very idea that your opponent has something to contribute. I think if one goes into any debate with that attitude, that is a disservice to the system.
Patricia Schroeder: Well, you lose if you're nice right now. Let's face it. Everybody says they hate negative campaigning, but time after time the guy who was most negative won. If people voted for the candidate who did the least negative campaigning, they could change it, but the attitude is, "I'll show them, I won't vote." Therefore, the ones who really love the red meat are driving the process.
Also, we can't say enough about the effect of money. We have got the best government money can buy. So much is at stake that people are willing to pay and say anything, and that becomes the new game plan. It's very hard to defend yourself and your ideas in the kind of environment where there are no rules.
Melvin McLeod: And where powerful media outlets have an explicit partisan agenda.
Patricia Schroeder: I don't even know that they have a partisan agenda. I worry that a lot of them just have no agenda. They treat everything like a street fight—Y hits X, X hits Y. They never fact-check anything. You can feed them stuff, and the more outrageous it is the more they want to print it. That's because it's more about selling newspapers than verifying the accuracy. I think that's one of the things that the Internet has done. People think that the newspapers look pretty tame and boring compared to the Drudge Report. So then the newspapers try to be more like the Drudge Report, and then where do you go to find out the truth?
I notice that ABC news is doing some fact-checking on political commercials and I think that's a good thing. That could help stop some of this, that you can go out and call anybody anything and if you get the most noise and buy the most airtime, you win.
Melvin McLeod: Surely the low state of public discussion is not all the responsibility of the press or political leaders. Surely the citizens, the consumers of information, are contributing by either not demanding better discourse or not being capable of it.
Mark Kingwell: It's interesting that you used the words "citizen" and "consumer" so closely together in that statement. I think all of us gathered here would agree that citizenship has been truncated to a consumption model. The robust idea of the citizen as an active participant in his or her own self-determination has been attenuated, if not eliminated.
So I think it's not a surprise that groups who can self-organize are talking off the grid of the standard media manipulation, or even the money-controlled elections. The question I have for them is: The policies are still being made by people in Washington and your state capital, and they affect our lives. So what can we do about that? I think changing from the inside—reinvigorating citizenship on a personal level—is absolutely essential, but I don't think we should abandon the larger political discourse in the process.
Patricia Schroeder: I would concur with that. I think all of us do have the ideal of the town hall meeting, and how I wish there were more of them. But in a way, the citizen as consumer could be very powerful if citizens really said, "Instead of screaming and hollering, we want something that's more profound, more in-depth, and more civilized."
Part of what concerns me is that instead of looking for more mature citizens, the driving force for the mainstream media seems to be, "How do we attract 18- to 35-year-olds?" And somebody thinks that all-out verbal combat is the only way to attract 18 to 35 year olds—especially males—to talk radio and TV. So we have all of these strange reality shows, all of these strange new ways of communicating, and more and more people my age turning to the BBC. Someday the media is going to figure out that people my age also have money to buy the products they're advertising.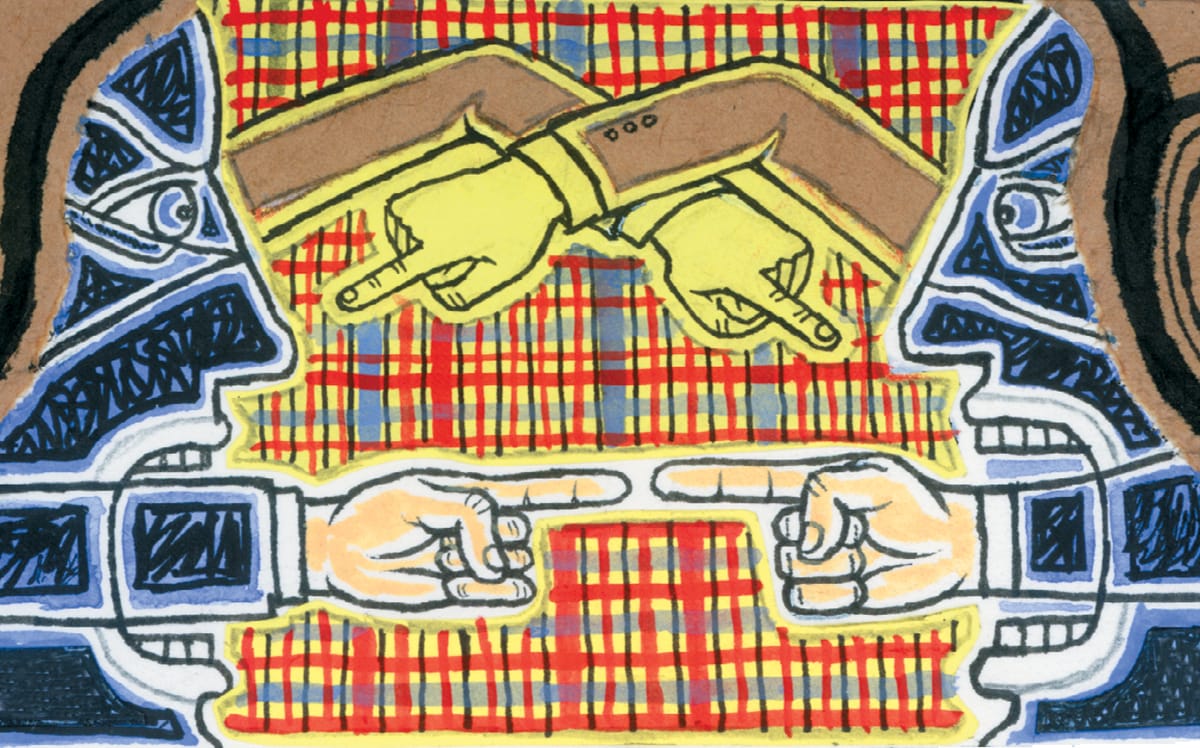 Mark Kingwell: Absolutely right. All of us are suffering under this demographic tyranny. Why should this group of 18- to 35-year- olds, this perpetually renewed group, have such a sway over the kinds of movies we get to see or the kinds of television shows we get to watch, let alone the kinds of governments we live under. The notion of the market as the determinant of success is deeply ingrained, but this is a fundamental idea that needs itself to be challenged.
Jeffrey Dvorkin: I think one of the positive developments is that more and more American newspapers are adopting the ombudsman role, and a lot of media organizations also have proclaimed ethics guidelines. I think there is an increasing trend among media organizations to think about what our listeners, viewers and readers need as citizens first, and consumers of information second. And when a news organization thinks of the needs of its viewers and readers and listeners as citizens, they make different kinds of editorial choices than if they are simply delivering eyeballs to advertisers.
I think there is a necessity for public accountability in the media. The media must turn to their listeners, readers and viewers and ask, What are we doing right? What are we doing wrong? What do you want? How can we use our role as broadcasters and communicators in an educated way? And in turn the media has to raise the level of media literacy and public discourse. That's the balancing act: public accountability in the media and media literacy in the public, so that people know when they are being manipulated and when they are being fooled.
Melvin McLeod: A great change in the public discourse took place in the sixties, when previous boundaries of courtesy and decorum were thrown off in what was seen as a crusade against hypocrisy, elitism and lack of public accountability. And although that was seen as a left-wing movement at the time, it's interesting that some of today's most vituperative voices on the right are also products of that 1960's environment. My question is, did that search for more open and honest discourse in fact contribute to the unrestrained political speech we have today?
Mark Kingwell: This is something that I've discussed in my own work, and I think it's very important to be clear on this point. There is often a confusion between civility, which is the virtue of citizens engaged in dialogue, and politeness, which is the social carapace of manners and particular ways of talking which may well be wedded to power structures. Genuine civility is about openness and the commitment to risk in order to preserve or create something bigger. Politeness is often used as a smokescreen or as hypocrisy. So if we can make this distinction—it's not easy but it can be made—then we don't face this problem you're alluding to, which is that we think we've done something good if we get rid of all constraint, but all we might be doing is raising the volume.
Jeffrey Dvorkin: In the 1950's, certain kinds of elites controlled the debate and now, fifty years later, other elites are controlling the debate. My observation is that in the fifties the elites were represented by a kind of Walter Lippman approach to journalism and foreign policy discourse, and by the kind of New England Republicans who believed that it was a good thing to help poor people. There was a belief in bipartisanship, and that was where the smoke-filled back rooms worked. They believed that there was a need for consensus politics and that various elements within a society had to have their concerns addressed—not to the extent that they wanted perhaps, but it did create a kind of a big tent philosophy.
That quality of civic dialogue has disappeared over the last forty years and has been replaced with a much more sharp-edged, robust, vulgar, if you will, kind of debate that is encapsulated not by Walter Lippman but by Rush Limbaugh. And that's the shock that those of us who may have a secret sympathy for the old elites find so difficult to deal with.
Melvin McLeod: Ms. Schroeder, do you feel we have lost a sense of bipartisanship and mutual respect that was present when you began your career in Congress?
Patricia Schroeder: Oh, certainly. People will say, "Well, you didn't have such strong issues then," and I always say, "Excuse me? Impeachment of Richard Nixon? Vietnam War? I believe those were fairly strong issues." Yet there was an understood agreement that you could debate each other like mad all day long on an issue, you could be on opposite sides, but you were still part of a brotherhood or sisterhood where you could be civil to each other.
That's eroded now. All of a sudden it has changed into good guys versus bad guys, and if you are even seen talking on the floor to somebody who doesn't vote the party line, you're in real trouble.
An important part of this is the effect of reapportionment. Most of the seats in the House of Representatives are totally safe, which means that most representatives only worry about somebody in the extreme of their party taking them on in a primary. So they tend to vote more extremely than they would if they had to reach out and be concerned about a general election and not a primary election. I don't think that's been factored enough into how the political rhetoric has changed. It has changed it in a big way. It pays to be honoring the more extreme, and the more extreme see that as their biggest leverage. So people become more and more polarized.
Melvin McLeod: Having assessed the current state of discourse and some of the reasons we got here, how do we improve it?
Marshall Rosenberg: The kind of communication that I think is most powerful in political discourse is dialogue, not just people expressing an opinion and hearing others. It's in dialogue where I think the real changes and real learning take place. What I would like to see is more room created in the total structure for sincere dialogue, where people have the power, by getting together with each other, to bring about the kind of changes they would like to see. As I see it, our nation is not a democracy. It's an oligarchy, controlled by a few people. The last thing they want is dialogue. They want people to be able to express opinions, but there's not really anywhere those opinions go, which would happen if we had true dialogue.
Melvin McLeod: How can face-to-face discourse have impact in a country of 250 million people?
Marshall Rosenberg: That's what we are trying to figure out. How can we really have quality discourse? What kind of discourse do we need to have? We have all been educated to communicate in a way that satisfies domination structures. We have been taught to be obedient to authorities and not to think for ourselves much. So we've got to liberate ourselves from the way we have been educated, both in public schools and by the media. Once we have done that, we have to change the structures that are controlling most forms of public discourse.
Mark Kingwell: You know, the centerpiece of all liberal thinking in the past four hundred years has been that we can disagree on one level as long as we agree on another level. That other level is supposed to be a discursive space that we are willing to share, or at a minimum some kind of legal and electoral constraints that we all sign on for. I think the problem is that we don't have any clear sense of what that second level is, or even whether there is one.
What I would suggest, and it's not a total solution, is that we have to start thinking very carefully about finding what the philosopher John Rawls calls an "overlapping consensus." It may involve only a narrow range of issues, but they are certainly present. Then this consensus becomes the focus for cultivating the virtues of the liberal citizen, including civility, and we can use it to educate future citizens as they enter the public realm.
I would like to see the kind of civics education that was present when I was in school but seems to be absent from the student's education today. I don't mean just learning how government works, but talking and learning about these virtues of citizenship—where they come from and what they mean. Because without them, really, all of this we have talked about today is likely to get worse.
Patricia Schroeder: It's important to get our political system away from commercials and more into debates. In this past presidential election, after all the commercials screaming back and forth, the two men sat side-by-side and debated some serious questions, and that caused a huge change in the polls. That gives me great hope that if we could find a mechanism to emphasize that kind of discussion, instead of turning the political process over to people who sell toothpaste, we might do a lot to raise the national level of discourse. All the commercials did whipsaw people around, there's no question about it, but when people tuned in and saw the two of them standing side by side, discussing some serious issues, it gave me great hope that at the end of the day the American people can come to their senses if they are approached in a sensible manner.
Marshall Rosenberg: I think there is an appetite for serious discussion, but I don't think that will happen until the people get the media back under their control, like our founders wanted. The media is now in the hands of relatively few people who allow only the kind of discourse that they want to allow. It's not of the quality and kind and amount that I think we would have if the public had the media back in their hands. I would like us to pass legislation to put the media back in the hands of the people, which prevents it from being controlled by a few corporations and people with the wealth to do it.
Patricia Schroeder: I think you've got a real point. When I came to Congress, the ideal was that the airwaves were owned by the public. So every one of the people who owned a broadcast license had to go through a public review: Were they serving the needs of the community? And in those days, if somebody went on the air and attacked me, I had the right to ask for equal time. That's all gone—Ronald Reagan did away with it in a stroke of the pen.
Now the media is owned by whoever owns the media. There is no concept that the media should serve the greater community; it need only serve the commercial community.
Mark Kingwell: One thing we should remember is that citizenship is exercised primarily face to face. It's exercised in the hundreds of daily interactions you have with the people who share physical proximity with you. That's the bread and butter of citizenship, and I think that kind of personal orientation has to be foremost. I would never disagree with these points about the ownership of the media, but if people aren't themselves willing to transform, none of this is going to happen. You know, genuine dialogue means putting your own beliefs at risk of change.
Melvin McLeod: So how can individual discourse be worked with in a comprehensive way, so that there is an effect on society as a whole?
Mark Kingwell: We have allowed, I think, the language of virtue to be co-opted by a moralistic and often right wing faction. The language of virtue has been much more robust in the past in our own political tradition and it can be reinvigorated. Virtue really means a disposition to act. It's a character trait, which may or may not be moral in the narrow sense. In fact, I think there are such things as political virtues, which are distinctly not moral. They have a way of binding together people who may disagree at very fundamental levels but who still agree on the need and the good of living together, even with that disagreement. Cultivating that kind of understanding of virtue is a necessary first step.
Marshall Rosenberg: The people-to-people communication that I'm talking about could take place in many different forms. If we had, as I said before, public control of the media it would involve looking at some of the basic things that we don't even get to talk about today, such as the degree to which wealth really controls what we call democracy in the United States. Only when we can have that kind of open discourse will the public be aware that it's at this more radical level that we need the discourse, not over who these people allow us to vote for.
That's what I would like to see, structural change that allows the people to talk about the real issues, and not just the ones that the people who control the media decide we can talk about.
Jeffrey Dvorkin: I think the secret to our success in public radio, which is of course under-reported by commercial media, is local control. There are 775 public radio stations in the United States. They are all operated by community organizations that are local in their outlook, which I think is the inherent strength of them. People are already voting with their remote controls. Fewer and fewer people are watching commercial television, the numbers for commercial radio keep going down, but the number of people who listen to community radio and other public radio keeps going up.
As media consolidation increases, the permission for cross ownership, which happened under the Clinton administration I hasten to add, has made the idea of localism less and less likely, in a country where there is a proud tradition of localism and local control. I think what we need to do as communicators is find a way to restore that localism, which is the mainstay of public discourse in this country.
Melvin McLeod: Is the problem then that the discourse is too national, that it's taking place at a level where it can be controlled by a few very significant forces? Should we be talking about returning public discourse to the local, town hall level?
Jeffrey Dvorkin: Well, when you say local, it doesn't mean that all people want is local information. They're seeking a combination of local issues, rooted in the place where they live, and intelligent discussion of national and international issues as well.
Mark Kingwell: That's an important point to keep in mind. I don't think anybody wants a complete turning away from these responsibilities, which is sometimes what local focus can mean. It's a cliché to say, "Think globally, act locally," but it does remind us why all of these issues are so important to us. It's not because we are citizens of this or that country, but that together we are all citizens of the planet. American policy has a disproportionate effect on what happens everywhere on the planet and that's why those of us who don't live there nevertheless are concerned with it. This is a classic case of concern, and the question then is, What can we do so we can actually make a difference as individuals?
---
Patricia Schroeder served as a member of the U.S. House of Representatives from 1972 to 1996. She is now President and CEO of the Association of American Publishers.
Mark Kingwell is Professor of Philosophy at the University of Toronto and author of eight books on political and cultural theory, including A Civil Tongue (1995), The World We Want (2000), and Practical Judgments (2003).
Marshall B. Rosenberg, Ph.D., is founder and director of Educational services for the Center for Nonviolent Communication. He is the author of Nonviolent Communication: A Language of Life and Life-Enriching Education.
Jeffrey Dvorkin was vice-president of news for National Public Radio and is now NPR's listeners' ombudsman. He is a former managing editor of radio news of the Canadian Broadcasting Corporation.