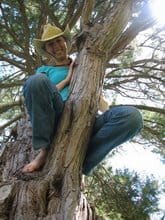 Here, 'Buddhist in Nebraska' blogger Monica Sanford has the "nagging sense we don't fit in…an itch just beneath the skin"—until she realizes that there is nothing to fit into.

I have everything going for me.  I'm white, middle class, college educated, and living in America.  I tend to think that multiple orgasms is more than fair trade for a glass ceiling with more cracks every day.  I'm tall, healthy, and of above average intelligence, or so they tell me (I know, I'm still surprised, too).  I was raised in the suburbs, went to public school and church on Sunday, and my folks are still happily married after 35 years.  I don't suffer from any mental disorders (that I know of) or addictions.  There is nothing to set me apart.
Yet, I've always felt outside in, like my skin was on wrong.  I don't belong to my own culture, despite every demographic label telling me I do.  I know all the rules, but I don't care about any of them.  I feel like an actor playing a part in a play I never chose.
I've often wondered "How the hell did this happen?"
It was a slow, organic process, creeping up on me through the years.  It's gotten to the point that, no matter what I do, my family just shrugs as if to say "That's Monica."  That's all the more explanation there is.
It makes me wonder just how much there is to this nature/nurture debate.  How much is a result of my surroundings and how much is an immutable part of my genetic code?  Or is there something metaphysical, like rebirth or karma, at work here?  And what role does free will play?
It's all pretty much a moot point, yet I can't shake the feeling that how I got here is vitally important to understanding where "here" is and where I might go from this spot.
Long ago I set myself on the course of my career, even when the goal was just a word – "architect."  It began in elementary school and gained momentum from there, never deviating from the track, until I launched myself into college with all the power and subtlety of locomotive.  I derailed.
But trains don't run without tracks and it wasn't long before I was back on mine, heading in exactly the same direction as before.  It was a choice I made.
Wasn't it?
I can't actually remember the first floor plan I ever drew, the first building I ever designed, the first map, the first maze, the first furniture layout, elevation, or technical section.  Oh, I talked of ballerinas and paleontologists and flight attendants, but nothing ever rang as "architect" did.
The first keyboard I had is indistinguishable from the first story I ever wrote, the first poem, the first dream.  I don't even know what they were.  They lived silent in me before I had that first keyboard, but I had such a poverty of expression then.  I didn't paint or sing or dance.  I didn't interact with people well.  I consciously trained myself to make eye contact when speaking.
I can remember a time before, and even now on occasion, when I didn't distinguish between myself and others.  I thought everyone else knew everything I knew and I operated under that assumption.  I wouldn't explain myself and grew frustrated when others didn't understand me.  I have spent the rest of my life making up for that oversight with words.
I chose to write.  Or did I?  Was it the only option left to me?  Just like architecture was the only career?
I preferred to sleep through sermons and would do anything to get out of being a Sunday school student, including teach it myself.  I never liked the way church smelled.  Later, I didn't like the way church thought.
When I left, I thought I was leaving behind religion for good, because I had no knowledge of religion without God.  Yet years later, when I picked up a book about what one simple human being taught other human beings, I discovered my Godless religion.  More, I discovered, I had always been this.  Before I knew it existed, I had been Buddhist.
I chose to take vows to solidify what I already was.  Is that a choice?
These are some ways I define myself, yet they are all illusory.  They are all concepts created within my mind, manufactured by my culture, and made solid only on something as ephemeral as paper.
Can I be defined by something that is predetermined, like blue eyes or the mole on my right calf?  Is that "me" if I didn't have a say?
Is it somehow more solid than those things I chose for myself?  My career, my art, my religion?  Did I choose them at all?
I "choose" which flavor of coffee to buy at the grocery store, but did I actually choose to like that flavor of coffee in the first place?  I just tried it and I did.  I found it through trial and error, discovered it like a lost continent.  No matter how great we think we are, we cannot decide the shape of the world.  We just pick what it's called.
Is that all we can do?  Pick what to call things?  Perhaps that's all the more power we have.  It's precious small.  We try to convince ourselves that we dominate our own destiny.  Our ego will shout to be heard in a vacuum.
So what is the value then, of these labels, these concepts?  In truth, we didn't even choose them.  I didn't decide architects should be called architects.  The word was French and Italian, derived from the Greek and Latin roots, and probably preceded by something that didn't sound remotely like the word we use today.  Everything changes.
I suppose that's why we like to make up words, so we have a say in the unceasing change.  But all our paltry offerings amount to are "doh" and "meh."
There are just these words, concepts that are imperfect reflections of a blurry world which has no care for definitions.  The world exists as it does whether we classify it or not.
That applies to our self just as much as anything else.  It's just a tiny, little, bit of the world.  The only thing to distinguish it is that it is the one thing we are more obsessed with categorizing and defining than any other.
Do our choices then define us?  And if we have none?  Do those things innate, immutable define us?  And if we have none?
Do those things physical define us?  And if we have none?
I suppose, that's how this happened.  We have this nagging sense we don't fit in, an itch just beneath the skin.  We search in the definitions, in the culture to which we were born and the exotic cultures to which cling, scanning the books for the one word, idea, concept that will ring true.  Even when we find it, we find it's not big enough to squeeze the whole of our illusory self inside.
It is a long journey to discover we don't fit in because there is nothing to fit into.  There is nothing to be fit.  The denial of this truth is the chronic source of our dissatisfaction, and as unnecessary as the words with which we describe it.
This wheel has been turned a billion times before and always comes around to the same place.