When most of us think "Dalai Lama" we think Fourteenth Dalai Lama, a man filled with serenity, generosity, and brotherly love. Well, the Sixth Dalai Lama, Tsangyang Gyatso, was a different sort of man.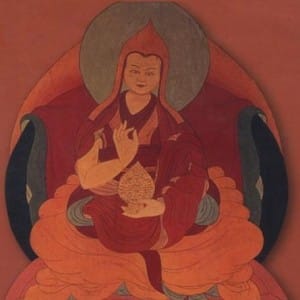 He was born in Urgelling, part of present-day India, and became the wildest Dalai Lama Tibet has ever known. He renounced his monastic vows; he grew his hair out and wore jewelry; he wrote long poems about his love affairs with women.
Of course — to give Tsangyang Gyatso a break — he was also kept in virtual solitary confinement for the first fourteen years of his life, to hide the important fact that the previous Dalai Lama had died—thus warding off Mongolian invasion. This would give any child an identity crisis. And As Edward Wong writes in his NY Times article on the Sixth Dalai Lama, "when he was finally enthroned in 1697, at age fourteen, he was thrust into the greatest spotlight in all of Tibet, something for which his reclusive childhood had left him ill prepared."
The Sixth Dalai Lama decided not to follow the steps of his predecessor and unite Tibet. Instead, in princely style, he focused on love, lyrics, and wine, becoming a Tibetan folk-hero. He wrote:
I incline myself
To the teachings of my lama
But my heart secretly escapes
To the thoughts of my sweetheart
At the age of thirty-three Tsangyang Gyatso was kidnapped by Mongolian warriors allied to the Manchu Chinese court, and was, presumably, killed. Being the Dalai Lama—in any period—is a tough job. We're thankful so many people today understand that, and uphold Tenzin Gyatso, the 14th.
Read Wong's article here.