Each Friday, we share three topical longreads in our Weekend Reader newsletter. This week, Melissa Myozen Blacker, Roshi explores Zen koan practice. Sign up here to receive the Weekend Reader in your inbox.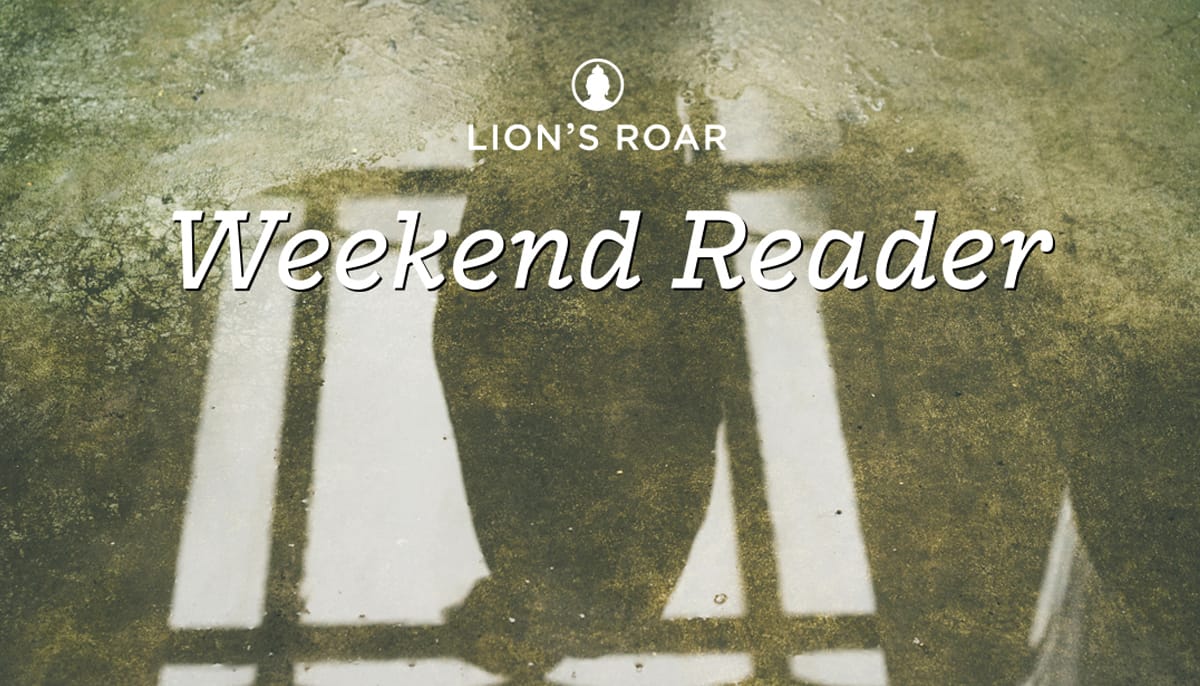 I encountered koans before I started practicing Zen, through the charming little book of stories and koans collected by Paul Reps, Zen Flesh, Zen Bones. Something about these fragments of stories and dialogues, puzzling and mysterious, engaged my heart immediately and led me to search for Zen koan teachers.
These three articles from the Lion's Roar archives represent a small portion of all the writings that have appeared in the magazine about koan practice. One is by me and the other two (one by John Tarrant and one a panel discussion with Joan Sutherland, Judy Roitman and Bodhin Kjolhede, including an introduction by Ross Bolleter) are particular favorites of mine that continue to inspire me every time I re-read them.
I have been lucky to work with teachers in three different koan lineages, two deriving from the two Japanese teachers Hakuun Yasutani and Daian Sogaku Harada and one from the Korean teacher Seung Sahn. The five teachers represented in these articles are connected to one or more of these three koan masters. These writings encourage us to encounter koans in a way that is accessible but without losing their wonder and mystery. May your heart be touched and inspired as you explore the land of koan practice!
—Melissa Myozen Blacker, Roshi, guest editor
Melissa Myozen Blacker, Roshi is a Soto Zen priest and abbot of Boundless Way Zen. She will be one of three teachers at "Facing Life's Challenges," the annual Lion's Roar retreat at the Garrison Institute this October.
John Tarrant demystifies Zen koan practice. Yes, it's paradoxical, poetic, and totally personal. And so is life.
Koans don't really explain things. Instead, they show you something by opening a gate. You walk through, and you take the ride. Before anything is explained, there is the sky, the earth, redwood forests, pelicans, rivers, rats, the city of San Francisco. And you are part of all that. We're all part of that.
Read more »
Joan Sutherland, Judy Roitman, and Bodhin Kjolhede examine the practice of koan introspection, how different traditions approach it, and how the way we engage with koans is changing. Introduction by Ross Bolleter.
Judy Roitman: Part of the tremendous power of koans is that the student's personal story is completely irrelevant. One of my teachers, Zen Master Su Bong, once said to me that to work with koans, you have to be a great actor. What he meant was not that you pretend, but that you completely become the koan. So if someone is hanging from a tree branch by her teeth, it's you hanging from that branch, and you are hanging there completely. If you are given one of the famous cases involving an encounter between two monks, you become one of those monks, or perhaps a witness on the scene. Although obviously you bring your life to the koan, you become the situation, not limited to your own life at all.
The enlightenment stories of the ancient masters are confounding to conventional mind. Their truth, says Melissa Myozen Blacker, is revealed only when our whole being becomes the koan.
Koans are not intellectual puzzles or riddles, and they are not designed to destroy the discursive mind. They are instruments of practice that lead to a real human connection with other people who have studied the way of the Buddha and who have themselves become open to the possibility of a life lived with clarity and compassion. As Wumen, the thirteenth-century Chinese compiler of the koan collection The Gateless Gate, said, through this practice we learn to "walk hand in hand with all the Ancestral Teachers…the hair of your eyebrows entangled with theirs, seeing with the same eyes, hearing with the same ears."
Thank you for reading Lion
'

s Roar. Now can we ask for your help?

Lion's Roar is a nonprofit. Our mission is to share the wisdom of the Buddha's teachings—to inspire, comfort, support, and enlighten readers around the world. Our aspiration is to keep LionsRoar.com available to everyone, providing a supportive, inspiring Buddhist community that anyone can access, from curious beginners to committed meditators. Do you share our aspiration? We can't do this without your help.

Lion's Roar reaches more readers like you than ever before. Unfortunately, advertising and other revenues are falling for print and online media. We know we have something deeply precious to share with the world, and we want to continue this important work. Can you help support our efforts now?

Lion's Roar is independent, unbiased, not-for-profit, and supported by readers like you. Please donate today and help the lion's roar echo for readers around the world.