In a new interview exclusive to SunSpace, former Buddhist monastics Thanissara – who contributed to The Time Has Come, Buddhadharma magazine's current discussion of the second-class status of Buddhist nuns – and Kittisaro talk about the marriage of Buddhist practice and social activism.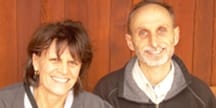 Former Buddhist monk Kittisaro was born Harry Randolph Weinberg in Chattanooga, Tennessee, the son of a transplanted New York City Jew and a Southern Baptist. A one-time national wrestling champion and a Rhodes Scholar, Weinberg originally aspired to be an M.D. before immersing himself in Buddhism. Former Buddhist nun Thanissara was born Linda Mary Peacock in London, England. The daughter of an Irish Catholic father and a Protestant mother, she left art school to study Buddhism and followed it to Burma, Thailand, and India. The two spent a combined total of more than 25 years in monastic life before deciding to relinquish their monastic vows to make another commitment—to each other, as husband and wife.
That was in 1992. Today, Thanissara and Kittisaro are the founders of Dharmagiri, a Buddhist hermitage located in rural KwaZulu Natal, South Africa. Dharmagiri's main focus is to facilitate meditation retreats and provide access to Buddhist practice and teachings. However, because of the urgency of the HIV/AIDS pandemic in South Africa, the hermitage also initiated and supports several outreach and relief programs. In conjunction with Insight Meditation Community San Francisco (IMCSF), Dharmagiri launched the Woza Moya Project, which trains community healthcare givers in providing AIDS prevention education and treatment to rural South Africans; and the Khuphuka Project, which delivers high quality home-based care, paralegal and youth services, child protection and HIV and AIDS awareness and education programs in the KwaSani district of KwaZulu Natal. During their overseas teaching engagements in the last ten years, the two have raised funds to support rural education in KwaZulu Natal, providing computers, school sponsorships, water systems, and general support. Overall, approximately 15% of contributions received by Dharmagiri is earmarked to support these outreach programs.
In the last year, Thanissara involved herself in the struggle of Bhikkhunis—Buddhist nuns—for equal recognition and treatment in the Theravadan monastic order. (See Buddhadharma, Summer 2010, and our online discussion, here.)
In the following interview, Thanissara and Kittisaro talk about the marriage of Buddhist practice and social activism from their own experiences balancing work on the inner and outer planes.
Goodman: Buddhism talks about letting go of attachment to the things of this world and even to the goal of spiritual attainment. But isn't this at odds with caring for this world and what happens to it?
Kittisaro: It can appear so, but remember that the Buddhist path of awakening is often called "the Middle Way." The Buddha recognized that human beings tend to gravitate to extremes. In our ubiquitous quest for happiness, we tend to grasp at what pleases us and try to eliminate the things we think we don't want. To steer between the path of pleasure and the path of pain is "The Middle Way."
Ajahn Chah described this seeming paradox using the analogy of a teacher walking with his disciples along a road. One veers too close to the edge on the right, and the Master, concerned for his safety, calls, "Go left!" All the dutiful disciples write down, "Master says, 'Go left.'" But then a few minutes later, another disciple has ventured too close to the edge on the left, so the Master calls, "Go right!" The dutiful disciples write down, "The Master says, 'Go right.'" There follow countless arguments as the disciples try to make sense of the Master's teachings: "Did the Master really say this?" "Aren't the teachings contradictory?" "Was the Master confused?"
The "letting go" teaching is very important—perhaps even the most important teaching—because there is such a habitual tendency to try to impose our preferences on life. We tend to think there's a "me" that we experience in our bodies, in our perceptions, and so we take everything personally. We cling to our circumstances: our health, our success, our praise. The first step in breaking this unconscious habit of assumptions is to recognize that what we are identifying with and grasping at is actually changing all the time. The dawn becomes the mid-day and then the dusk. The in-breath becomes the out-breath. The pleasure becomes the pain. Our confidence morphs into doubt. When we start to see this, we start to recognize that where we've been looking for happiness and certainty is by nature uncertain.
When we look for something where it can't be found, we're bound to suffer. Ajahn Chah says it's like looking at a chicken and asking why it's not a duck. We're demanding from the ephemeral changing world something it can't offer. So the teaching of "let go" is very helpful.
And yet, letting go does not mean "getting rid of." It means "allowing it to be as it is. Let it come, and let it go." When we do that, we start to notice pleasure and pain coming and going; praise and blame coming and going; feeling good and not feeling good—all coming and going. When we realize that these things both come and go, then we start to come in touch with an underlying understanding, an underlying "suchness," that is not coming and going but remains constant through all the other comings and goings. The "letting go" teaching is very important for that insight.
What tends to happen though is that we turn this insight into "letting go" into an aversion to the world of people, the world of form and circumstances—which is where we associate our suffering. We don't call it aversion, of course; we pretty it up. We tell ourselves we simply prefer being peaceful. At that point, we're very close to the edge of the road and it's important to head back toward the middle—to engage the world. Both letting go and holding on are capacities of the One Mind. It's like a hand—which can open, but also hold. Maintaining any one fixed position of the hand is not natural; it's paralysis.
Another classic teaching of the Buddha is caring, is kindness. The Buddha said we should look at every single being the way a mother looks at her only child, which she would protect with her life. That's caring; that's attachment. Yet, if we cling too much and don't realize that ultimately all conditions change, then we don't know underlying peacefulness.
Our Thai master, Ajahn Chah, gave another teaching on this subject. The monks in Thailand live in grass huts in the forest. One day a storm blew away half the roof on one monk's hut. The monk said, "This must be a lesson in letting go."
Ajahn Chah came walking through the forest one day and saw this hut with half the roof blown off and said, "What's happened here? Who's living in this hut?" The monk came over and explained that the roof had blown off. Ajahn Chah said, "And?" The monk said, "I've done what you said, Ajahn Chah. I'm letting go!" Ajahn Chah said, "Letting go doesn't mean abdicating responsibility! It's not an excuse for being lazy!"
So we try to learn not to allow any circumstance to interfere with our underlying equanimity, but at the same time, we do what we can. In our speech, in our actions, we look after and care for the beings we come in contact with. It appears that caring for the world and letting go are in contradiction, but actually there is a paradoxical balance between the two teachings.
Thanissara: It is a paradox, isn't it? It's a paradox that reflects the paradoxical nature of reality. What's required is to find some sort of balance. If we're always engaged in the world, responding to others, doing good works, it's very easy to become so invested in a particular outcome that we lose our equanimity. We can become consumed by stress because we can't fix all that is wrong. The world is as it is. So we need that inner perspective that enables us to let things be, that allows us to step back. But as Kittisaro said, we can't just become passive or detached because that creates another imbalance.
Goodman: It does seem as what we're talking about is balance; yet it also seems that the more one engages, the harder it becomes to draw back. One is more likely to know people who are at-risk, or suffering, and this tends to keep one "in the fray," or to make one feel that perhaps going on retreat at this particular moment is bad timing. How do you strike the balance in your own life and practice?
Thanissara: Well, we are living in an intense time. There are so many really pressing issues that it can feel negligent to take oneself off the front lines and go on retreat. Yet I do think that ultimately the greatest changes we need to bring about are those of consciousness. A dualistic consciousness, which divides the world into subject 'me' and object 'other', is more prone to act out of fear and grasping. Depth meditation, which retreats cultivate, awakens us to the reality that we live in a seamless world. In the silence of the heart, there is a depth of intimacy with all of life. One of my good friends experienced the tragedy of the death of her baby. She told me that if she thought about the baby she felt separate from him and became anguished. However when she allowed the thought to subside and just listened into her heart, into the silence, she was aware that there was no separation.
While action in the world is necessary, the deepest changes take place on a subtler, energetic level. To do that work—purifying the mind from ignorance, freeing action from distortion, sending out energy of non-contention or prayerfulness—this is the work of meditation. So it's a false idea that if you're on retreat then you're not working in the world. It's the way language discriminates, but the two are actually of one piece.
For example, people come to our hermitage in South Africa and are profoundly affected by the energy there, which is the result of people engaged in meditating, in practicing loving kindness—and also of doing the work of caring for the world. There's no split. It's all one piece and the most important piece is consciousness itself.
Goodman: Kittisaro often quotes Ajahn Chah as saying, "If it shouldn't be this way, it wouldn't be this way." Yet we live in a world of great suffering. How do you reconcile Ajahn Chah's teaching with the Buddhist precepts of "right speech" and "right action"?
Thanissara: At some level it's obviously true—it can be no way other than it is right now. However our actions in the present condition the future.
Buddha didn't just sit there and say, "Oh well, the world is at it is." He acted. In fact he tried three times to prevent a war between those in his home country of Kapilavastu and the King of Kosala. Yet he wasn't able to stop the bloodshed. He had to accept that this was a karma he couldn't alter, but it didn't mean that he didn't try. On leaving the area, it is recorded that his beloved attendant Ananda asked him why he was so sad, to which the Buddha replied that his people would be massacred within the week.
Goodman: Wow. I never knew that. I don't know if I find that reassuring, or discouraging.
Thanissara: Yeah. It's definitely a reality check about the world we live in. And the challenge of practicing equanimity when we don't have the power to change or prevent a calamity. We have to accept that we may only be able to add our drop to the bucket. Yet the only way the bucket will ever be filled is if we each add our drop.
Kittisaro: I'd like to add that Ajahn Chah's saying "If it shouldn't be this way, it wouldn't be this way" is not a justification for inaction, or an excuse for shutting down our compassion. Rather, it's an encouragement to notice when our mind is unable to bear the reality of the moment, and instead retreats into a compulsive, habitual response.
Things arise according to the laws of cause and effect. Ajahn Chah's statement encourages us to bear with for a moment longer, rather than react habitually, which is frequently not a conscious or wise place of action. If we take the time to reflect, then even in chaos, even in sickness, we can see our circumstances as they are and not tack our judgments on top of them. We can allow the pain to come and go. We have the possibility of sensing the underlying perfection even in the midst of pain. That's where nirvana is—in being able to recognize the essential unchanging perfection of the moment.
That's not meant to say that one shouldn't respond. The teaching is about clarifying the vision first. If we never deeply center ourselves then we tend to be driven by ideas of "how things should be."
The Buddha didn't teach any ultimate views. He taught that every view should dissolve, should encourage us to come back to a point of balance. Our time in Africa is an intense opportunity to deeply experience how things are and yet try to respond in our outreach work. We know that the more deeply we are able to open to pain and suffering, the more likely it is that we will be able to respond wisely, rather than compulsively.
These two things—learning to deeply accept and allowing our response to come out of that deep acceptance—are not in conflict. There can be deep acceptance and there also can be vigorous work to meet the suffering of the world and out of compassion strive to transform it.
Goodman: Thanissara, you have very movingly described the unequal treatment of bhikkhuni, nuns in the Theravadan tradition in Thailand as "betraying both the personal and archetypal feminine in a hundred small and large ways." Although as a nun you tried for years to minimize the pain of this treatment by "not being attached" to women's place in the order, eventually the impact of gender inequity was part of your decision to leave the monastery. Looking back, do you regret that you didn't leave sooner? Do either of you have wisdom to share on how to know when "dealing with what is" requires inner, spiritual work, and when it requires work in the outer world?
Thanissara: As you say, this is an issue I feel keenly because of my personal experience of it. Yet I remind myself that patriarchy has not only been oppressive to women, it has also been oppressive to the feminine in man and the feminine in the Divine. Earth itself has been treated like a raped woman because of the lack of recognition of the sacred feminine.
As far as knowing when what you're up against requires work in the outer world as well as the inner, I would say that Buddhism teaches that our inner discernment, our own wisdom, must guide our decision-making. We are often aided by physical symptoms—anxiety, fear, depression, panic, or even headaches, nausea, or insomnia—that tell us something is not right. However, when one is in a situation where one's instinctual sense of well-being is legislated, or rationalized, or intimidated away, then the unhealthy becomes the norm and help is needed from the outside. In the case of equal treatment for the nuns, this could take the form of a lay lobby to review conditions in the monasteries. Or the weight of public opinion might prompt those in power to modify their views. This is not simply an issue of restoring the balance between monks and nuns in the monasteries. It's also about restoring balance in the cosmos, on the planet, in the world, and within men, as well.
Goodman: When one is on retreat one is more easily able to disengage from the world because it's not constantly in your face. In my own practice, I find that the more I do engage the world, the more it tends to suck me in so that even when I'm meditating, in the back of my mind is the thought, "What am I going to do when I get up from meditating?"
Kittisaro: That's why we need mini-retreats: A minute, or five minutes, where we practice letting things come and letting them go. And if the term 'letting things go' justifies aversion, then we might have to use new language. A nun who was dying of cancer at Amaravati monastery was in distress, crying out to one of the senior monks, "I can't let go, I can't let go." And the monk said, "Then let it come. Let it come." What we're really saying is, don't remain stuck in any one fixed position. When we're tangled up, teachings like "allow it to come, or allow it to go" are very helpful.
Thanissara: As I get older it becomes easier to maintain balance. I feel less of an internal split. When I'm sitting I'm processing what's going on in my life and taking it to a deeper, quieter place. I also process stress by doing peaceful, grounding physical activities like yoga.
In my activism, I refer back to the inner work. For example, if I feel myself getting angry, I have the inner spaciousness to ask how I can use my anger in a more skillful way. I think learning to work skillfully with anger is a powerful and under-developed tool for women. We're taught not to get angry. But as I'm more freely in touch with my anger I recognize it as power, strength. I realize that my intention is not unkind or unfair. In fact, the archetypal feminine is arising very strongly in defense of the planet. If your spiritual practice is strong enough to create a container for anger, then it can emerge as clarity, strength, and power—and I hope it does, because we need it.
Goodman: In the past you've both acknowledged that Kittisaro is more drawn to the silence, to going within. He has done several months-long, or even year-long, retreats—occasionally to the detriment of his physical health. On the other hand, Thanissara has said that she is more "relational." Part of her reason for leaving the monastery was her desire to engage the world, rather than live apart from it. Yet she, too, can become over-extended to the point of detriment to her physical or emotional health. How do you find balance within yourselves and within your relationship?
Kittisaro: We help each other. I think it's quite useful that we have different strengths. I can do all the retreats I want to but if I'm still afraid to speak to somebody, or afraid of criticism or failure, then my so-called peace is fragile. I love retreats and they help me because I do get tangled up; I get lost. I need to pause, steady myself, and let go; that's healing for me. But the emptier one becomes, the more at peace, the more one realizes that, as the great Chinese Master Hua says, "All living beings are my family. The universe is my body. All of space is my university. My name is empty and formless. Kindness, compassion, joy, and equanimity are my function."
So the more that I go on retreat and find that peace inside, the more I realize that the whole world is arising within this mind and that my body and the mountains and the river are all part of the Dharma. So just as winter naturally brings forth spring, I come back to contact and relationship. Though it's not so easy for me, Thanissara helps me.
I tend to be nourished by being alone, but I'm also learning how one can be nourished by the company of other beings. Then, as you know, being engaged one can become overwhelmed and attached, so then I encourage her about letting things be. So we're very fortunate to encourage each other.
Thanissara: My relationship with Kittisaro encourages me to formal practice, which is very powerful for me even though I'm not naturally drawn to it as much as I am to engagement. His influence is also very helpful in terms of my engagement. For example, I can discuss the bhikkhuni issue with him and his responses are very helpful—in part because he is not so emotionally engaged. We trust each other's wisdom and guidance because we are both very interested in how the other perceives and experiences life. At the same time, we give each other a lot of space, knowing that what the other brings back from time alone, or time in the world, will feed us both and feed our relationship.
Goodman: Although Westerners—or at least Americans—tend to place their faith in "doing," what do you two believe is the role of meditation, forgiveness, and practicing thoughts of loving kindness in creating a more peaceful, just, and healthy world? In other words, what is the role of inner work in creating the outer world? Do you have examples from your own practice—or from the practice of others—in which prayer and meditation alone solved seemingly intractable problems?
Thanissara: I think there's a growing awareness of the need to ground social activism in spiritual practice. Effective action comes out of depth meditation. However, depth contemplation itself has a powerful effect on the world—because it's all energy. I think of the study of the effect of intention on water crystals, where loving thoughts directed at a glass of water resulted in beautiful crystallization patterns. I think it's quite possible that the prayerful activity of countless monks and nuns and lay practitioners is at least partly responsible for humanity having made it thus far. Consciousness itself is powerful.
Kittisaro: I believe these practices—prayer, meditation, thoughts of loving kindness—are very important. "Doing" is one very important way of manifesting in the world, but another very important way is subtle doing, doing on the inner plane. When one practices thoughts of loving kindness, for example, you're actually experiencing a here and now recognition of the unified nature of this world. When you're practicing kindness, the unifying principle is an awareness that is welcoming. You're allowing things to come and go within the spaciousness of a heart that's not averse, not rejecting, not blaming, not harming.
And it's not just theoretical. You're grounding it in how one receives body, how one receives breath, how one receives a thought, a sense of the earth beneath our feet, the forms and sounds around us. When one practices this way, the habitual contraction around particular forms, perceptions, views or groups that we take to be "me and mine" relaxes and the heart opens up to its more natural boundlessness. That has a profound effect.
You ask for examples. Obviously one can't prove that prayer alone has solved a seemingly intractable problem, but certainly I count my own experience with illness — years of being sick, in chronic pain, with internal bleeding and devastating weakness—when medicine didn't help me. Initially antibiotics saved my life overcoming the onslaught of typhoid fever. Modern medicine, however, wasn't very effective in treating the years of debilitation that followed. Yet in moments when I would just receive, like a mother would hold a crying child, the fragments of my nervous system, the raggedness of a mind that couldn't focus, the weakness, when I could just receive all that in the unified field of non-aversion, of knowing things as they are right now, I've often had the profound, transformative impact of mind touching something greater than itself. Many times after that experience of being really still, holding the simplicity of how it was in that moment, I would feel that my body was being blessed. In this way I gradually was able to restore much of my health.
It's an unseen work, but the Buddha acknowledged its significance. When you practice loving kindness you affect not only your own body but the environment around you and your own unconscious states of mind. One becomes free from troubled sleep; one becomes more precious to human and non-human beings. The animal kingdom is affected by our states of mind. The Buddha even taught that loving kindness affects the subtle beings, the angelic realms, the devas.
Acting in the world is very important, but so is having and sharing the thought "May the goodness from my life be shared with all beings above, below, and all around. May all beings be well." That is not just an empty thought; it has an energetic manifestation. Moreover, when we act without this grounding our actions can be based in a fragmentary notion of me trying to fix the world—when actually the world is integrated; all things are mysteriously interwoven. So if we can balance these measureless states of clear seeing and kindness with our actions in the world, then our actions will be more effective.
Even in our AIDS outreach work in Africa, who knows how much all those years of opening our hearts to wishing all beings well helped to lay the groundwork, helped us attract enough support, helped us meet the right people to put in place programs that are now starting to respond to the very real suffering we encounter?
We've had big fires including one that almost destroyed our hermitage. Hurricane-force winds jumped a 300-meter fire break and we had to evacuate. But we'd just completed two months of meditative practice and when we came back to the center we saw that the fire had burned all around the buildings—had spontaneously combusted logs three meters away from the thatched roof of our shrine room—yet the shrine room didn't burn. A fire officer came out to our place and said, "I just can't understand this. A miracle has happened here." Now I don't really know if prayer was the reason the buildings were spared. But prayer is in keeping with the Buddhist traditions. Buddha said "Rather than guns, rather than weapons, or fighting, the most protective, healing thing you can do is to cultivate a kind, wise, loving heart."
Goodman: I know your life schedules are always changing, but do you have what could be called a regular schedule or routine that helps you maintain the balance?
Kittisaro: What really helps me is to have three hours in the morning for inner work. I get up at 5:00 or 5:30 and meditate for an hour. Then I do recitations and chanting, which is another form of contemplative practice, followed by walking meditation outside. While I'm walking, I recite teachings of the Buddha, but because I'm out in nature I'm also gathering in the mountains, the valleys, the vistas, and other people on the road. So walking meditation helps me transition from the inner to the outer world.
But three hours is sometimes a luxury I don't have and I have to content myself with recitation and meditation. Doing at least those two every day is really helpful.
Thanissara: At the moment I'm not living in the hermitage and don't have the benefit of communal support so I meditate on my own in the early morning. I read a little Dharma and I pray for the well-being of others. I also attend yoga classes, which I find very helpful. However, my core practice is formless and is not dependent on circumstance. It is the cultivation of a contemplative attitude where everything is returned back to awareness. This means that whatever I experience, I go to the root of my relationship to it. Is there clinging or resistance? My monastic training attuned me to the experience of dukkha, or the sense of suffering. From there, according to that training, I track back to the clinging or aversion within the mind. This is my root practice. You could call it the practice of the Four Noble Truths. This practice bears many fruits. While I do find life deeply challenging, the practice of consciously engaging suffering has matured me. I have received many blessings, the greatest of which is access to the Dharma. At first the Dharma is the teachings, but as identity with self diminishes, life becomes Dharma. Everything teaches and transforms. Life and self merge and there is revelation and mystery. This gives meaning, fulfillment and connection for the self and, as the self is transcended, the taste of inner freedom.