Even with all the ways his views might differ from those of other Buddhists, Daniel Scharpenburg mostly sees common ground.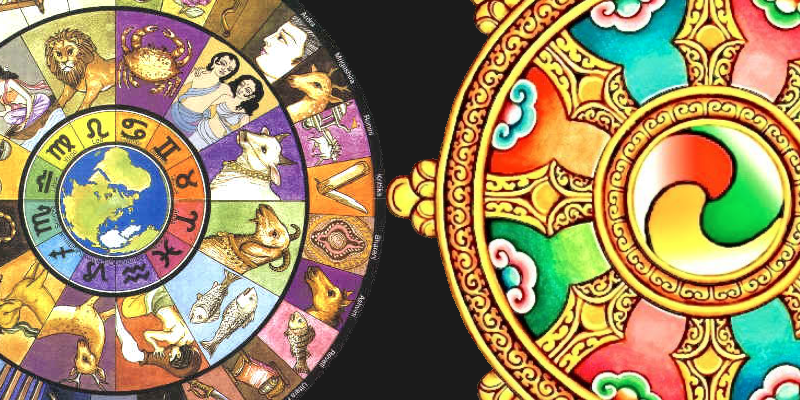 I was at an art party in a friend's living room, struggling to paint a standing Buddha with watercolors. People started talking about astrology.
Sometimes I feel like I'm just an observer at events like these. "I'm an Aries, what are you?" someone said. And they were asking around a little. A guy who's much cooler than me said, "I don't believe in things that aren't real."
I liked that phrase, but I'm not sure there's quite enough humor in it to overlook the mild condescension.
I don't really like words like secular or skeptic. But to be honest, I don't believe in spirits, magic, gods, demons, reincarnation, or psychic powers. I just don't. I'm not closed-minded, and I don't look down on people who believe in those things — though I'm always surprised so many do. Above all, I want people who see things the way I do to know that they aren't alone.
What I do believe is that if we're more awake, we will suffer less.
The great thing about Buddhism is that it doesn't require us to believe in things that we don't think are real. Things that aren't real aren't the point of Buddhism. I don't believe in magic, and I don't have to pretend that I do (which is a thing I wonder if some people are doing). That kind of belief is not a requirement.
I think the 14th Dalai Lama is a very wise teacher. I saw him in 2011 and am glad I did. But I don't believe, as many of his adherents do, that he was the 13th Dalai Lama in his previous life, or that he's an emanation of a bodhisattva, and that he will once again be reincarnated. If I were a Tibetan Vajrayana Buddhist, I probably would — and if you are and do, that's great. There's plenty of room in Buddhism for both of us.
I also don't happen to believe that chanting Nam myoho renge kyo in front of a gohonzon will bring me good fortune. I just don't. If I were a Nichiren Buddhist, I probably would, and if you are and do, that's great. There's plenty of room in Buddhism for both of us.
What I do believe is that if we're more awake, we will suffer less. And I believe the way to cultivate wakefulness is to train ourselves in concentration, ethics, and awareness. I believe — and I think, really, all Buddhists do, whatever else they might — in Basic Goodness, Emptiness, Oneness, and Enlightenment.
Basic Goodness: our core, human beings are good. We are inherently noble, vibrant, gentle, and free. I reject ideas like original sin and I think thoughts like "I'm not good enough" are rooted in delusion and neurosis.
Emptiness: everything is empty. That doesn't mean that there's nothing. It means that there's nothing to cling to. And trying to cling to things all the time causes us to suffer.
Oneness: separation is an illusion. We are part of a vast, interconnected whole that is boundless and includes the entire universe. A drop of water from the ocean, the entire ocean in a drop.
Enlightenment: we have the capability, with diligent practice, to see reality as it is. To see the world beyond all the baggage we're carrying. We can dwell in the interconnectedness of our being for brief periods and for longer ones, and when those periods end, our lives remain touched by that experience of interconnectedness.
If you experience tells you that astrology or reincarnation is real, by all means, believe it. My own experience tells me that Basic Goodness, Emptiness, Oneness, and Enlightenment are real, and so I believe.
Can you help us at a critical time?

COVID-19 has brought tremendous suffering, uncertainty, fear, and strain to the world.
Our sincere wish is that these Buddhist teachings, guided practices, and stories can be a balm in these difficult times. Over the past month, over 400,000 readers like you have visited our site, reading almost a million pages and streaming over 120,000 hours of video teachings. We want to provide even more Buddhist wisdom but our resources are strained. Can you help us?
No one is free from the pandemic's impact, including Lion's Roar. We rely significantly on advertising and newsstand sales to support our work — both of which have dropped precipitously this year. Can you lend your support to Lion's Roar at this critical time?