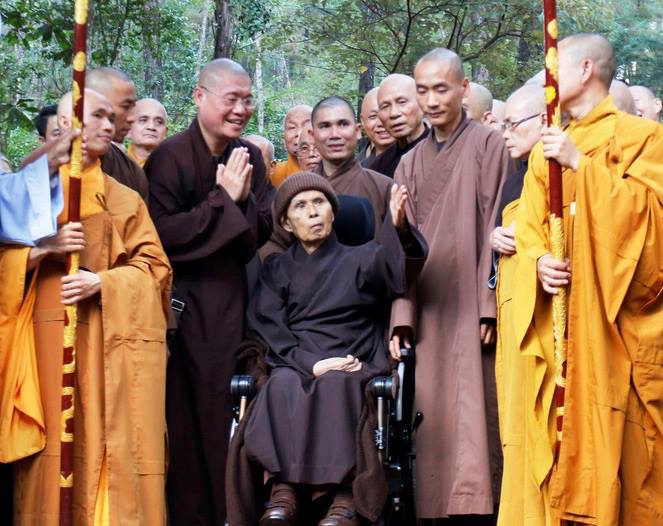 Thich Nhat Hanh in Vietnam in October.
On October 26, Thich Nhat Hanh traveled back to his homeland to spend the remainder of his life at the pagoda where he was ordained.
According to a letter to his students, Thich Nhat Hanh has decided to spend the remainder of his life at Tu Hieu Pagoda, a Buddhist temple in Vietnam, where he was ordained at age 16.
BuddhistDoor reported that Nhat Hanh traveled to Vietnam on October 26, making this his fifth trip to Vietnam since he left his homeland in 1966. Nhat Hanh spent several days visiting his birthplace before settling in Tu Hieu Pagoda in Thua Thien-Hue province.
In 2014, Nhat Hanh suffered a brain hemorrhage and was hospitalized in France for four-and-a-half months. In 2016, Nhat Hanh expressed a strong wish to travel to Thailand to be closer to his homeland. After convalescing at Thai Plum Village for almost two years—the largest practice center in Asia in his tradition with more than 200 monastics—Nhat Hanh is now in Vietnam where he plans to stay.
In his letter, Nhat Hanh wrote: "The Buddhist knowledge and wisdom I learned from Tu Hieu is now spreading all over the world, and I believe it's time for me to get back to my roots."