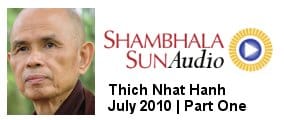 If you've seen our new issue, you know that it features Zen master and mindfulness proponent Thich Nhat Hanh — first, in a profile by Andrea Miller, and then, in "Love & Liberation," a new full-length interview conducted by Shambhala Sun editor in chief Melvin McLeod.
In it, Melvin speaks to Thay (as he is affectionately known) about true love, the benefits of suffering, and why insight will set you free.
In this Shambhala Sun Audio clip, they discuss happiness — and why mindfulness may be the only true way to it.
Click this player to listen:
[audio:https://www.lionsroar.com/wp-content/uploads/2010/06/Shambhala-Sun-Audio-Thich-Nhat-Hanh-on-Happiness-Mindfulness-Body-and-Mind1.mp3]
We'll have more clips from Melvin's discussion with Thich Nhat Hanh for you soon. In the meantime, you can browse the entire July 2010 issue here. Or, listen to previous installments of Shambhala Sun Audio, here.