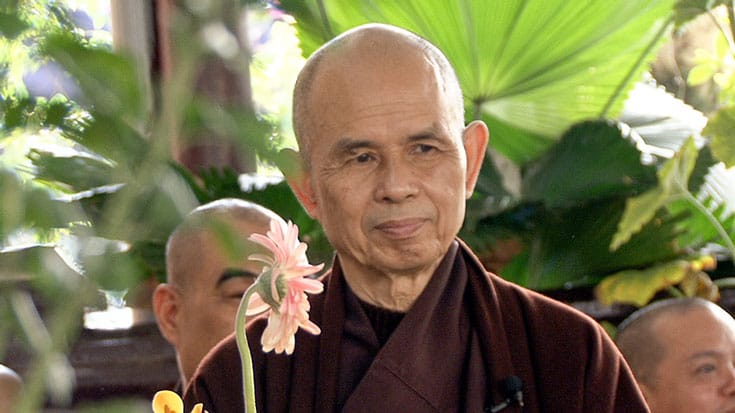 Photo by Velcrow Ripper.
Thich Nhat Hanh's Plum Village community has issued its latest update on the Zen teacher's health after he suffered a brain hemorrhage in early November. (The most recent previous update was issued on December 1.) The current statement reads, in part:
Thay continues to surprise the doctors with his strong vital signs and steady, peaceful breathing. They are still amazed that Thay has been able to survive and even to show small signs of progress.

A few days ago, one of the doctors shared that "Thay is an enigma", and another said they were "witnessing a miracle." When a top neurosurgeon from the US visited last week, he was deeply impressed by the medical team's commitment to giving Thay every possible chance of recovery.

In recent days Thay has been showing some indications of wakefulness, but he continues to remain in a deep coma. There have been times when Thay had his eyes open for more than two hours, and is responsive, but he is not yet showing clear signs of communication. The doctors remind us that it may be weeks or months before we can understand the damage caused by the hemorrhage and discover the extent of healing that may be possible.

The medical team has started to stimulate Thay to have more wakefulness. Every day the nurses help Thay sit in a chair, and in addition to acupuncture and massage from the attendants, physiotherapists come to activate Thay's body. We sing to Thay, and we also let Thay listen to Sangha chants and beautiful sounds of nature.
Plum Village tells us another update will come in the new year. Read the rest of this latest statement here.