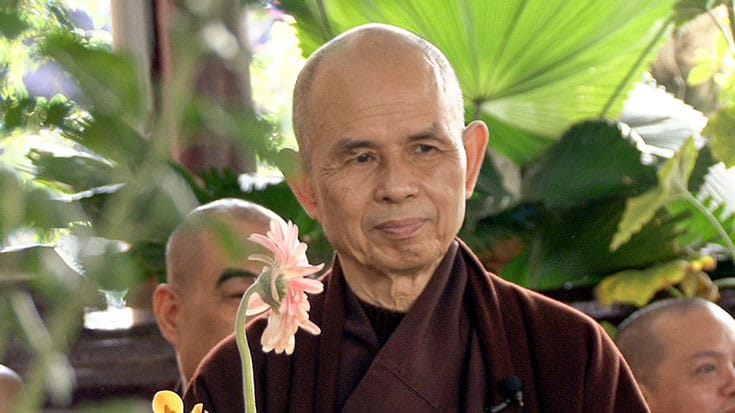 Thich Nhat Hanh giving a dharma talk in Vietnam in 2007. Photo by Velcrow Ripper.
Zen teacher Thich Nhat Hanh landed in Vietnam this afternoon for his first visit to his home country since 2008. Nhat Hanh was exiled from Vietnam in 1966, at the age of forty. He returned for the first time in 2005, and then again in 2007 and 2008. This trip marks his fourth return and his first since suffering a stroke in the fall of 2014.
A statement from Plum Village, Nhat Hanh's center in France, reads:
In recent weeks Thay has expressed a strong wish to visit his home country once more, and the sangha is delighted to have been able to realise his wish. Thay's trip will include a visit to Plum Village's Root Temple, Chùa Từ Hiếu, in Huế, where Thay began his monastic training in 1942.
Nhat Hanh is currently in the city of Da Nang, and will visit his hometown in the coming days. There are no public events planned.
A documentary about the life of Nhat Hanh narrated by Benedict Cumberbatch, titled Walk With Me, premiered this month and will be released in theaters later this fall. Filmmaker Velcrow Ripper reported on Nhat Hanh's 2007 trip to Vietnam for Lion's Roar.