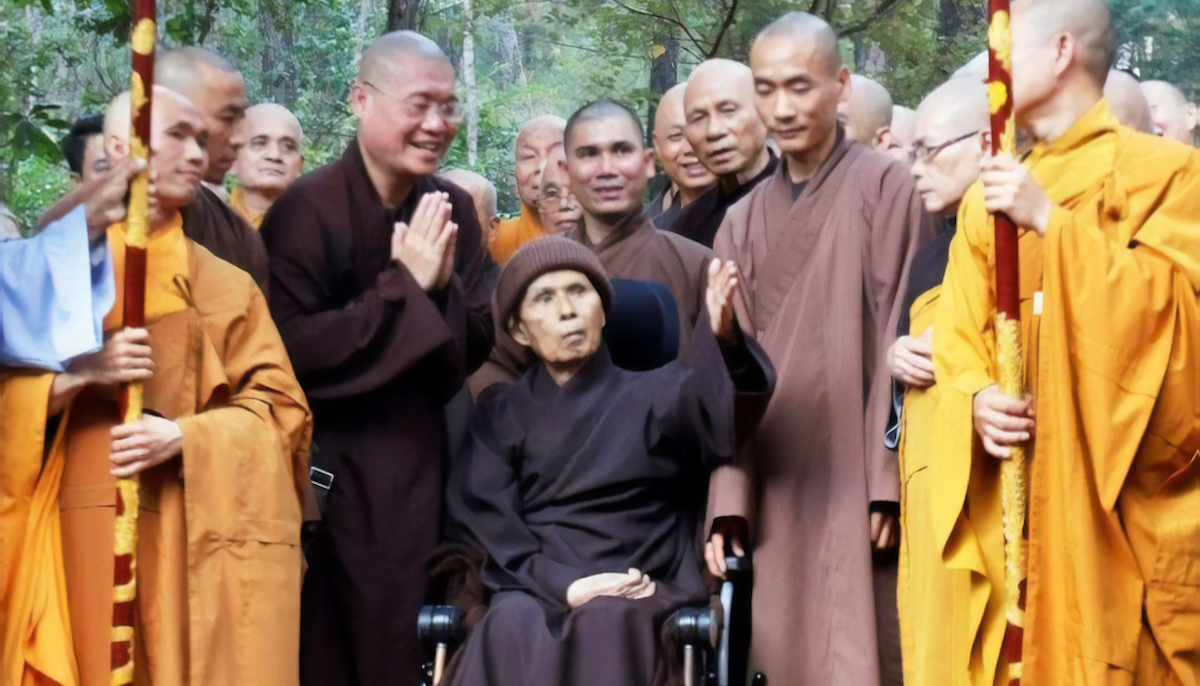 Thich Nhat Hanh in Vietnam in October 2018 via plumvillage.org
"Thay is doing well, has recovered his appetite, and remains strong in spirit," Plum Village writes.
Thich Nhat Hanh traveled back to Huế, Vietnam to Từ Hiếu Root Temple on January 4th following medical checkups in Thailand, a letter to his students from Plum Village reports.
In December, Lion's Roar reported that Nhat Hanh had traveled from Huế, Vietnam to Thailand for a medical check-up at a hospital in Bangkok. The hospital visit involved a full check-up and new set of blood tests, which "went smoothly" and were "very promising," Plum Village wrote.
While in Thailand for five weeks, Plum Village writes that Nhat Hanh "enjoyed the peaceful atmosphere of the practice center" at Thai Plum Village near Khao Yai National Park. He was also able to attend the ordination ceremony for fourteen new young monks and nuns in the Plum Village community.
"Thay is doing well, has recovered his appetite, and remains strong in spirit," they write.
In 2014, Nhat Hanh suffered a brain hemorrhage and was hospitalized in France for four-and-a-half months. He expressed a wish to travel to Thailand in 2016 to be closer to his homeland, and spent nearly two year years at Thai Plum Village. In October 2018, he traveled to Vietnam where he had chosen to spend the remainder of his life at Từ Hiếu Pagoda, the Buddhist temple where he was ordained at age 16.
"Thay is looking forward to seeing the completed renovation works of the new Shrine Hall at Từ Hiếu Temple, and returns to his homeland in time for the Lunar New Year celebrations later this month," Plum Village writes.
THANK YOU FOR READING LION'S ROAR. CAN WE ASK FOR YOUR HELP?
At Lion's Roar, our mission is to communicate Buddhist wisdom in today's world. The connections we share with you — our readers — are what drive us to fulfill this mission.

Today, we're asking you to make a further connection with Lion's Roar. Can you help us with a donation today?
As an independent nonprofit committed to sharing Buddhist wisdom in all its diversity and breadth, Lion's Roar depends on the support of readers like you. If you have felt the benefit of Buddhist practice and wisdom in your own life, please support our work so that many others can benefit, too.

Please donate today — your support makes all the difference.

Lion's Roar is a registered charity in the US and Canada. All US & Canadian donations are tax deductible to the full extent allowed by law.