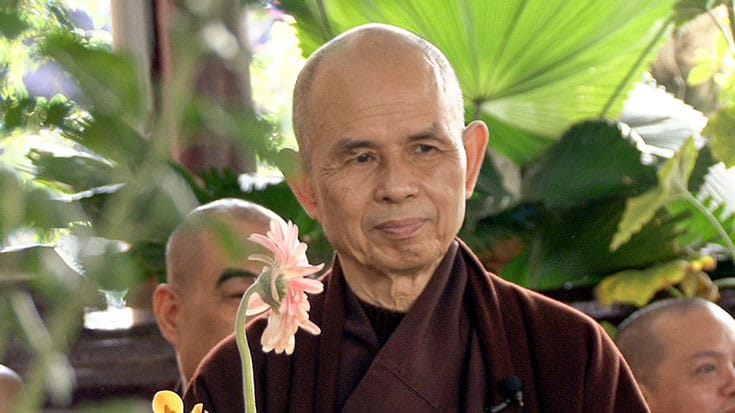 Thich Nhat Hanh giving a dharma talk in Vietnam in 2007. Photo by Velcrow Ripper.
Thich Nhat Hanh has embarked on a journey to Thailand today from his home at Plum Village in southern France.
According to a post on the Plum Village website, Thich Nhat Hanh, known as Thay by his followers, "communicated a clear and determined wish to travel to Thailand," last week.
Thich Nhat Hanh suffered a stroke at the end of 2014, and travelled to the United States to undergo intensive rehabilitation. He returned home to Plum Village in January of this year, and has recently "been wholehearted in his participation on Days of Mindfulness, joining walking meditation and listening in on the Dharma Talks as his health permits."
Thich Nhat Hanh will visit the Thai Plum Village, located on the edge of the Khao Yai National Park, which is the largest practice center in Asia in his tradition.
Plum Village writes:
Although Thay's wish has not been easy to realize, we are very happy to announce that at midday today, Thay and a small group of attendants took off from Bergerac airport and will arrive in Thailand tomorrow morning, 10th December.
There, they will be greeted by hundreds of monastics and lay practitioners, including many venerable elders from Thailand and Vietnam, who over the last few days have been making the journey by land and air to greet him and pay their respects. We are very happy that Thay is still able to make such a journey, to offer his presence in Asia and be closer to his homeland at this time.