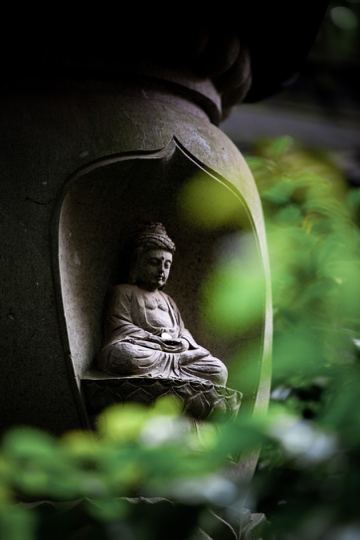 Buddhist monk Thanissaro Bhikkhu lists the good qualities you should take with you on the Buddhist path.
Sometimes a path can be blocked by things that are there—like barricades or piles of rubble—and sometimes by things that aren't. Think of a gaping hole cutting across a road: you're missing the ground you need to get across. In the same way, the path of practice has its prerequisites. If they're lacking, that can block your way.
The Buddha lists two principles as most useful in the practice: externally, there's admirable friendship; internally, there's appropriate attention. If you lack either of these, it's as if your path has been blocked by a giant rift.
Admirable friendship means both having a friend—a really wise, good person—and trying to emulate that friend's good qualities.
The first good quality to admire and emulate is conviction in the Buddha's awakening. We're convinced that he really put an end to suffering through his own actions, with the implication that we can, too.
The second good quality—virtue—follows from the first. Because we believe in the power of action, we don't want to harm others. This means no killing, stealing, illicit sex, lying, or taking intoxicants. In any situation. Ever. As the Buddha says, if we hold to these precepts without exception, we're giving universal protection to all beings. If we make exceptions, that protection is only partial—and we're only partially protected as well.
The third good quality is generosity—freely giving not only our material belongings, but also our time, knowledge, energy, and forgiveness.
The fourth good quality to emulate is discernment: insight into how suffering arises and passes away. This connects directly with the internal principle of appropriate attention.
Attention, in the Buddha's vocabulary, is a matter of what questions you focus on trying to answer. Inappropriate attention focuses on questions like, "Is the world eternal? Is it not? Who am I? Do I exist? Do I not?" These questions trap you in what the Buddha calls a "thicket of views." To insist on answering them is like being shot with an arrow and refusing to get it removed until you've found out who shot it and how it was made. You'd die.
Appropriate attention focuses on solving the problem of suffering: what it is, how it's caused, what constitutes its ending, and how that end can be brought about. Because the cause of suffering is something unskillful you're doing, and the path to its end is something skillful you can learn to do, this brings us full circle to the principle of conviction.
Believing in the power of action, you focus on changing the way you act. You don't blame your suffering on others. This doesn't mean that you blame yourself for all your problems. It means you learn how to live in an imperfect world without weighing yourself down. When you don't weigh yourself down, nothing can. You'll have more strength to help others shoulder their burdens, too.
But the work has to begin within. That's why the Buddha added two more requisites to the path, qualities he looked for in a student before taking that student on.
The first is to be observant, both of your teacher's actions and your own. When choosing a teacher, you have to make sure that the teacher really is an admirable friend. You can't turn a blind eye to his or her breaches of virtue, pretending that they don't matter—because then you'll start thinking that your breaches won't matter, either.
Then, once you're convinced that you've found the right person, you have to be observant to pick up on that person's good qualities. Not every dharma lesson is in words. As my teacher, Ajaan Fuang, once said, "A good student has to learn to think like a thief." You can't wait to be told where the valuables are. You have to find them yourself.
The second quality of a good student is honesty: you're truthful in admitting your own faults to yourself and in reporting them to the teacher. Only then will you and the teacher be in a position to correct them so that your actions really will accord with your goal.
Of all these requisite qualities—having an admirable friend, paying appropriate attention, being observant, and being honest—the only one that's possible to do without is having an admirable friend. The Buddha said that if you can't find an admirable friend as a teacher, it's better to go alone. After all, you wouldn't really be alone, given that the Buddha's teachings are available as your reference for what an admirable friend would say and do, so you can be a good friend to yourself.
Note, however, that if going it alone is your only option, you have to be especially stringent with yourself in developing appropriate attention and in being honest and observant in gauging your own actions. The lack of an admirable friend may be a hole in the path that you can get across, but a lack in any of the other three qualities is a bottomless pit.