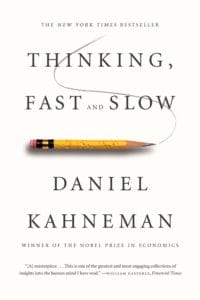 Thinking, Fast and Slow
By Daniel Kahneman
Farrar, Straus and Giroux, 2011; 512 pp., $30 (cloth)
Daniel Kahneman's bestselling Thinking, Fast and Slow is a gallery of the built-in biases and strategies of the mind. We might call them the delusions that we come by honestly, just by having a brain.
Kahneman is a psychologist who won the Nobel Prize for economics. His experiments in decision-making theory, with his colleague Amos Tversky, have influenced everything from baseball (the movie Moneyball tells that story) to stock-picking to the graphical user experience in browsers.
Kahneman asks questions about how we decide things. They're often things to do with numbers, such as salary negotiations or financial gambles. At bottom he's always wondering how to observe and think clearly. His gallery of illusions and delusions is a typology with easily identifiable names such as confirmation bias, in which the mind searches only for confirming evidence of, say, weapons of mass destruction in Iraq; or the illusion of understanding, in which a coherent story gives us the impression that we understand a situation when we don't (what happened in Prague will happen in Baghdad, and after the changeover, Iraq will choose democracy and peace). Such mental processes are not intrinsically flawed; they are heuristics—rules of thumb, stereotypes, shortcuts. They are strategies the mind adopts to find a path in a tsunami of data.
I was wondering about Kahneman's own thread through all the data, until Madonna's halftime song at the Super Bowl. She seemed to be playing to Lady Gaga or at least to herself at thirty. "Eureka," I said. "It's about loss aversion." Then I found a sample of my own life in Kahneman's gallery.
The Endowment Effect
I've been rebuilding my house and bought a fancy red window at a door and window boneyard. It was at the limit of what I wanted to pay. That afternoon a contractor called me, wanting just that window. "I'll give you double what you paid." "I'll think about it," I said. He called later and offered more than triple. "No," I said, "I have plans for that window." The window was barely worth $400 to me when I bought it, but soon after, I wouldn't sell it for more than triple that amount.
From a trading point of view this was ridiculous; the reason I was in the boneyard in the first place was to save money. But suddenly I wasn't a trader; I was superglued to my window. Kahneman calls this the endowment effect. If I don't yet have the window, I'm risking money to buy it, and I'm cautious. But when I have the window, caution works the other way. It has become precious, and I don't want to lose my identity as the proud owner of a custom-made window. This is a specific example of loss aversion.
In the same way, Smith Corona, the innovative manufacturer of typewriters, dropped an alliance with a computer company, Acer. It was 1995 and they didn't want to lose any of their typewriter business. Smith Corona went bankrupt. Acer didn't.
Can We Dodge That Bit About Suffering?
Buddhism is deeply interested in answering the question "Why do we suffer and can we escape from suffering?"
The traditional Buddhist answer about suffering is that it helps to know its causes. Every culture has a theory about that—it's the SAT rating for cultures. A culture that says we are unhappy because our neighbors are barely human and must be punished gets a low grade on the test. A culture that gets us to look within has a better shot at being both enduring and fun, and Kahneman would like to help with that project. He gives us a vocabulary for answering the age-old question "why?" in an unaccustomed way—as an equation about loss.
To escape suffering, we have to pay. The currency we hand over is our familiar patterns and our idea of who we are. Anything painful in our lives is tied up with the familiar. But we overvalue what we have and won't trade it for a new life. This is why people who begin meditating are both excited and frightened about what they might find. Kahneman points out that liking security and disliking loss are deep patterns that affect most decisions.
You might find it depressing that such biases are built into the mind, but we suspected that anyway. You could instead find it liberating. There is an innocence about what our DNA gave us and a nobility about the attempt to see more clearly—our DNA gave us that too. There's no blame. It's just, "This is so. This is what it is to be a human with the best brains that our Darwin dollars could purchase for us."
But What About Dr. Freud?
Freud had strong notions about these distortions. There are creatures in the black lagoon of the unconscious and these creatures reveal a tentacle from time to time, or an exhilarating swirl in the dark waters. Symptoms indicate their presence—a joke that falls flat because it is surprisingly aggressive, a sudden melancholy on your birthday. Bringing those creatures to light was Freud's idea of mental health. On Planet Kahneman you won't find Freud, though. Suffering isn't derived from emotion, but from routine failures of judgment.
When you check off and give names to bias in decisions, the mind doesn't need therapy; it needs hacking. The primary tools of hacking are skepticism and data gathering. The particular problem is to take real world data into account. Meditation offers a similar effect, because when we meditate our prejudices can fall away and our capacity to notice increases. This might include more realism about outcomes.
Unwarranted Optimism About Outcomes
Distortions come into play in any situations in which we make plans or scenarios of the future. Such situations always have a high degree of uncertainty. They might include: getting married.
buying a car, buying earthquake insurance, electing a president, invading a foreign country, taking up meditation, and finding the meaning of life.
We are astonishingly poor at predicting outcomes for all these decisions. For example, did your financial analyst predict the housing market crash? Mine didn't either. I remember old men telling me, between moments of coughing, that when they volunteered for the First World War in August 1914, everyone said it would be over by Christmas. The Iraq War? I read predictions that crowds would throw flowers at U.S. troops. Overconfidence is the usual way countries go to war. There is now some discussion about whether to bomb Iranian nuclear facilities.
Unwarranted optimism about outcomes means not only that we are poor at predicting, we are poor at being wary about our predictions. This is because of the illusion of understanding. We like a good story and choose data that confirms the story. This also means we keep our financial adviser even though he lost us a lot of money. Here is another heuristic:
The Halo Effect
Once I was brought in to work with a school district. The district was well funded with talented teachers and a solid board, but it was in turmoil. Teachers were isolated from each other and some had fallen into writing nasty anonymous letters to other teachers. Secretaries were gleefully withholding supplies from teachers they didn't like. It wasn't clear whether bringing me in was a sign of desperation or merely evidence that no one was at the helm.
When I had lunch with the superintendent he looked the way a leader should look—an ex-physical education teacher, tall, attractive, like a well-dressed cowboy. He spoke gravely and with conviction and made occasions feel dignified. He wasn't focused on education or leadership, though. He trusted his gut, meaning that he didn't consult on initiatives, and major decisions had to be remade. He told different stories to different people. But he was very good at looking like a leader.
We all have a mental set, a bias about what a leader might look like, and if someone fits it well, we are reluctant to check it out. Kahneman calls this particular bias a halo effect. One feature that's easily available to us (looks like a leader) affects our estimation of other abilities that are harder to assess (knows how to lead). We could find the data to check such abilities but we often don't. Our impression has become ours, like a purchase, and we don't want to surrender it.
When the situation in that school system became clear it started to correct itself. This is what meditation and inquiry hope to bring about—more reality. Nothing happened except that information was shared, then the teachers became unified, the board grew more curious, and gradually the ship righted itself.
The virtue of inquiry is that it comes up with questions like, "Even though he looks great, what does he think about education and does he know how to listen?" Inquiry tests our initial impressions and Kahneman is a strong advocate for it. This
deconstructive approach is one of the things that makes Buddhism popular among those who want to understand the mind without believing things offensive to reason.
We Are Not Our Thoughts
A disgusting image—the sight of a cockroach, the word "vomit"— will put you off your food. That's priming and everyone knows about it. There are strange and subtle priming effects, though. If images of money are accidentally present (even subliminally) during a task, a person is less likely ask for help or to give help to others. There are many examples of priming, often hard to believe but true. One conclusion is this: what we think we are, we are not. What I think of as myself is enormously more a feature of the environment than I would suppose. The elevator speech about what we are goes like this: "We are actually a collection of devices—priming and endowment effects and plausible stories."
Enlightenment and the Loss of the Expected
One of Kahneman's most charming features is that he likes to be surprised, to have his ideas disconfirmed. This is encouraging as well as endearing, since surprises are the core of learning. A day when you expect to be unhappy but your expectation isn't met is a nice surprise. A moment of clarity during a hard day at work is a surprise. Happiness is a shocking failure of the expected.
The inner dialogue of surprise can go like this: "I was thinking something and then I realized it wasn't true." Or, "I am not who I thought I was but something larger." And that is a good discovery. So such a moment is a little dance step out of the pain of life, a miniature enlightenment: I was believing something and then I stopped.
But wait: there is a problem well known to meditators and to everyone who has had a vacation—we have an experience of freedom and though we say we won't, we forget. We step back into a subtle confinement. Someone walks out of a meditation retreat full of joy and then starts worrying, as if worry were as necessary as happiness. Why do we do this?
Kahneman's answer is loss aversion. It's my red window again: potential losses loom larger in the mind than gains. He sees two kinds of thinking, two interior personalities. One is quick and full of assumptions, the other ponderous and analytic. The first enables you to catch a tennis ball without thought the way a dog does, but also to go with your gut feeling that Iraq has weapons of mass destruction when it doesn't. This way of thinking just blindly avoids loss without assessing the issue. The second, slower way of thinking comes into play whenever we are confused, laboring to think our way through the problem.
What Meditation Practice Offers
There is another possibility. Perhaps you don't have to go with your gut, or lumber along and ponder. Instead, you step for a moment out of your biases. "First thought, best thought,"
Chogyam Trungpa Rinpoche used to say—we can just go ahead in spite of our fear of loss.
If freedom means letting things go, what might you have to give up? Your belief that you are small or no good. Your favorite pair of worn out shoes. Your knowledge about what's going to happen to you. Your precious golden ring that makes you invisible but will destroy you if you don't destroy it. The thought that your suffering tells you who you are. Your favorite color. Your judgments about yourself.
The Buddhist idea is that if you catch the bias of delusion, you can reset the mind. You might be driving over a bridge and suddenly the sight of the bay and all that water opens a vastness in your mind. Kahneman shows no evidence of being interested in such openings, but his inquiry encourages them. Meditation is built to defeat inner bias and to make us susceptible to such resetting.
There is a vast inertia in the fear of losing things. Maybe the greatest achievement is to throw away something small, like the thought "I have already made up my mind about what is possible." In meditation, it's not such a great effort to get from one thought to the next or from one way of being to the next. Ideas about how the world is constructed start to slip away. It's not hard to step out of your idea of you. And perhaps you don't need to shop for a better version.
In deep meditation the devices come apart and we don't mind one little bit. And when we put the world back together, after we have been free, events don't exist in the same way—the glue doesn't hold, the habits are slow to return. The world is refreshed after you have meditated. In the end, deconstruction might lead to joy.
Kahneman gives the reader quite a ride. It's exhilarating and humbling to see the science behind his work, the reality of the limitations of our beautiful minds. It's refreshing too to be surprised and to recognize, "Yes, my mind is like that." To see our limits is to begin to see through them and Kahneman's humility turns out to be compassionate. It's worth the ticket price.