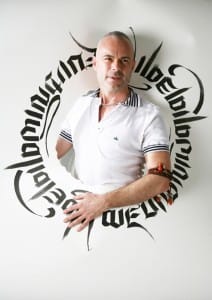 Tashi Mannox, an English-born artist who deals with Tibetan Buddhist iconography and scripts as a subject matter, has been invited to participate in the 2012 Sharjah Calligraphy Biennial. His work will be showcased at the Sharjah Calligraphy Museum in the United Arab Emirates this coming April.
The Sharjah Calligraphy Biennial features some of the best contemporary Islamic calligraphy out there, making Tashi's invitation a rare honor. He's the only Tibetan calligrapher invited to this year's event.
Mannox became a Tibetan Kagyu monk at age 22 and was given the name Tsering Tashi, though he eventually left monastic life in 2000. As a monk, Mannox studied art under Tibetan thangka master Sherab Palden Beru; part of his training was in temple decoration, the traditional entryway to the Tibetan arts. He spent four years in retreat as a scribe, copying ancient Tibetan manuscripts with precision and care. Now living in London, Tashi is connected with a number of skilled tattoo artists from around the world, being frequently called upon to translate or create Tibetan tattoo designs.
For more information on the artist and his work, please visit his website. See also this link from Tashi's blog on the Sharjah Calligraphy Biennial.
Below are the works that will be featured in the 2012 Sharjah Calligraphy Biennial: