As Tibetans around the world voted for the new leader of their government-in-exile, reports emerge that the Nepalese government blocked Tibetan refugees from participating.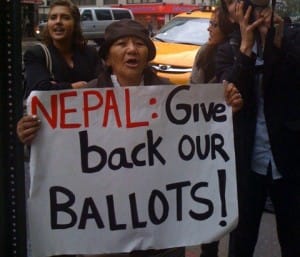 The election for the new leader of Tibet's government-in-exile was held on Sunday, March 20. Tibetans in exile around the world went to the polls to cast their votes. The polling was conducted in the Tibetan communities based in India, North America, Switzerland, France, Belgium, Germany, Italy, Austria, Poland, Russia, Japan, Taiwan, and Australia. There are 56 regional Tibetan election commissions around the world. In Dharamsala, ten election booths were set up and everything went peacefully, according to a report from the Central Tibetan Administration.
However, Tibetans in Nepal were faced with a roadblock, as the Nepalese government refused to allow Tibetan refugees residing in Nepal to participate in the election. According to an article from the Times of India, 20,000 Tibetans reside in Nepal, and authorities there disallowed the voting, supposedly under pressure from China, because they deemed it to be unlawful.
All in all, a total of 83,399 exiled Tibetans registered to vote. The results of the vote are not expected to be announced until April.
To follow stories on the election, visit the official site of the Central Tibetan Administration.