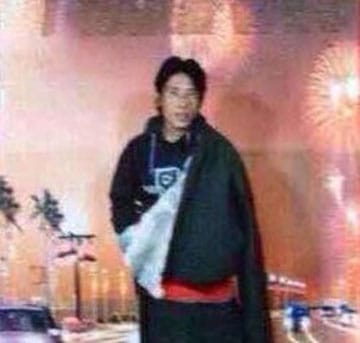 Photo via
Radio Free Asia
.
Update, 11:44am EST, December 19th: A memorial was held for Sangyal Khar on December 18. See more, below.
On the morning on December 16, a 33-year-old Tibetan man named Sangyal Khar set himself on fire in front of a Chinese police station. An anonymous source told Radio Free Asia that Khar died "in protest against Chinese policies in Tibetan areas."
Following the self-immolation, said the source, "the presence of security personnel increased in the area, and restrictions were imposed on the movements of people in the area." Restrictions were also reportedly increased on Internet communication.
According to Radio Free Asia, Khar is the 134th Tibetan to self-immolate in protest of the Chinese government since 2009. The last was on September 16. In March, China imposed punishments for the families, friends and monasteries of people who self-immolate.
A memorial service for Khar was held in Northern India on December 18, organized by the Central Tibetan Administration. Said the service's officiator, Kalon Tsering Dhondup,
"Despite repeated appeals by the Central Tibetan Administration not to resort to drastic actions like self-immolation, at least 133 Tibetans including Sangye Khar have set themselves on fire in protest against the repressive policies of the Chinese government since 2009. Of these 133, 114 have died while the status or the physical condition of the rest remains unknown or critical."
For more information on Tibetan self-immolations, read Robert Thurman's 2012 commentary in Buddhadharma, "A Cry for Freedom."