Each Friday, we share three topical longreads in our Weekend Reader newsletter. This week, Buddhadharma's editor Tynette Deveaux looks at Buddhist perspectives on tackling climate change. Sign up here to receive the Weekend Reader in your inbox.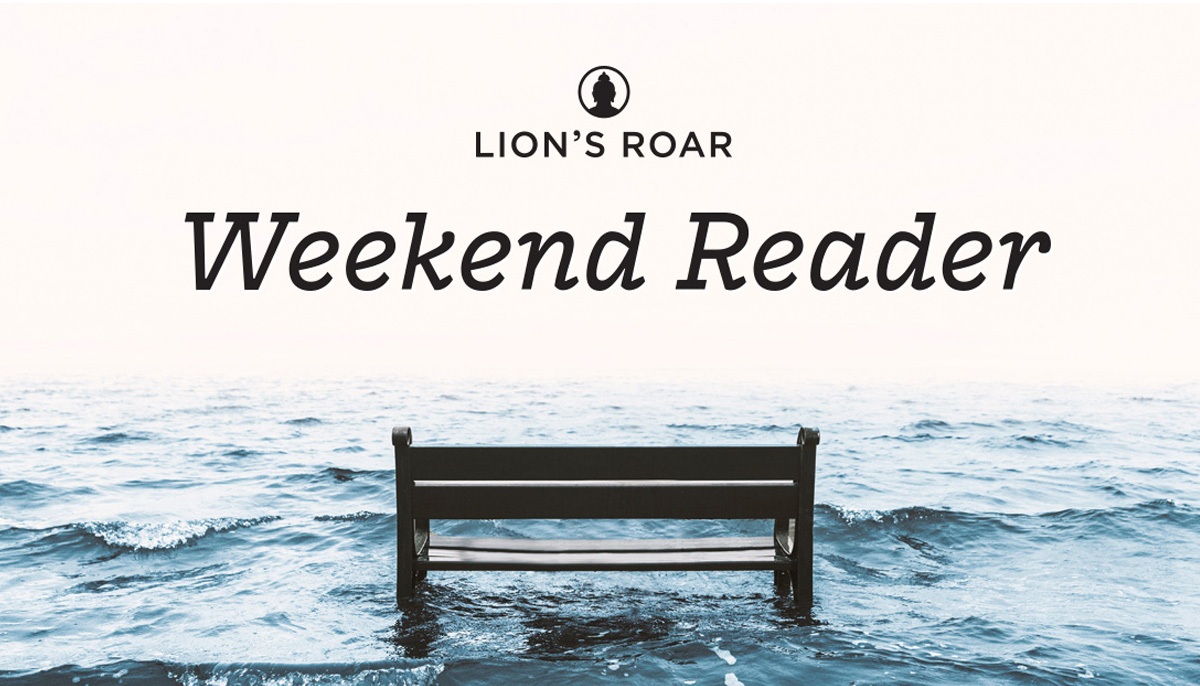 On Monday, Sir David Attenborough, in an opening address to leaders and scientists from more than 200 countries at the United Nations-sponsored climate talks in Katowice, Poland, stated, "If we don't take action, the collapse of our civilizations and the extinction of much of the natural world is on the horizon." This isn't hyperbole; it's simply the fact of the matter. And as it turns out, that horizon is much closer than we thought.
A report by the UN Intergovernmental Panel on Climate Change (IPCC) released in October warns that in order to ward off irreversible environmental damage, which threatens our very survival, we must reduce CO2 emissions by 45 percent below 2010 levels by 2030. But another report, released this week, says CO2 emissions are increasing like a "speeding freight train." Changes within the next two years, say climate scientists, are especially critical. Already we're experiencing the hottest temperatures on record and unprecedented wildfires, floods, hurricanes, and droughts. The Arctic is warming at an even faster pace than the rest of the planet, causing sea ice to break up and melt at an alarming rate. It's estimated that 60 percent of all wildlife has been wiped out since 1970 due to human activity.
I could go on, but you get the picture.
So what can we do about it? And how might Buddhism help?
In her article, "Koans for Troubled Times," Zen teacher Joan Sutherland explains that the koan tradition came into being during a devastating period in Chinese history, when two out of three Chinese people died due to civil war, famine, or disease. The "Chan innovators" of twelve hundred years ago, Sutherland tells us, did not look to "escape the catastrophe looming around them, but to more fully meet it."
The idea of meeting a difficult situation suggests not knowing how things are going to turn out, but being willing to turn toward it nonetheless and engage fully. That, Sutherland reminds us, is the essence of the Buddhist path: "To engage ourselves with whomever and whatever we meet, to care about them, to throw our lot in with them — that is the Way."
The three articles in this Weekend Reader invite us to think about what meeting the climate and ecological crisis might look like for each one of us.
—Tynette Deveaux, editor, Buddhadharma: The Practitioner's Quarterly
Environmentalist Stephanie Kaza invites us to consider how Buddhist principles can help us nurse the planet back to health.
Being with suffering means learning about what is going on in a given environmental conflict. The four noble truths can be applied as a framework for diagnosis by posing four questions, each question corresponding to one of the truths: First, what is the environmental problem or suffering? Second, what are the causes of the suffering? Third, what would put an end to the suffering? And fourth, what is the path to realize this goal?
Only when we combine our concern for the planet with spiritual practice will we have the tools to make the profound personal transformations necessary to address the coming environmental crisis. Thich Nhat Hanh offers us the guiding principles for a new ecospirituality of mindful living.
We do not have to sink into despair about global warming; we can act. If we just sign a petition and forget about it, obviously nothing is going to change. Urgent action must be taken at the individual and the collective levels. We all have a great desire to be able to live in peace and environmental sustainability. What most of us don't yet have are concrete ways of making our commitment to sustainable living a reality in our daily lives. We haven't organized ourselves. We can hardly blame our leaders for the chemicals that pollute our drinking water, for the violence in our neighborhoods, for the wars that destroy so many lives. It is time for each of us to wake up and take action in our own lives.
Climate change can feel so immense that it hurts just to think about. Willa Blythe Baker offers five meditations to help bring the truth of climate change into your awareness and lay the ground for a skillful response.
There is good reason to embrace the uncertainty of climate change as a liberating practice. The more we fear uncertainty, the more likely we are to avoid thinking about climate change. In fact, our worst enemy might not be climate denial, but rather a subtle, subconscious rejection of climate change, based on our fear of the unknown.
If, however, we embrace the truth of uncertainty, we can develop the courage to stay open and engage with the world. If we can accept the fragility of life on earth, we can invest ourselves in the possibility of collective action.