In late May, the primarily online-based Treeleaf Sangha conducted a Shukke Tokudo Homeleaving Ceremony via the internet, with Preceptor Rev. Jundo Cohen ordaining novice priests in Austin, Texas and Rochester, New York.
The newly ordained novice priests are Taido Shinkai and Shudo Dosho. Treeleaf also conducted the same ceremony in 2010, ordaining individuals in Japan, Sweden, Germany, and Canada.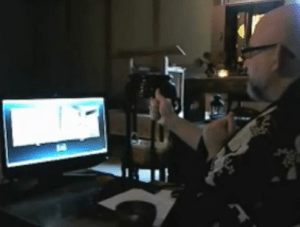 Online ordinations have been the subject of debate in recent years. The Soto Zen Buddhist Association (SZBA) recently decided not to recognize ordinations that are not conducted face to face, stating that face-to-face encounters are "the basis for evaluating a student's readiness for ordination and eventually membership in the SZBA." By "face-to-face," the SZBA board means "in the same physical room."
In a piece titled "Ordination Tribulation," posted on the Treeleaf Zendo forum, Rev. Jundo expresses his belief that this decision was in large part a reaction to Treeleaf's ordinations, despite the findings and recommendations of an SZBA committee that looked at the use of electronic media in ordinations. The committee found that "individual teachers [should] be given the freedom to pursue the use of EM (Electronic Media) for enhanced teaching as they see fit including jukai and ordination ceremonies." The committee further stated in their report that a significant minority (25%) "do endorse EM use for jukai or priest ordination as being in line with Soto practices," concluding that "Dharma successors of SZBA members who received jukai or tokudo using EM would be welcome to join SZBA with the same encouragement and evaluation as other candidates who received tokudo or jukai by traditional methods."
As society continues to embrace new forms of technology, and as increasing numbers of people spend more of their time in front of a computer, the debate over the use of electronic media is not likely to go away anytime soon. As for Treeleaf and Rev. Jundo, the findings will not change how they choose to conduct such ordinations: "The approval and sanction of the SZBA is not sought or required for our priests, who will each stand on their own merit as priests and prospective Teachers of the Way."
Watch the video of the recent Shukke Tokudo ordinations (approx. 16 minutes).