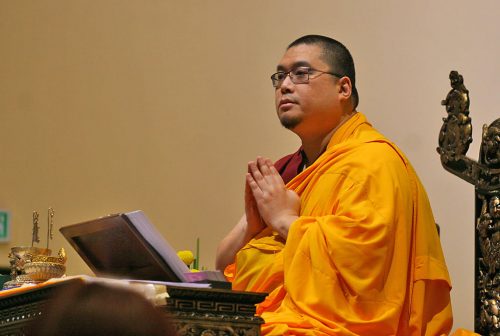 Buddhist teacher Tsem Tulku died on September 4 after a long struggle with illness, according to a post on his Facebook page. Tsem Tulku authored a number of commentaries and books on Buddhism, and was a popular Buddhist figure on social media, with hundreds of thousands of fans on Facebook and millions of views on YouTube.
Tsem Tulku was an outspoken supporter of the Tibetan Buddhist practice of Shugden worship, which is discouraged by the Dalai Lama and the Central Tibetan Administration, and as such he was regarded by some as controversial.
THANK YOU FOR READING LION'S ROAR. CAN WE ASK FOR YOUR HELP?
At Lion's Roar, our mission is to communicate Buddhist wisdom in today's world. The connections we share with you — our readers — are what drive us to fulfill this mission.

Today, we're asking you to make a further connection with Lion's Roar. Can you help us with a donation today?
As an independent nonprofit committed to sharing Buddhist wisdom in all its diversity and breadth, Lion's Roar depends on the support of readers like you. If you have felt the benefit of Buddhist practice and wisdom in your own life, please support our work so that many others can benefit, too.

Please donate today — your support makes all the difference.

Lion's Roar is a registered charity in the US and Canada. All US & Canadian donations are tax deductible to the full extent allowed by law.