Up is not always up, down is not always down. When we reverse our visual field and our base of physical support by doing an inversion, we dance with energy without attaching to labels or preconceived notions.
Inversions are the secret weapon of yoga. Other than gymnasts, how many people do you know who turn upside down on a regular basis? Even gymnasts who walk and stand on their hands usually flip onto their feet after a few moments and continue with their routine. Not yogis. We go up and stay up. An advanced yogi might practice a headstand or shoulder stand for over thirty minutes and find the experience to be one of well-being, equanimity and repose.
Yoga asana practice offers us many opportunities to establish balance in our physical situation—right and left, front and back. But the deeper effect of seeing the world from a different perspective, of calmly abiding in a topsy-turvy, upside-down world, may be the most profound benefit of all.
Trungpa Rinpoche called this, "suddenly free from fixed mind." Our ideas and opinions, whether they are regarding beauty, politics or health, are not solid. Our perspective is just one point of view. Up is not always up. Down is not always down. When we reverse our visual field and our base of physical support, we are taking a courageous step toward the willingness to simply dance with energy, without attaching to labels or preconceived notions.
Buddhism expresses this idea in the Heart Sutra, which contains with the phrase, "Form is emptiness; emptiness also is form." In Entering the Stream: An Introduction to the Buddha and His Teachings, editors Samuel Bercholz and Sherab Chödzin Kohn comment, "'Form is emptiness' means that all phenomenal forms—trees, pencils, shouts, moods, etc.—as they really are, are empty of all the concepts by which we grasp them and fit them into our world, empty of all we project upon them."
This means that we can learn to relate to things as they are, not as we wish they were, or as they used to be, but how they are right now, and now, and now, as they keep changing. When we are stuck on only one way for things to be, then we are truly stuck. When our world shifts dramatically, which it will—the death of a loved one, a change of employment, even falling in love—we will find that we are thrown for a loop because we have committed to our world being only one way and that way has vanished. Turning upside down is practice for this. It offers us a fresh perspective. When one can remain in this environment with calm abiding, it is the beginning of the ability to stay centered when our world turns upside down.
Headstand and shoulder stand are considered the king and queen of all yoga asanas because they offer so many powerful physical benefits. Inversions, and asanas that prepare for inversions, are weight-bearing poses that develop muscle and bone density in the wrists, arms, chest, upper back and shoulders, the areas where most fractures occur due to osteoporosis.
Sirsasana, headstand, stimulates the pineal and pituitary glands in the brain, the master glands of the endocrine system that controls chemical balance throughout the entire body. Salamba Sarvangasana, shoulder stand, stimulates the thyroid and parathyroid glands, which regulate metabolism.
Inversions improve circulation in the lower body, relieving strain and fatigue in the legs and feet, draining fluids and aiding in digestion and elimination. They act as a natural face-lift by bringing fresh blood to the muscle and skin cells of the face. Both melatonin and seratonin are stimulated, which aids in sleep and relaxation. Mental clarity and concentration are honed through the challenge of inverting your physical position.
When one of my good friends first starting studying yoga with me she said she could only watch in amazement as I, in her words, "floated like a butterfly up into a headstand." She said, "I can't imagine ever standing on my head!" Since she is strong, coordinated and has good alignment, I realized that lack of imagination was her biggest stumbling block.
We are all braver and more creative than we think. How many things can you do now that you never thought you could or would even want to do? Get married, own a business, have children, run a marathon, care for a dying relative, bake a perfect soufflé, practice yoga. When you were a baby you couldn't walk, but you didn't stop trying.
One of the first baby steps to doing inversions is imagining that you can. Once you've imagined it, then try these baby steps, or inversion preparations. After inverting for a while, you might find that another shift has happened and that turning upside down is your new definition of fun!
1. Downward Dog (with one leg up). Start by doing this pose with both legs down, and work up to holding it from 5 breaths to one minute. Then try lifting one leg at a time for 3-5 breaths.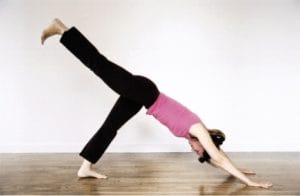 2. Forearm Stand preparation. Hold for 5 breaths, rest and repeat. If you feel strong enough you can lift one leg up and then the other.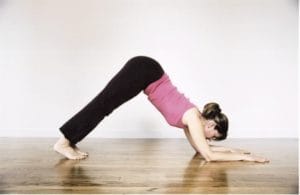 3. Headstand at wall. This headstand preparation opens the shoulders, back and hamstrings. It also lets you begin to experience sensation on the top of your head. Press your forearms into the wall, reach out through your sitting bones, lift your belly and push your feet down into the floor. Hold for 5 breaths.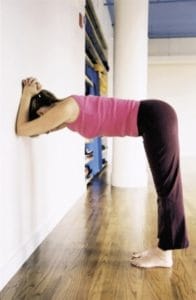 4. Shoulder Stand at wall. Make sure your head and neck are not touching the floor. Roll your shoulders under and interlace your fingers. Press your feet into the wall and reach your tailbone up to the sky. You can stay here for several minutes if you like.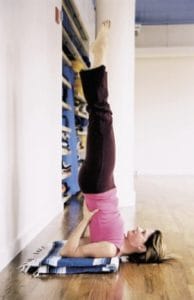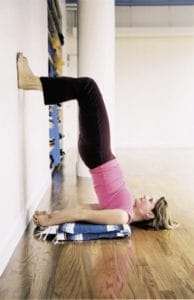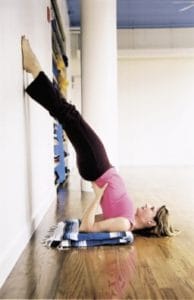 Then, place your hands on your back one at a time, and extend your legs straight. Press your feet firmly into the wall and lift your spine up to the sky. Stay for as long as you like.
When you feel ready, take your legs off the wall one at a time, and reach your feet up to the sky. Relax your jaw. You can stay here for 5-10 breaths to begin, and longer over tie.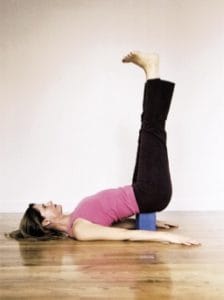 5. Shoulder Stand variation. This is good for people who feel irritated in shoulder stand, or those who have high blood pressure.