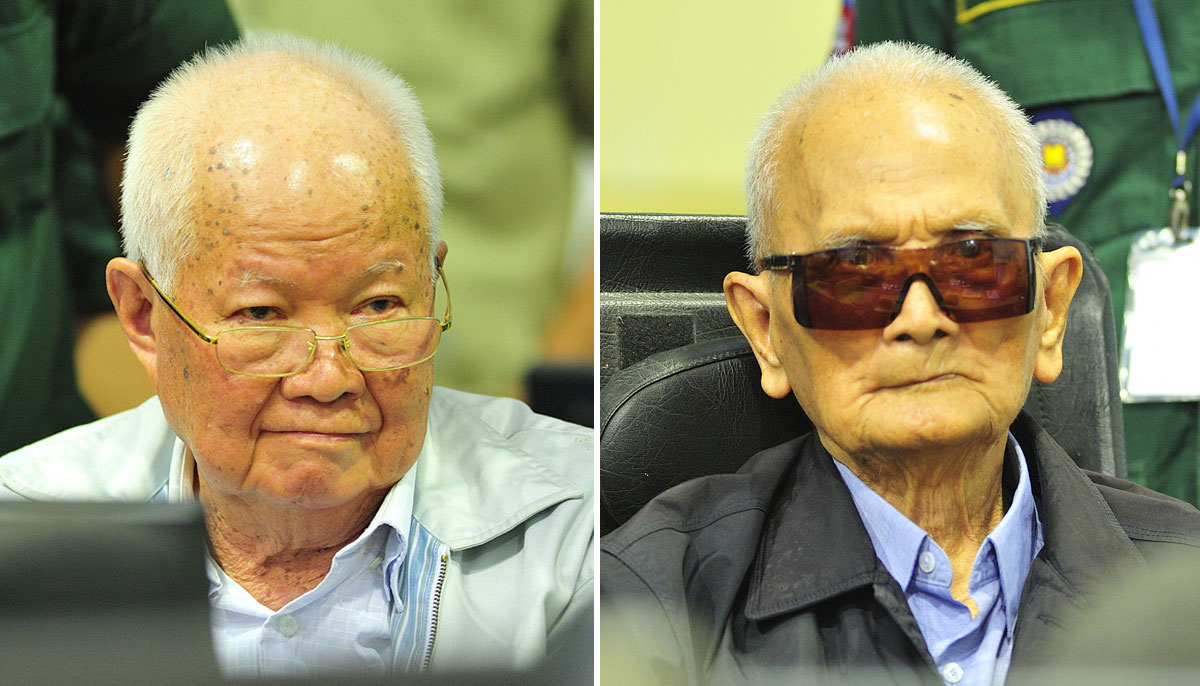 Khieu Samphan (left) and Nuon Chea (right) at the Extraordinary Chambers in the Courts of Cambodia on November 16, 2018. Photos via Khmer Rouge Tribunal.
The two most senior surviving leaders of the Khmer Rouge regime in Cambodia were found guilty of genocide in court Friday, BBC reports. This guilty verdict marks the first ruling given by the UN-backed tribunal, the Extraordinary Chambers in the Courts of Cambodia, that what the regime did was genocide as defined by international law.
The main Khmer Rouge ideologist Nuon Chea, 92, and the regime's head of state Khieu Samphan, 87, are already serving life sentences for crimes against humanity from a separate trial. On Friday, Nuon Chea was found guilty of genocide against Cham Muslims and ethnic Vietnamese, while Khieu Samphan was found guilty of genocide against the ethnic Vietnamese alone.
They have again been sentenced to life in prison and were also found guilty of other crimes against humanity including murder, extermination, torture, and enslavement.
The Khmer Rouge, a radical Maoist movement, originated in the 1960s and was in power from 1975 to 1979 under Marxist leader Pol Pot. In an attempt to create a self-reliant, agrarian society, the regime forced millions of people from cities to work on farming co-operatives in the countryside. An estimated 1.7 million people were killed throughout the regime's reign as a result of starvation, execution, disease, and overwork.
The regime also tried to systematically wipe out Buddhism, which had been the state's religion since the 13th century. In the four years the regime was in power, many monks and religious intellectuals were murdered, forced to disrobe, or driven into exile. Buddhist temples, monasteries, and libraries were also destroyed. The regime nearly succeeded in eradicating Buddhism in Cambodia altogether, but after its defeat in 1979, temples were gradually reopened and repaired, and Buddhism was eventually re-established as the state religion.
Nuon Chea and Khieu Samphan's case will be the last of its kind to be brought to court. Cambodia has said it intends to end the work of the UN-backed tribunal that convicted Khieu Samphan and Nuon Chea, as they are the last two surviving senior leaders of the Khmer Rouge. In its nine years of hearings, the tribunal has only convicted one other defendant.
THANK YOU FOR READING LION'S ROAR. CAN WE ASK FOR YOUR HELP?
At Lion's Roar, our mission is to communicate Buddhist wisdom in today's world. The connections we share with you — our readers — are what drive us to fulfill this mission.

Today, we're asking you to make a further connection with Lion's Roar. Can you help us with a donation today?
As an independent nonprofit committed to sharing Buddhist wisdom in all its diversity and breadth, Lion's Roar depends on the support of readers like you. If you have felt the benefit of Buddhist practice and wisdom in your own life, please support our work so that many others can benefit, too.

Please donate today — your support makes all the difference.

Lion's Roar is a registered charity in the US and Canada. All US & Canadian donations are tax deductible to the full extent allowed by law.