Since February 22, three Tibetans have been sitting out in front of the United Nations headquarters in New York on a hunger strike.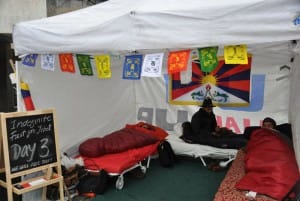 Their conditions? The three men would like to see a UN fact-finding mission in Tibet, for starters. They would also like to see the international community step up pressure on China to end what they and others see as martial law in Tibet, putting an end to religious and cultural suppression. They also want to see international media access and the release of all political prisoners. Protesters met at Times Square this morning at 8 a.m., and they will later meet with the three hunger strikers at around 3 p.m.

The three Tibetans are Shingza Rinpoche (age 31), Dorjee Gyalpo (age 69), and Yeshi Tenzing (age 39). While no one can doubt the sincerity of these three men, and while they are certainly drawing attention to this very important issue, it is hard to imagine that China would change its policies inside Tibet before these men would starve away. That's a real concern for onlookers. At least one of the men has lost 31 pounds already. According to Voice of America, the 69 year-old Dorjee has stated (in a weak voice) that he is prepared to sacrifice his life.
The Secretary General to the United Nations, Ban Ki-moon, has expressed his concern for the health of the three Tibetans. Through a spokesman, he released the following statement on Wednesday:
"The Secretary General affirms the right of all people to peaceful protest. He is however very concerned about the health of the hunger striking protesters."
On Monday, UN Assistant Secretary General Ivan Simonovic met with a representative for the Tibetan Youth Congress in New York to discuss the situation inside Tibet. A spokesman to the UN said that Simonovic will "convey the group's concerns to the relevant special rapporteur and the office of the High Commissioner for Human Rights in Geneva in line with established procedure in line with handling human rights matters." Simonovic also met Monday with China's Deputy Ambassador to the United Nations, though no statement on that meeting has been made public.
Photo via Tibet Post International